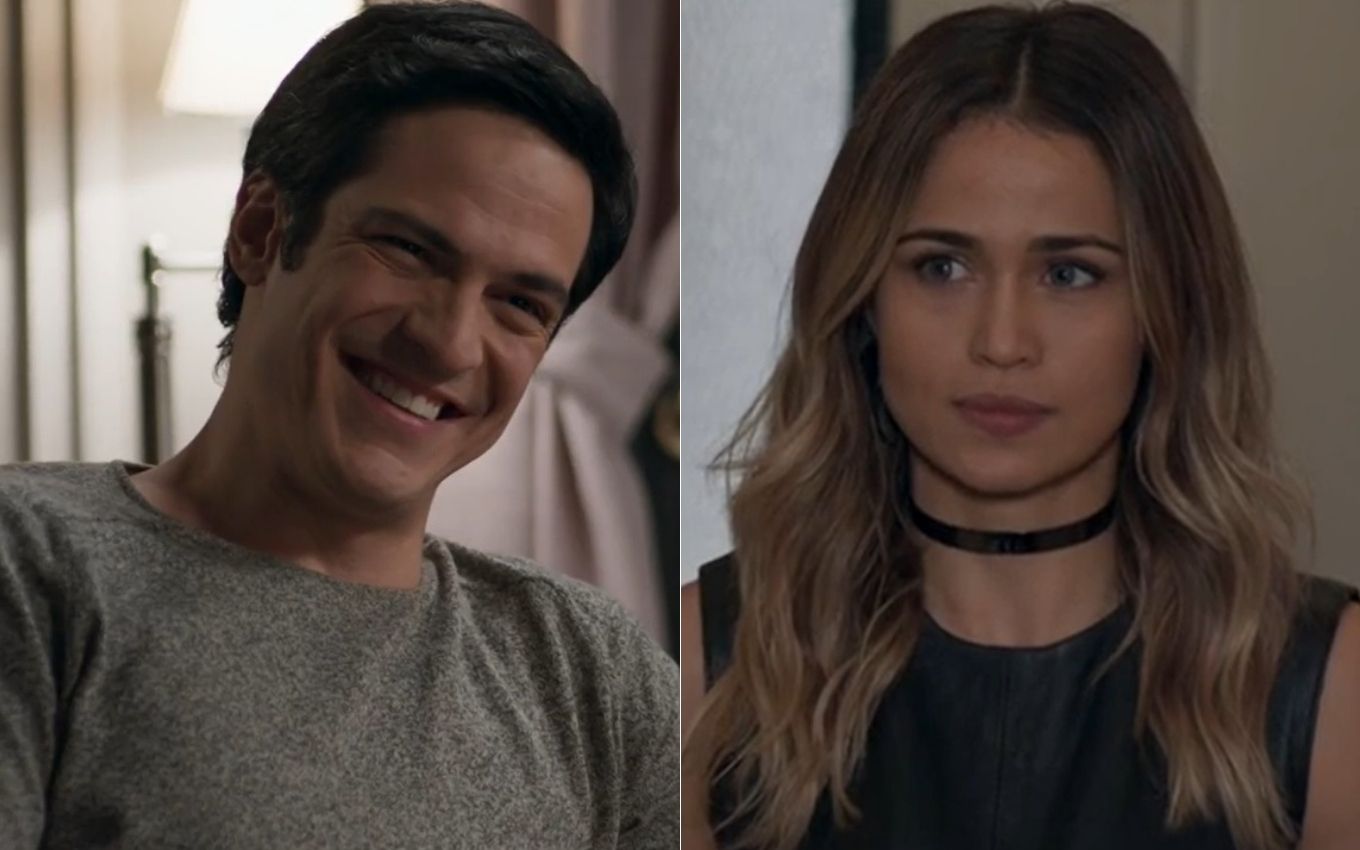 Eric (Mateus Solano) will appeal to his charm and will trick Sandra Helena (Nanda Costa) in Pega Pega. Without realizing it, the former chambermaid will be interrogated by the rich man and will talk about the relationship he had with Agnaldo (João Baldasserini) and Júlio (Thiago Martins). Seduced, the young woman will end up delivering Malagueta (Marcelo Serrado) on a platter in Globo's seven o'clock soap opera.
In Claudia Souto's serial, Luiza's husband (Camila Queiroz) started to investigate the robbery of Carioca Palace on his own. After Agnaldo's arrest with Pedrinho's (Marcos Caruso) dollars, the businessman will decide to approach Marieta's heiress (Camila Amado) to get more information about the hotel's employees.
In the scenes set to air on Friday (10), Bebeth's father (Valentina Herszage) will surprise the new rich woman in her suite. "You already know what's going on. They arrested Agnaldo. I came because I knew that you and Agnaldo were lovers for a long time", he will release.
"Yeah, but we ended up well before I became an heiress. When we kissed, I no longer dated Agnaldo", the ecstatic will go off. "When you kissed me", will punctuate Eric, who will begin to insinuate himself little by little.
playing green
"I want to know about you. Who, besides Julio, was Agnaldo's friend and could be with them in this robbery?", the hotel owner will question. Sandra Helena will be taken by surprise by the question, but will try to run off on a tangent and will start telling some gossip from her former classmates.
"You're not telling me what I want to know. The employees close to Júlio and Agnaldo", will insist the protagonist. He will offer the girl a glass of drink and ask again about the thieves' friends.
"With the naked people, they play at night. There are some kitchen workers too… Why are you looking at me like that?", she will wonder. "You're prettier," the rich man will praise, with second intentions. Tânia's rival (Jeniffer Nascimento) will let slip that Cíntia (Bruna Spínola) is in love with the former waiter.
Malagueta (Marcelo Serrado) in the soap opera
"What about Agnaldo? Who else did he get along with?", asks Sabine's partner (Irene Ravache). "With the reception staff. Gilda [Rhafaela Castro], or Leo [Luís Navarro], Malagueta", she will hand in. "Malagueta is Vitor", the businessman will confirm.
Nanda Costa's character will notice the faux pas and change the subject quickly. Satisfied with what he heard, Luiza's beloved will leave. "Good night, thank you for your time," he will thank you. "This man takes me out of line. Did I say too much?", the blonde will worry.
Against the wall
Eric, then, will decide to investigate further Cíntia and Malagueta. In the chapter on Saturday (11), the rich man will put pressure on the advisor. "Are you doubting my honesty?" Maria Pia's (Mariana Santos) "crush" will be surprised. "Don't be offended by my question, that wasn't my intention", will clarify the character of Mateus Solano.
"You want to know the connection I had with Júlio and Agnaldo. I was their friend, I'm not anymore. They deceived everyone. Júlio lied to his own family, how could he deceive two old ladies who were dying of pride for him? the aunts, who lived with him, didn't know anything, how could I, who was just a co-worker, notice anything?", the ex-concierge will lie.
"Didn't you notice any change in behavior?", asks Pedrinho's son-in-law. The thief will say that the two became quieter and more introspective after the robbery of the Carioca Palace. "All of a sudden, our conversations were diminishing. I would even say that the friendship I had with the two of them cooled down", he explained.
Pega Pega (2017) won a "special edition" to fill the hole left after the final stretch of Salve-se Quem Poder. Como Mais Vida, Melhor, the next unpublished soap opera in the 7pm range, was postponed because it is being recorded with security protocols that slow down the execution process.
---
Learn all about the upcoming chapters of soap operas with the Noveleiros podcast
Listen to "#73 – José Alfredo finds out Maurílio is dead in Império!" on Spreaker.
---
Subscribe to the channel TV news on YouTube and watch videos with revelations of what will happen in Império and other soap operas.
.