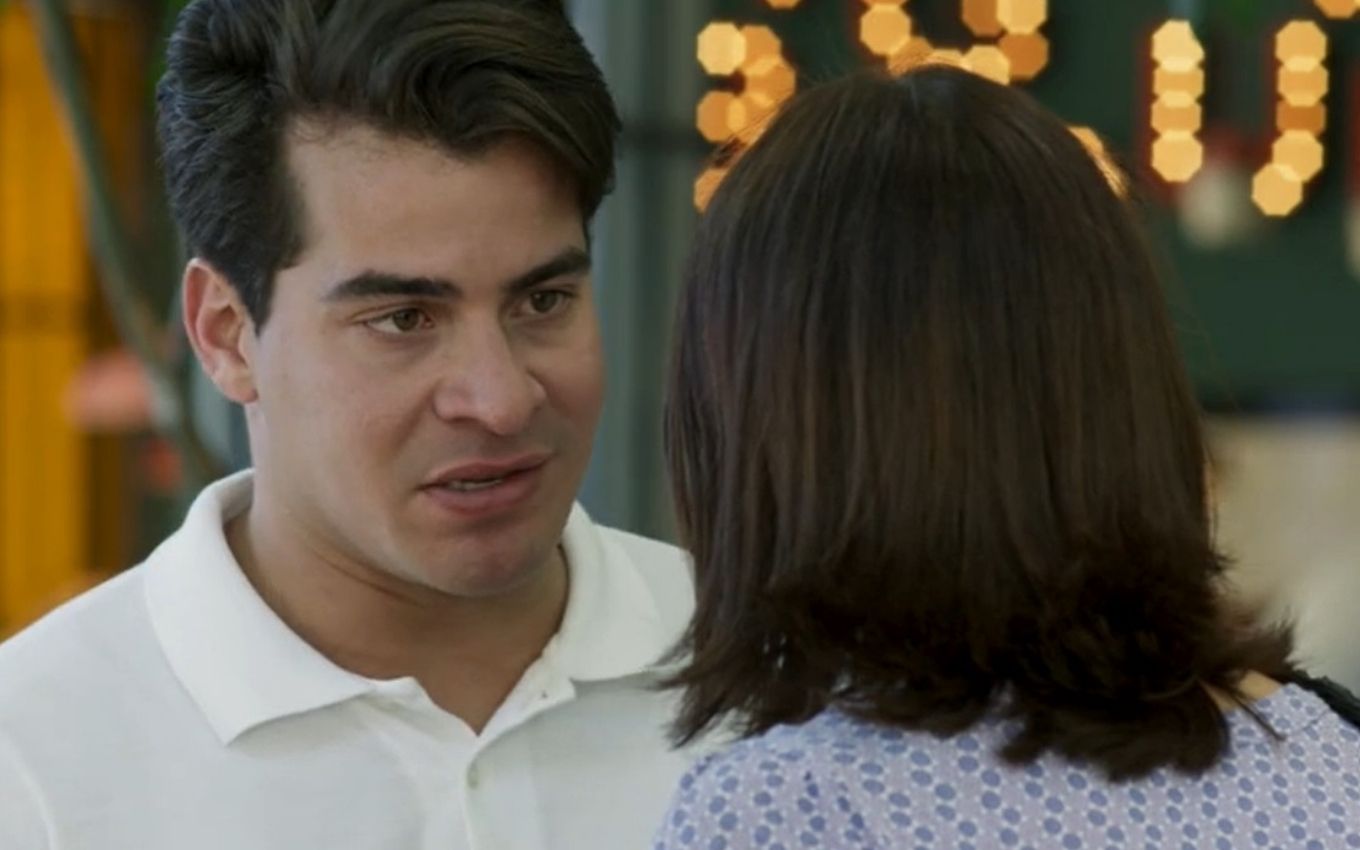 Júlio (Thiago Martins) will lose another girlfriend while protecting his cronies from the robbery of the Carioca Palace in Pega Pega. After being the victim of a set-up and eventually arrested as suspected of having participated in the crime, Cíntia (Bruna Spínola) will demand that the waiter turn over the real culprits. However, the boy will play the banana and get dumped by the maid in Globo's seven o'clock soap opera.
In Claudia Souto's serial, Malagueta (Marcelo Serrado) will freak out at the arrest of Sandra Helena (Nanda Costa) and will think of a way to get rid of the police. With the help of Maria Pia (Mariana Santos), the ex-concierge will put a few dollars in Cíntia's belongings to incriminate her and will file an anonymous denunciation.
The young woman will only be acquitted and released after Tânia (Jeniffer Nascimento) admits that she was with her co-worker at the time of the hotel robbery. In the planned scenes to air on the next 30th, the maid will be approached by Júlio when leaving the Carioca Palace.
"I understand why you're upset. I know you're upset with me because I didn't help you, you must be angry. You must be feeling a lot at the same time. And you have every right to feel that way. . I'll redeem myself. I'll get the person who set this up for you", will promise the son of Arlete (Elizabeth Savala).
"So, you know who it is. Come on, tell me. Who did this to frame me? Who put that money in my cart?", will pressure Sandra Helena's friend. "I didn't say I knew, I just said that I wanted to catch the person who did it," the boy counters.
"If you only knew the shame I went through. Can you imagine my parents? They are devastated. They are the ones who always taught me to be a correct person. I didn't believe when I found myself trapped in that cell", will vent the character of Bruna Spínola.
Antônia's ex-boyfriend (Vanessa Giácomo) will claim that he also suffered because he knew the girl was innocent. "Then why didn't you tell the police? Why didn't you go there to defend me?" the woman will ask. "I swear I tried, but things didn't turn out the way I wanted. There are certain things I can't explain to you. The only thing I'm asking for is a vote of confidence", will release the repentant thief.
Cíntia will revolt with waiter in the soap opera
Cíntia ends up dating Julio
Douglas' subordinate (Guilherme Weber) will revolt. "Vote of confidence? I gave you so much more than that. When everyone turned their back on you, I was the only person who took your side. You know who did this to me. Why didn't you tell the police? don't you tell me? Tell me who is to blame for everything I went through", demanded Cíntia.
Elza's nephew (Nicette Bruno) will assume he can't tell who put the money in his girlfriend's cart. "I can't trust you anymore, talk to you, look at you. I've always wanted to date you so much… Now that we were fine, you can do that. How can we continue like this without trust?" the maid.
"All I did was thinking about you. The less you know, the better. You've been too involved in this story," the waiter will worry. The girl will then agree:
You are right. I got too involved, way more than I should have. But I didn't imagine that getting involved with you could get me involved in crime either. You're right. The more I know, the more involved I will be in this robbery.
Cintia will walk away from him, and Julius will question what she is going to do. "The only thing I can do. don't look for me anymore", will step the girl, in tears.
Pega Pega (2017) won a "special edition" to fill the hole left after the final stretch of Salve-se Quem Poder. Como Mais Vida, Melhor, the next unpublished soap opera in the 7pm range, was postponed because it is being recorded with security protocols that slow down the execution process.
---
Learn all about the upcoming chapters of soap operas with the Noveleiros podcast
---
Subscribe to the channel TV news on YouTube and watch videos with revelations of what will happen in Império and other soap operas.
.