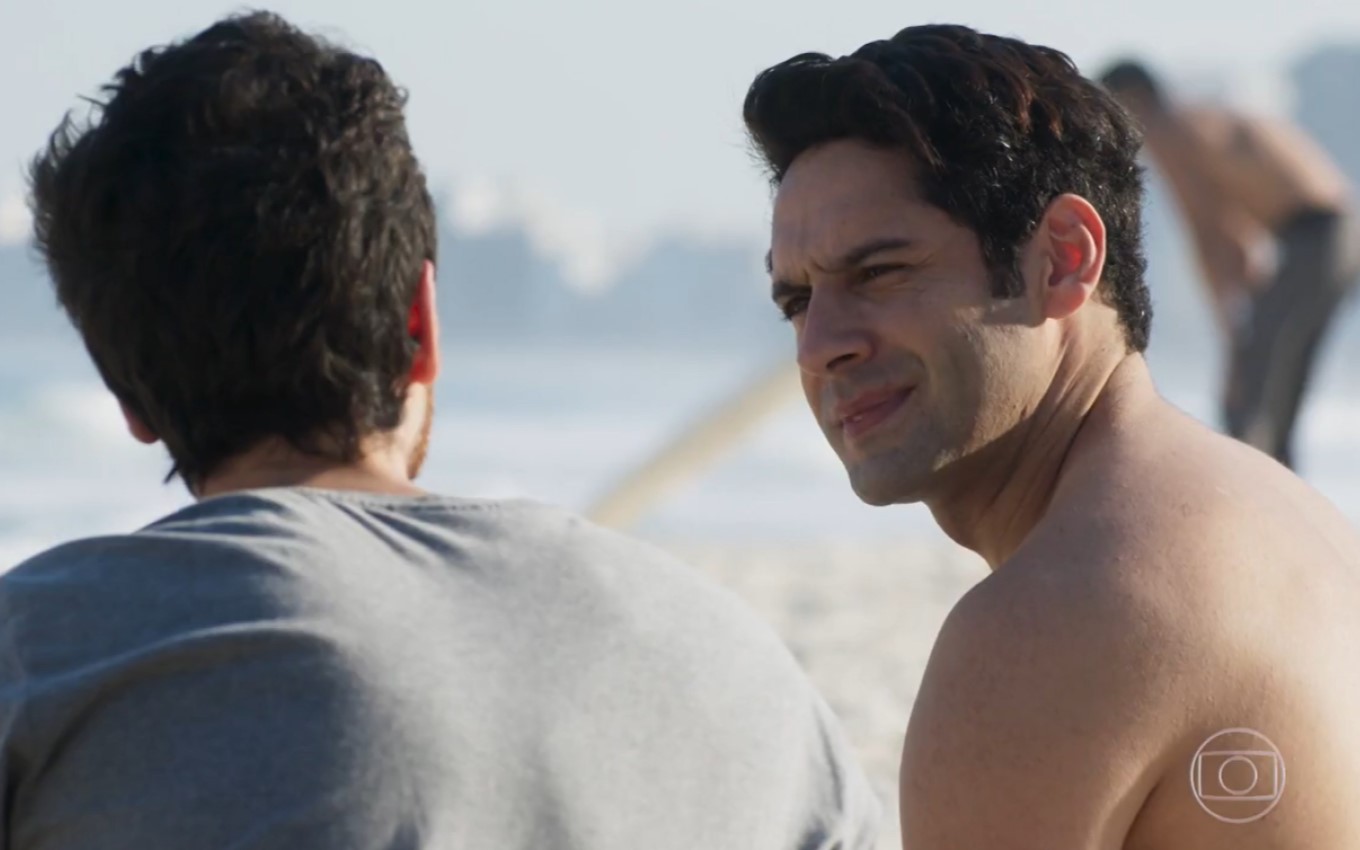 Second, 7/26 (Chapter 7)
Malagueta tries to get rid of the agreement he made with Maria Pia, justifying that Eric will be arrested. Agnaldo tells Júlio that he has no alibi for the night of the robbery. Antonia tells Bebeth that she will receive a summons to testify. Eric asks Maria Pia to convince Luiza of her innocence. Guests and staff applaud Pedrinho as they see him leave the hotel.
Agnaldo and Malagueta look for Wanderley, brother of the Carioca Palace receptionist, and ask him to be Agnaldo's alibi. Maria Pia calls Luiza and Pedrinho to stay at her house, and Lígia gets angry. Maria Pia tries to intrigue Luiza against Eric. Before a meeting, Antônia, on the other side of the street, watches Júlio being wet by a car that passes over a puddle.
Tuesday, 7/27 (Chapter 8)
Júlio gives up going to the movies with Antônia, since it's wet. Domênico decides to review Julio's testimony and tells Expedito that he will not stay with Antônia. Lígia demands that Pedrinho and Luiza leave her house. Wanderley decides to accept Agnaldo's request to confirm his brother's alibi. Sergio tells Eric that he will leave the custody house.
Evandro introduces himself to Júlio, Elza, Drica and Márcio. Maria Pia discovers that Sabine is coming to Brazil and explains to Luiza why Eric doesn't like her partner. Bebeth meets Eric on his way out of the safe house. The businessman decides to move to the Carioca Palace.
Sandra Helena insinuates that Wanderley can use her testimony to get revenge on Agnaldo. Bebeth shows Eric her subpoena. Wanderley arrives at the police station to testify on his brother's behalf.
Wednesday, 7/28 (Chapter 9)
Wanderley confirms Agnaldo's alibi. Sabine arrives at Carioca Palace with her son Dom. Tânia finds the invoice for the purchase of Sandra Helena's bag. Nelito takes a gift to Pedrinho, who gets emotional.
Sérgio meets Eric's former partner at the Bauxite Project. Cassio gives Timoteo's message to Malagueta. Eric invites Bebeth to go to the movies. Sun is admired at the hotel pool. Eric is surprised by Sabine's arrival at the company.
Athaíde catches Pedrinho and Lígia kissing, and throws his friend out of his house. Prazeres sees a strange figure walking through the village and alerts his nephew. Luiza asks Douglas for help.
Thursday, 7/29 (Chapter 10)
Luiza tells Douglas that Nelito took Pedrinho to his house. Douglas gets a room at the hotel for Luiza to hide. Sandra Helena notices that her hotel locker has been broken into.
Elza and Prazeres watch Evandro talking to Borges. Luiza bumps into Eric in the hotel hallway and they kiss. Domenico goes to Julio to reconstruct the waiter's steps on the night of the hotel robbery.
Friday, 7/30 (Chapter 11)
Tânia is suspended for having gone through Sandra Helena's closet. Elza and Prazeres invite Antonia to the surprise party they are preparing for Júlio. Antônia is surprised to learn from Domenico that the hotel security is in a coma. Pedrinho does not accept Eric's help.
Athaíde asks Lígia if Maria Pia is his daughter. Madalena tells Maria Pia that Athaíde caught Lígia and Pedrinho kissing. Malagueta helps Sandra Helena to invent that the designer bag was a gift from Dona Marieta. Márcio tells Eric that Bebeth is sick.
Saturday, 7/31 (Chapter 12)
Antônia tells Douglas that Chief Siqueira will summon Eric. Cassio tells Pedrinho and Luiza that Eric is innocent and offers evidence in exchange for money. Sabine wants to prove that Eric got a bad deal by buying the hotel. Magdalene blames Cristóvão for having lost her son.
Luiza reveals to Pedrinho that she locked up college and asks Douglas to help her look for a job. Sabine is furious to see Eric exposed on the police news. Agnaldo proposes to bankrupt the hotel. Eric arrives at the police station to testify.
---
Pega Pega chapters are provided by Globo and are subject to change without notice
---
Subscribe to the channel TV news on YouTube and watch videos with revelations of what will happen in Pega Pega and other soap operas.
.