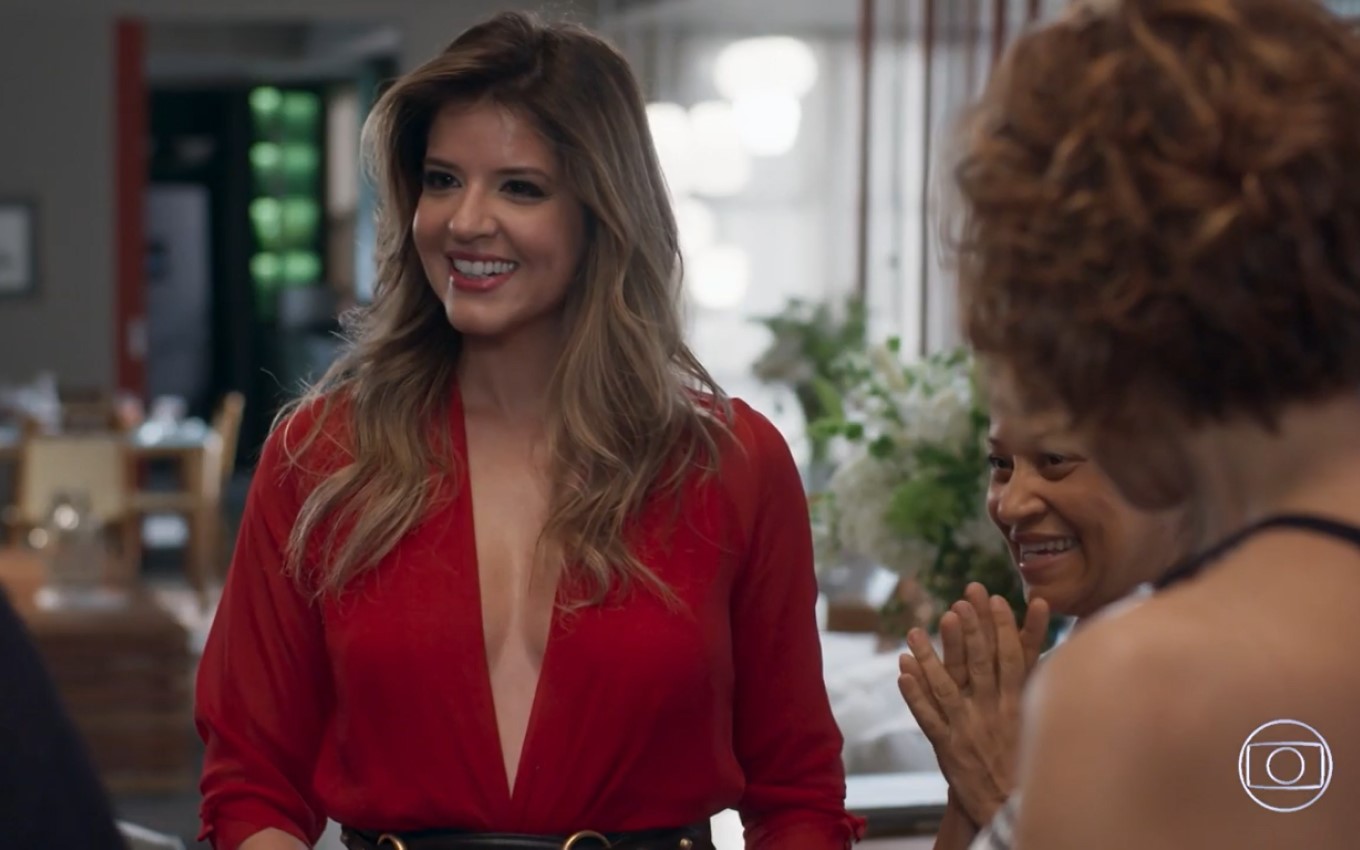 Second, 6/9 (Chapter 43)
Dom reassures Sabine and tells her that she will always be his mother. Pedrinho does not accept Julio's apology and humiliates the waiter. Malagueta tells Mônica that she will have to leave her house and proposes to get a job at the Carioca Palace. Luiza tells Douglas that someone stole Mirella's lawsuit photos.
Sabine tells Cristóvão that she won't let him spoil the education he gave Dom. Monica introduces herself as Catarina to Douglas and gets a job as a chambermaid. Cíntia gets Julio a job in front of the hotel. Luiza asks Antônia for help in unraveling Mirella's accident. Julio asks Arlete why she left him.
Tuesday, 7/9 (Chapter 44)
Arlete tells Julio that she participated in a crime to save her life and that of her aunts, and tells her son that they both made mistakes out of love. Arlete notices that the hat containing Mirella's accident documents is in the church bazaar.
Antônia tells Luiza that they will have to go to the city of Boa Era to talk to Bebeth's nanny. Arlete despairs when she finds out that Elza sold her hat with the evidence of Mirella's accident. Luiza takes advantage that Eric went to São Paulo and travels with Antônia to Boa Era.
Wednesday, 8/9 (Chapter 45)
Tânia reveals to Sabine that she is dating Dom and proposes to marry the businesswoman to manipulate the boy. Dilson confides to Domenico, not knowing that he is a policeman, that Agnaldo lent money to his family. Agnaldo is terrified when he hears Douglas announce that he will call the police. Orestes informs Sandra Helena that Marieta's daughter has challenged her inheritance.
Eric tells Luiza that Mirella was nervous on the day of the accident because of a personal problem. Domênico tells Eric that Agnaldo has run away. Eric offers a lawyer to defend Wanderley if he reveals what he knows about the theft. Agnaldo tells Malagueta that he ran away from the hotel with the money.
Thursday, 9/9 (Chapter 46)
Malagueta advises Agnaldo to use the false documents and flee by car. Timóteo combines with Canivete a way to enter Elza and Prazeres' house. Seeing that he is being followed by the police, Agnaldo throws the dollars out the window.
Eric tells Luiza that she needs to get ready to tell Pedrinho that he won't get back the money that was with Agnaldo. Timoteo tells Athaíde that the way to find the document that is with Arlete is to enter her house and simulate a robbery. Siqueira begins to interrogate Agnaldo about the robbery at the hotel.
Friday, 9/10 (Chapter 47)
Agnaldo testifies at the police station, maintaining the version of the robbery told by Júlio. Luiza tells Douglas that she made a date with a neighbor of Eric and Mirella. Timoteo puts a sleeping pill in the Prazeres liqueur. Penknife and Timoteo search Julio's house but find nothing.
Julio looks for Antonia, and Domenico becomes enraged. Luiza questions Hermes about Eric's relationship with Mirella. Eric asks Malagueta about his involvement with Julio and Agnaldo. Maria Pia returns with a new look, and Lígia, Athaíde and Madalena are surprised.
Saturday, 9/11 (Chapter 48)
Hermes tells Luiza that Eric and Mirella started fighting after Bebeth was born and that Sabine was present in one of the couple's fights. Malagueta is euphoric with the news of Maria Pia's return. Expedito suggests that Antonia give Domênico a chance.
Eric asks Maria Pia to watch Malagueta for him. Sabine ignores Magdalene and Christopher, and Dom scolds her. Luiza decides to tell Eric about her investigation. Christopher cannot tolerate Sabine's nagging. Júlio and Antonia meet in the village and end up kissing.
---
Pega Pega chapters are provided by Globo and are subject to change without notice
Good evening! Follow Pega Pega's weekly summary code for embed in the novel's texts.
.