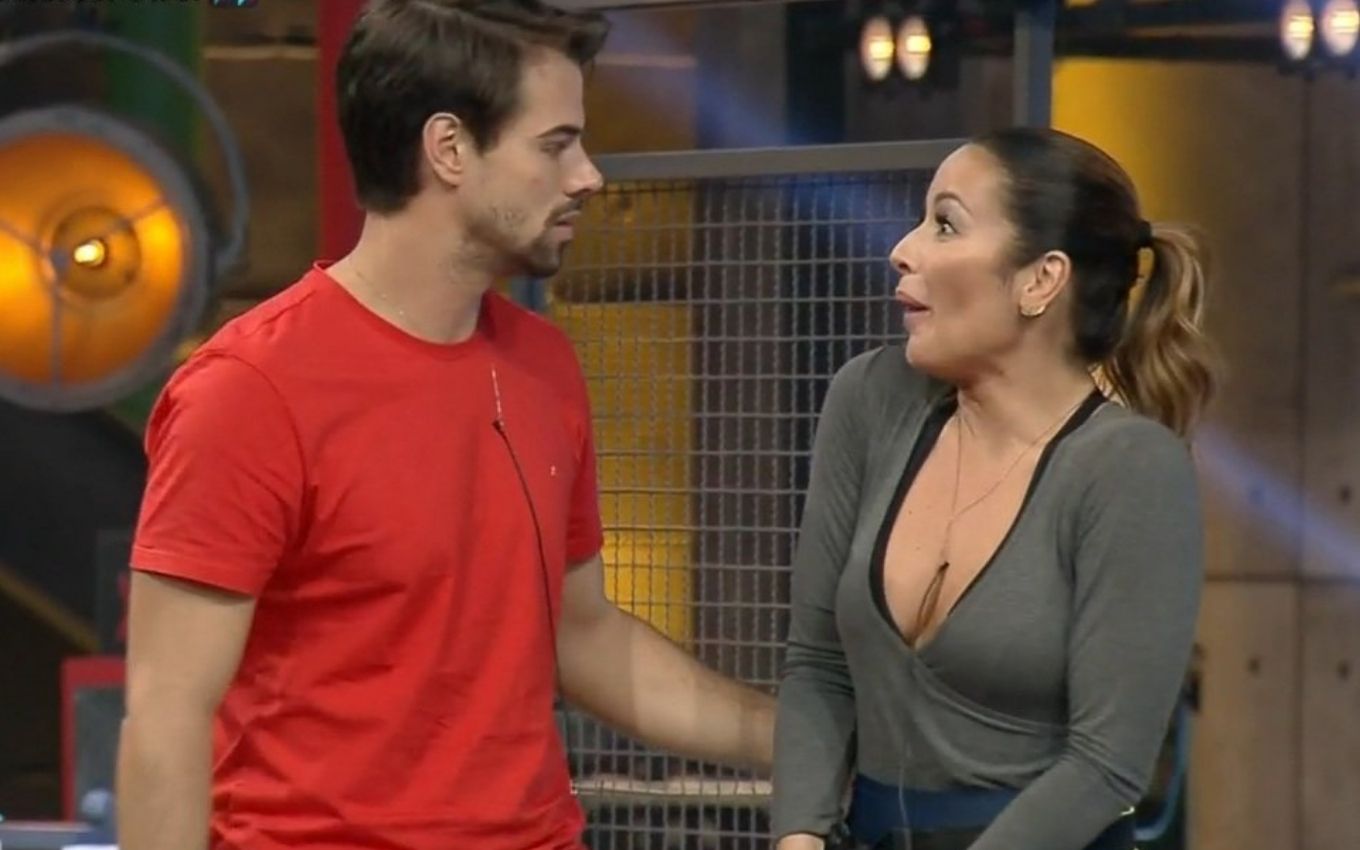 Renata Dominguez was the only one not to comply with the Women's Test that took place on Saturday night (10) at Power Couple Brasil 5. The actress cried a lot after giving up the challenge due to back pain. She ended up getting an earful from Leandro Gléria, who had bet R$36 thousand on her.
Only women who gave up on the dynamic did not meet the test. The challenge was to hang in the air and try to turn on all the lights on the pillars that were on the proving ground — no matter how much time passed. Renata ended up giving up due to her back problem. "I was afraid of crashing," she explained, who went through it in October of last year.
Leandro did not accept the partner's justification and scolded her, since the two only escape the DR if they win the Proof of Couples. "The way he talks it sounds like I gave up all the tests, this was the only one," complained the actress. "You just didn't give up because I didn't, but you wanted to give up a lot," the publicist fired.
Deborah Albuquerque and Bruno Salomão tried to settle the fight, but they couldn't. "Nobody gave up," argued Gléria. "But no one has a back problem. It was going to crash, in October it was locked," explained Renata. "Just stop for a while and wait," countered her husband. The doctor advised Leandro to try to understand the artist's fear.
"Leave it. He doesn't understand," she complained. "I really don't understand," he agreed. "Thank you, love, for being such a partner," Renata joked. Upon returning to the mansion, the actress began to cry and was comforted by Mari Matarazzo.
Deborah, Mari, Li Martins and Georgia Fröhlich completed the race, which will air on Monday (12), starting at 22:30 on Record. See below what the bets were and how was the starting balance of each couple in this cycle:
Matheus Yurley bet R$ 25,000; Mari complied. Balance: BRL 65 thousand
Thiago Bertoldo bet R$ 18 thousand; Georgia complied. Balance: BRL 58 thousand
JP Mantovani bet R$15,000; Li complied. Balance: BRL 55 thousand
Bruno bet R$14,000; Deborah complied. Balance: BRL 54 thousand
Leandro bet R$36 thousand; Renata did not comply. Balance R$ 4 thousand
Check out the test and discussion moments:
It's time for @Re_Dominguez face the challenge of the Women's Test! 🔥👀

sign the @sigaplayplus and have access to the 24-hour broadcast of the #PowerCouple: https://t.co/UpWImxSIbXpic.twitter.com/GnrKW6kyLy

— PlayPlus (@SigaPlayPlus) July 10, 2021
renata and leandro arguing after she gave up on the test #PowerCouplepic.twitter.com/MkCT70YlSK

– woll (@ wollok0) July 11, 2021
Bruno advising Leandro and Renata #PowerCouplepic.twitter.com/HAnnMfad7K

— fenix 🔥🔥🔥🏂 (@Ana27273115) July 11, 2021
Renata is very upset for not having completed the test and having argued with Leandro.

Mari went to hug her to try to comfort her friend 🥺♥️ pic.twitter.com/nPt7RLpIU4

— Mariana Matarazzo 🧨 (@eumarimatarazzo) July 11, 2021
---
Learn all about reality shows with the podcast O Brasil Tá Vendo
Listen to "#45 – Why is Power Couple not a big national hit?" on Spreaker.
---
Subscribe to the channel TV news on YouTube to check out our daily newsletters, interviews and live videos
.