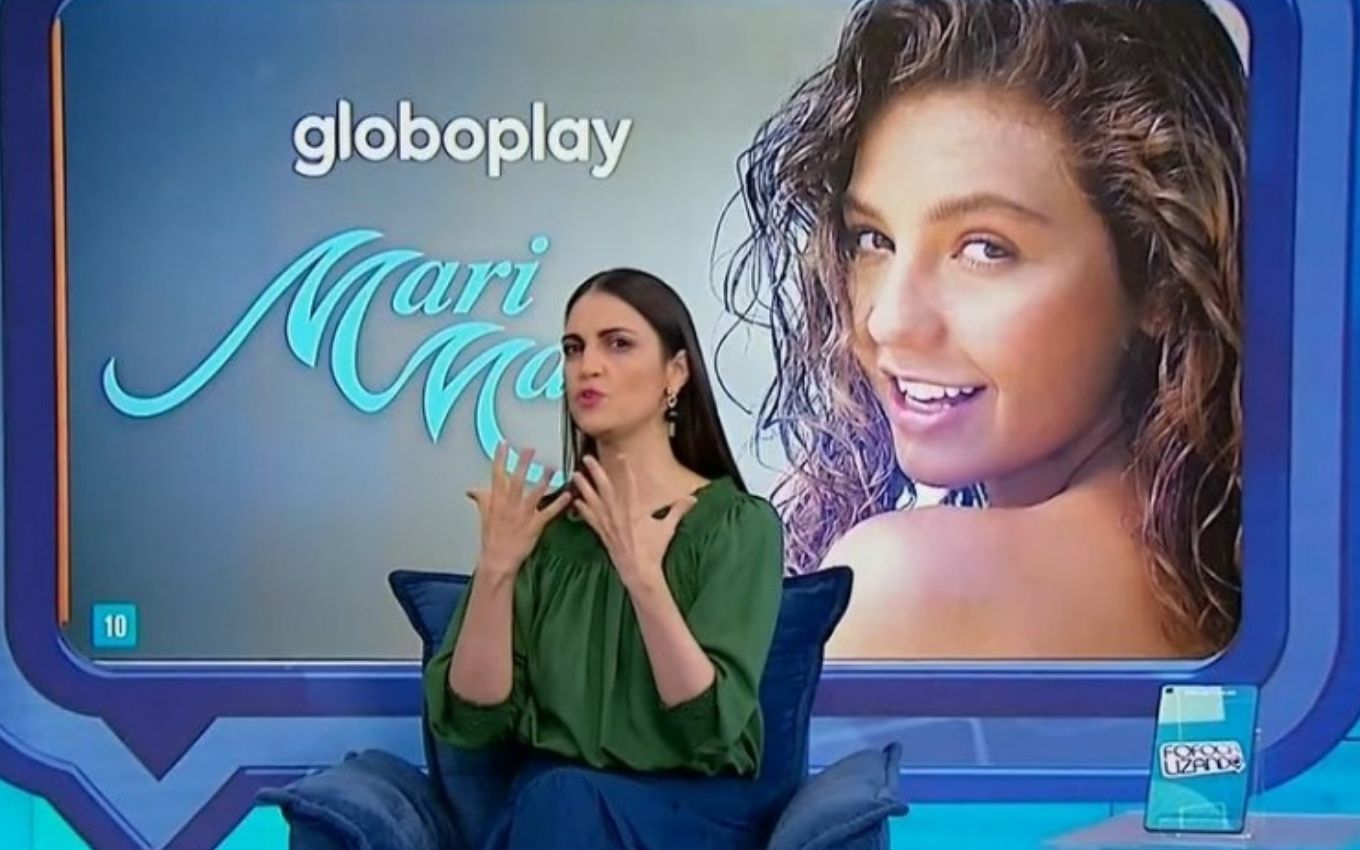 Chris Flores, Ana Paula Renault, Gabriel Cartolano and Flor Fernandez made an advertisement for Globoplay, Globo's streaming service, within SBT's Fofocalizador. The action shown this Friday (27) had a special reason: to publicize the entry of the telenovela Marimar (1994) in the digital platform's catalogue.
"Did you know that Marimar is arriving at Globoplay?", asked Chris, and Flor joked with the rival company's advertisement: "Hi? Chris, Globoplay, can you say that here?". "Don't worry, Flor, times are modern now, check it out," replied the gossip show's commander, who then called a VT about the new streaming attraction.
Back at the studios, Ana Paula played the role of Angelica (Chantal Andere) and reproduced one of the most famous scenes from the serial: when the villain demands that Marimar (Thalia) take a necklace out of the mud with her teeth. After the prank, the program's commentators continued the streaming merchan.
"Want to follow this amazing soap opera by our dear Thalía? Then take advantage of the QR Code that is here on our screen so you can subscribe to Globoplay and watch this and other Latin classics", concluded Chris.
This is not the first time that the streaming broadcasts its productions on Silvio Santos' station. In 2019, commercials about the series by Hebe Camargo (1929-2012) were shown on Globo's competitor's schedule.
The action surprised viewers and also guided streaming social networks. "Is there gossip going on with my name on SBT? Is that right? You: In 2021, life returns to normal. 2021: Globoplay on the agenda of Gofocalizador because of Marimar!", wrote Globoplay's Twitter profile.
"The universe is very crazy, completely out of the house!", said a netizen identified as Biel.
O TV news contacted Globoplay and SBT advisors, but did not receive any feedback until the publication of this text. Check out the video and the reaction of internet users:
GloboPlay does merchandising on #GossipingAtSBT and Chris Flores announces Marimar; check out pic.twitter.com/JJIA3N8luc

– Didigo Santini (@DidigoSantini) August 27, 2021
🗣 Gossip is going on with my name on @SBTonline? That's right?

— globoplay (@globoplay) August 27, 2021
You: In 2021, life returns to normal 😊
2021: Globoplay on the agenda of @pfofocusing because of #Marimar! 😮

— globoplay (@globoplay) August 27, 2021
Globo showing Marimar and sbt doing globoplay commercial with Marimar… the universe is very crazy, totally out of the house!🗣️🗣️ #GossipingAtSBTpic.twitter.com/oDQFAOL57a

– Biel🤠 (@Biel_comenta) August 27, 2021
I love that globoplay is really committed to announcing Marimar

and they burn bad tongues over Mexican soap operas 🤪👅 https://t.co/rx3QfirfAI

— th!ago (@thiagohalima7) August 27, 2021
.