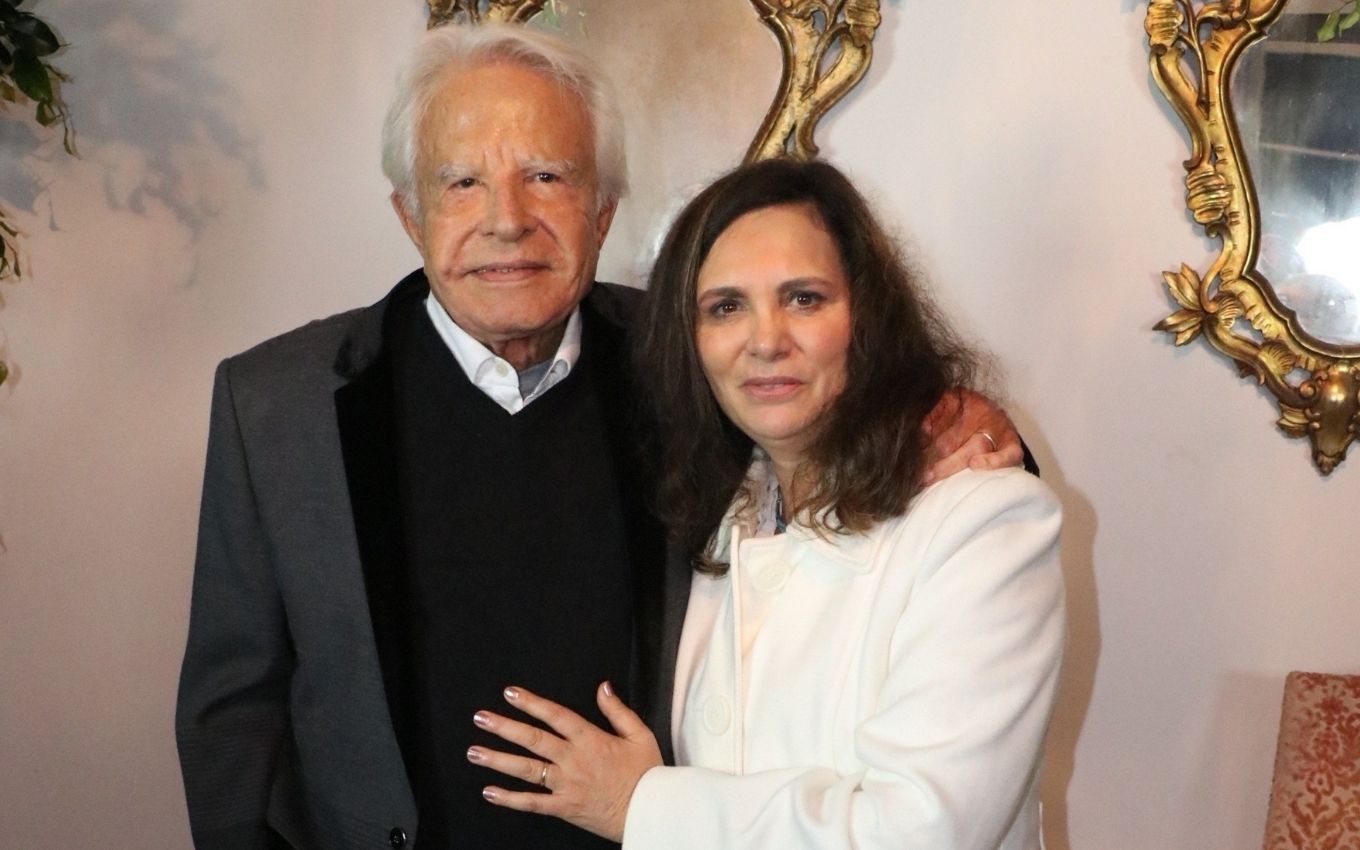 After making public the complaint of emotional abandonment, the children of Cid Moreira, 93, got together to go to court against their father. This Tuesday (20), Rodrigo Radenzev Simões Moreira, 52, and Roger Moreira, 45, filed an interdiction action in the Court of Justice of Rio de Janeiro. The heirs also opened an investigation against Fátima Sampaio, 58, the veteran's wife, at the Public Ministry of Rio de Janeiro, with a request for provisional arrest. They accuse the stepmother of transferring the journalist's assets to her name.
O TV news had access to the records filed this afternoon. In the interdiction action with urgent protection, registered with the Family and Civil Registry of the District of Petrópolis, the brothers claim that the father is "an elderly person, senile and has psychiatric problems caused by age".
In the case file, Fátima is accused of "totally fleecing the elderly, in pure senile embezzlement, embezzlement and conspiracy". According to them, the stepmother has been "subtracting everything the elderly person receives, and transferring everything she can to relatives".
At the opening of a police investigation in the MP-RJ, the brothers point out that the father married a "lady 40 years younger, under the regime of total separation of property, who has been taking advantage of her senility, health problems, and own age, to appropriate everything".
In the document, there are also reports of mistreatment, such as the offer of spoiled food to Moreira, lack of medication and screaming treatment. According to the heirs, the father is treated "as if he were a naughty child".
In the case file, Fátima is accused of passing her husband's properties to family members. "With the help of relatives and friends, he started to sell to them, properties of the vulnerable elderly at a low price, and they sold for the real price", they report.
"She appropriated her wages, earnings, copyrights, and there is no news about what she did, but it is known that she is no longer with the elderly person. Then she began to force the separation of the father towards the children with the I argue that one of them was gay and convinced him to disinherit his son," they detailed.
Because of all these suspicions, the Moreira brothers' defense asks that Fátima's assets be blocked. They want the court to track the father's possessions, evaluating everything that was sold during the current union. There is even a requirement for Globo to inform everything that was paid to its former employee to find out if the suspicion took hold of something.
The investigation request calls for preventive detention of the communicator's wife. "Given the seriousness of the facts and the defendant's attempt to change evidence, contact witnesses, that her provisional detention be decreed for 30 days, extended until everything is investigated or a preventive one appears", says the request.
play/record
Roger and Rodrigo Moreira: children of Cid Moreira
foster child claims alienation
In the report, Roger, adopted son of the former presenter of Jornal Nacional, vented about Fátima. According to him, the relationship with her was never the best. He points to her as responsible for her father's attitudes, such as the distance and the fact that the journalist had denied her an inheritance.
"I think she's holding him back and alienating him somehow, wanting to turn him more and more against us. In reality, everything that's happening is exclusively on Fatima's account," he declares.
"I'm not worried about money. We're worried that we could be living with it. Our father is going to die, and we don't live with him. We're going to be left with these traumas, this upbringing, which suddenly could have been resolved. we wanted people to understand", he adds.
Last week, Roger gave an interview to A Hora da Venenosa, in Balanço Geral, about his relationship with the former Globo anchor. He accused a veteran of "disinheriting" him by having his name removed from the will. Despite the fight, Brazilian law does not allow children to be disinherited. Because of this, a year and a half ago, he filed a lawsuit against the communicator, alleging emotional abandonment.
Rodrigo, in turn, appeared in the press after his brother's public outburst, whom he never met. It is the result of the announcer's marriage to Olga Verônica Radenzev Simões. The two were together in the early 1970s. After the separation, the mother would have tried to get father and son to get closer, but with no success.
To the journalist from Record, the biological son of the former Globo declared that he had never received affection from his father. The heir even sued him for R$ 1 million for emotional abandonment, but lost the suit and gave up on being loved and having a family connection with the former Globo employee.
Rodrigo, who lives in São Paulo, and Roger, who lives in Rio de Janeiro, decided to get together after meeting at A Hora da Venenosa. Since then, they have created bonds and, now, they have gone to court. Both have the help of Agripino Magalhães, a LGBTQ+ rights activist. In his tumultuous relationship with his father, Roger claimed that his sexuality was also a problem.
Roger and Rodrigo hired Angelo Carbone, a specialist in criminal and civil law, to legally represent them. In court, the brothers want to find out the real situation of the father — both psychologically and financially. "Roger is worried about his father, who is going through very difficult times. He is 93 years old, and the impression is that he is being used. Senile and with an advanced age, they are taking away all the assets he has", declares.
For Carbone, this is just the beginning of a long legal battle. However, the primary interest is that the speaker's well-being prevails. "We have a lot of respect for his father. Cid Moreira is a man who has worked all his life for others. He has wonderful religious cults. We want, at the end of his life, his heritage, rights and will to live," he emphasizes.
"It's not because he has an age problem, that they can take advantage of his assets. I'm blocking all assets and asking justice for justice", he concludes.
O TV news he sought out the communicator's press office, but had no return until the closing of this text.
Check out a video by Roger Moreira with Angelo Carbone, his lawyer:
See interviews with Cid Moreira's children in Balanço Geral:
"For me it's a big trauma when someone asks about him," says son of Cid Moreira #AHoraDaVenenosa#General balancepic.twitter.com/17nlQoFxRn

— General Balance Sheet (@balancogeral) July 14, 2021
EXCLUSIVE: son of Cid Moreira is disinherited and speaks to the #General balancepic.twitter.com/C1WaGDYAsX

— General Balance Sheet (@balancogeral) July 13, 2021
Biological son of Cid Moreira speaks to #General balance and makes controversial revelations about the father. Don't miss watching it live at https://t.co/EsiKDUNakYpic.twitter.com/gGeNQ225Pk

— General Balance Sheet (@balancogeral) July 15, 2021
Advice of Cid Moreira denies assaults and accusations of biological son #AHoraDaVenenosa#General balancepic.twitter.com/7FRalJ7aKF

— General Balance Sheet (@balancogeral) July 15, 2021
Children of Cid Moreira who accuse their father of abandonment meet again #AHoraDaVenenosa#General balancepic.twitter.com/PxL0ZUPe5q

— General Balance Sheet (@balancogeral) July 15, 2021
.