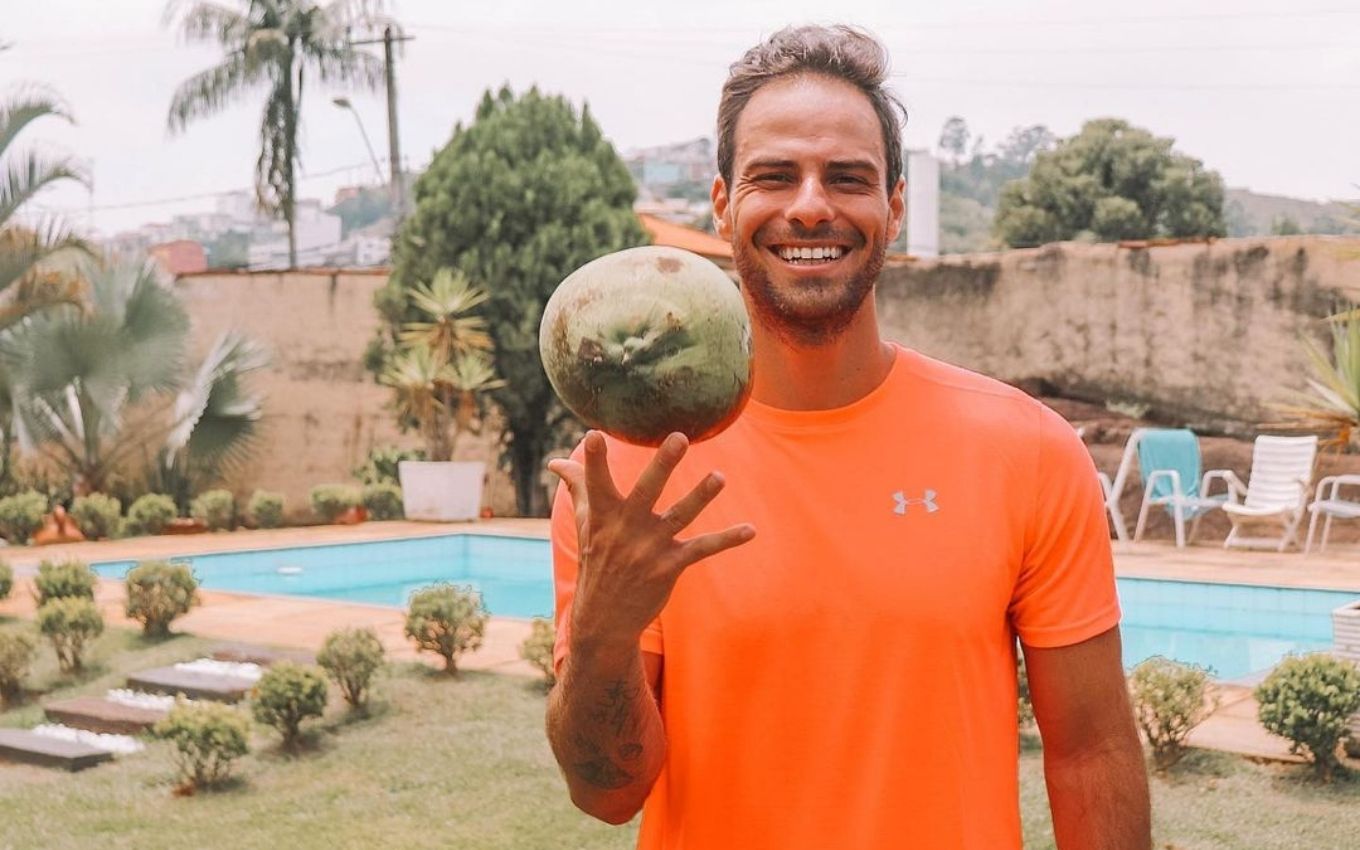 In 2013, Lucas Malvacini conquered Globo's viewers of Amor à Vida, as Anjinho, Félix's lover (Mateus Solano) in the plot. Years after making the audience sigh, the actor was faced with a new reality. Because of the pandemic, he temporarily moved to Juiz de Fora (MG) to be close to his family. There he turned entirely to healthy eating and became a champion of the cause. At 31, he found himself tending a vegetable garden, like a kind of Bela Gil in pants.
"It was two years ago that I completely removed the meat from my diet, preferring to eat vegetables. This opened up space to review my choices and understand that through them I can contribute to reduce the impact on the world. Food was the gateway to new possibilities ", Malvacini tells the TV News.
The lifestyle change gained momentum during the pandemic. But its transformation predates the coronavirus period. "I suffered a lot with hair loss, anxiety, I had insomnia problems and mood disorders. I got the flu constantly, I had allergies and sinusitis. The new habits made me realize that the foods we eat can be a cure, as they can also be harmful. to our health. I have not taken any medication or been ill for two years ",
"The practice of physical activities became my escape valve to renew my energies. In addition to the crossfit and running training that already accompanied me, I started to practice tennis and footvolley. The changes and the pandemic period made me look for sustainable solutions within the my own home, I created a vegetable garden in which I already have some vegetables and vegetables straight from my yard and we are transforming energy into clean and sustainable ", he continues.
Committed to cultivating what he brings to the table, Malvacini has also perfected himself in the kitchen. On his social networks, he usually displays the combinations he makes on his plate. "The cuisine was a discovery. Before I was not hungry, I turned around because I always lived alone. But today I can say that I will prepare a dinner and I will not be ashamed of my guests (laughs)", he celebrates.
In the pandemic, he approached the work of the culinarian and presenter Bela Gil, a reference in healthy eating. "Being compared to her is incredible, but I'm not [parecido]. She makes many recipes, I make only a few. I have some dishes up my sleeve (laughs). Bela Gil was a discovery in the quarantine ", he reveals.
Rodrigo Hilbert, who runs the Family Seasoning at GNT, is also on your radar. "Rodrigo is a much bigger reference to the breaking of masculinity and the thought that men cannot stay in the kitchen", he considers.
From little angel to desired firefighter
Because of the quarantine, Malvacini stopped working entirely as a model in 2020. Fashion and advertising catalogs were his breadwinner. "Many projects that were about to happen had to be canceled. What I do most of all is modeling. I had some commercials and campaigns. Everything went down. Professionally, it was a total gap year", he laments.
Despite the setback in the professional agenda, the actor stresses that he did not suffer financially, as he was already forewarned. "I went through a situation a few years ago and, therefore, I had a reservation. I had to resort to that reservation", he explains.
Even without occupation as a model, he conquered a new role in the period of crisis. "The work of digital influencers has increased. In a way, it worked. The pandemic had this: everyone went online. I had the opportunity to work digitally. It was excellent, and it is being. It squeezed on one side, but on the other it improved," celebrates.
In 2021, Malvacini plans to resume life in Rio de Janeiro. There were some readings of pieces to be done. The acting profession never stopped. Anjinho's fame also continues today.
"Amor à Vida will always be remembered for the message it passed. After it, many products appeared with this theme and debate, which is still questioned in society today. Prejudice is sad and still happens. It is important to have novels talking about it to inform the population ", analyzes.
However, he reveals that his most recent work is the one that resonates most with fans. "Today I can say that I am more recognized by the fireman Rômulo do Vai que Cola (laughs)", he celebrates. In the humor of Multishow, he participates as the flirtation of Ferdinando (Marcus Majella) and is a success, once again, among the LGBTQ + public.
"It is affectionate harassment. It is not a pervert, it is not sexual. Of course, there are always two-way jokes. But 90% of cases are affectionate. When I see the metrics of my social networks, I see that it is 50% male and 50% female. A large part is LGBTQ + who has been with me for years. It is incredible to see this trajectory of almost ten years. This harassment does not bother me at all. On the contrary, it only strengthens my work ", he considers.
For appearing in the male imagination, the actor has already faced rumors about his sexuality. For him, this is not an issue. "Often, we remain in the imaginary and do not know how it is there. I don't mind anything about thinking or thinking that I am gay. It is the recognition of my work", he comments.
"And if one day I fall in love with a man, wanting to have a relationship and dating, I can't see a problem with that. I take it as love. Every form of feeling has to be experienced. Love doesn't choose a person", he concludes. To the heartthrob fan club, the name of his current love is Laura Alvarenga.
See photos of Lucas Malvacini and his healthy life:
.