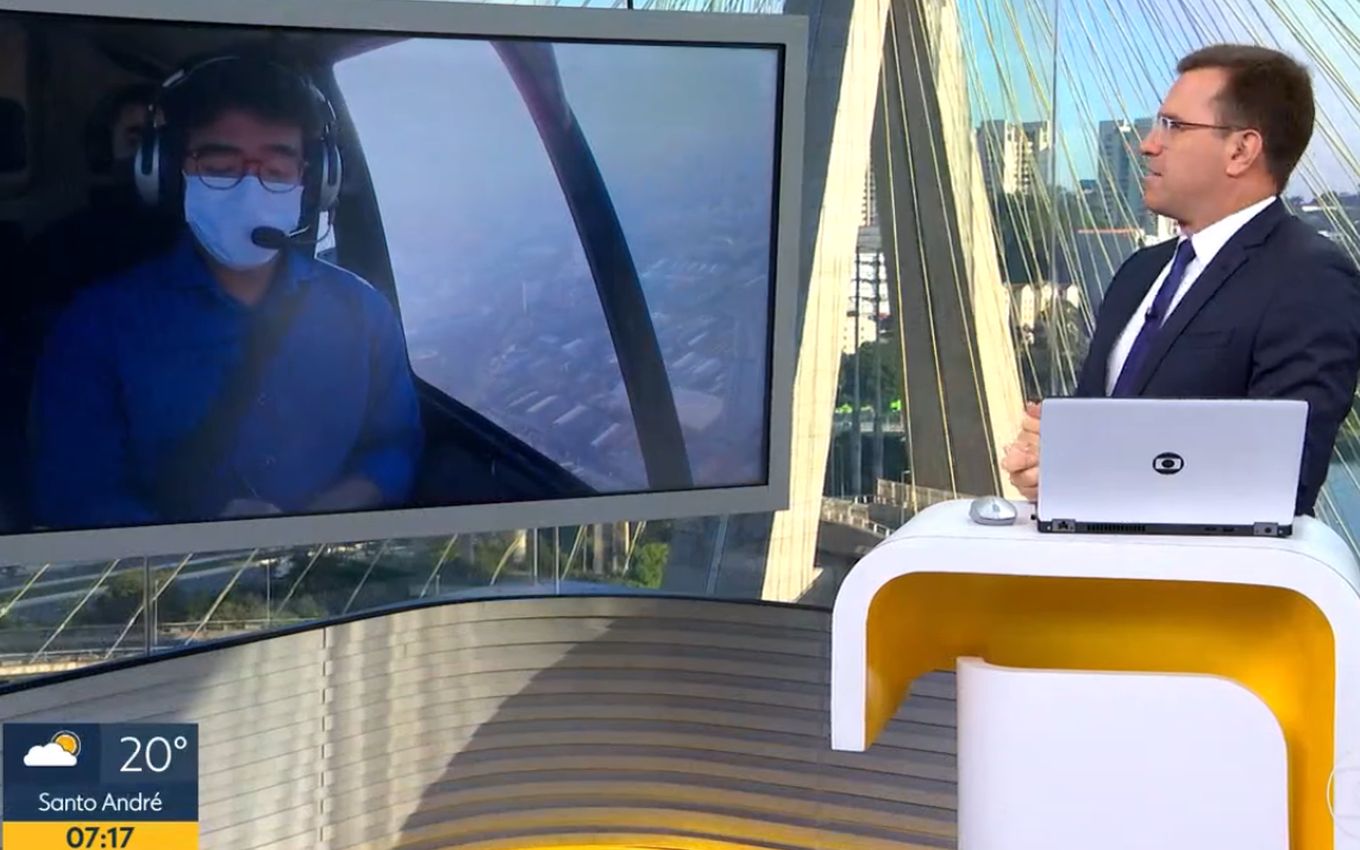 Rodrigo Bocardi caught reporter Rafael Ihara off guard during a live entry at Bom Dia SP this Tuesday (16th). The journalist was on Globocop when he was called by the presenter, apparently, unexpectedly. When he realized that his colleague was startled by the approach, he apologized: "I will be less brusque".
Ihara flew over Avenida do Estado in the central region of the São Paulo capital to report on an exchange of gunfire between bandits and police that took place on the spot, when he was surprised by the anchorman. He had his eyes closed and his hands crossed the moment he heard his name being called in the studio.
The journalist quickly opened his eyes and took the microphone next to him. Bocardi, in turn, noticed that Ihara was distracted and fired: "Oops, no fright".
Unlike what happens when something unexpected leaks live, Ihara did not make any relaxed comments, only reported on the police occurrence near the Municipal Market.
At the end of the block, the presenter apologized: "Thanks, Rafa. Good flight to you. On the next call I will be less abrupt. Thanks and even more".
About 30 minutes after the incident, the reporter was called again at Globocop to talk about two accidents on the Castello Branco Highway and commented: "Good morning again … Now without a fright".
Helicopter exchange
Recently, Globo changed Globocop models in São Paulo and Rio de Janeiro. On the first day of 2021, the old Squirrel AS350 B2 was replaced by a Robinson R44, a smaller aircraft and also with fuel and maintenance expenses. But reporters were unsure of the move and at least three asked not to fly – and were met at first.
THE TV News found that experienced Walace Lara, César Galvão and Janaina Lepri asked not to be cast in the new Globocop earlier this month. The head of São Paulo itself was not satisfied with the change in helicopters, but had to comply.
Feedback Policy
This space aims to expand the debate on the subject addressed in the news, democratically and respectfully. Anonymous comments are not accepted nor do they violate ethical and moral laws and principles or promote illegal or criminal activities. Thus, slanderous, defamatory, prejudiced, offensive, aggressive comments that use bad words, incite violence, express hate speech or contain links are summarily deleted.
.