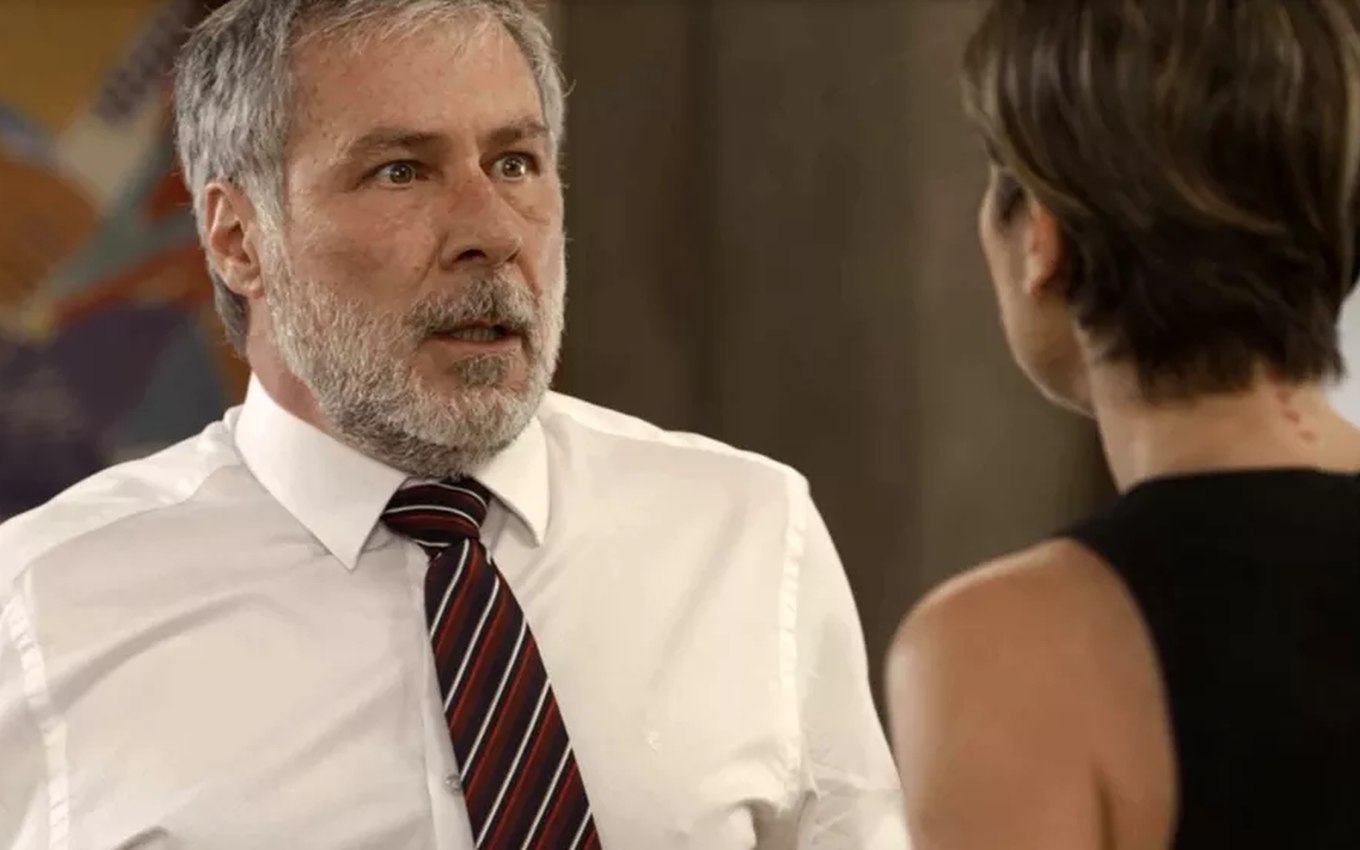 Helena (Flávia Alessandra) and Hugo (Leopoldo Pacheco) have not had a good time in Salve-se Quem Puder. The couple has been arguing over their children and to make matters worse, the businessman will throw the dirty past in the woman's face, who will slap her at Globo's seven o'clock soap opera.
Hugo and Helena started to fall out when the woman considered going to Mexico to pick up Téo (Felipe Simas), who was interned in Cancún with spinal problems, after being injured during the hurricane.
The new fight will start on the day that Hugo doesn't recognize Micaela's talent (Sabrina Petraglia), when she shows that the works of her restaurant were a success. The man will ignore the daughter's merit and the businesswoman will give her husband a hard time, in scenes that will air on Monday (26).
"If you gave her that chance, you would bite your tongue. But no, you preferred to wait for Téo to follow in his footsteps. Do you understand that this will never happen? Our son's vocation is different", he will say.
Leopoldo Pacheco's character will accuse the boy of being irresponsible, and Helena will complain that he is always angry. The rich man will then try to justify himself. "Do you know why I am like this? Because you have been different since Téo went to Mexico and suffered that accident", he explains.
"Again, Hugo! What did you want? That I shouldn't be upset? Téo almost died in that hurricane, did you forget?", The blonde will ask. The man will remember that she almost went after her son in the Mexican city, but that he managed to stop her in time.
Helena will state that she really intended to go to Cancún, and the businessman will explode. "I'm glad I stopped you! You were going to put yourself at risk by going back to that country! Imagine if everything you did in Mexico comes up! How it would harm me, our family! What a scandal it would be if the Helena Furtado's dirty past was discovered ", he will stress.
Angrily, Helena will slap her husband in the face. "Look how you talk to me! I know what I did in Mexico! I know it wasn't right! It was criminal! But that doesn't give you the right to torture me", you will lose control.
Save Yourself Who Puder started airing in January 2020, but had its recordings halted in March last year due to the Covid-19 pandemic. The soap opera aired again on March 22 this year with the replay of the chapters of the first phase. The public will see unpublished episodes starting in May.
---
The Salve-se Quem Puder chapters are provided by Globo and are subject to change without notice.
---
Subscribe to the channel TV News on YouTube and watch videos with revelations of what will happen in Globo's soap operas.
Feedback Policy
This space aims to expand the debate on the subject addressed in the news, democratically and respectfully. Anonymous comments are not accepted nor do they violate ethical and moral laws and principles or promote illegal or criminal activities. Thus, slanderous, defamatory, prejudiced, offensive, aggressive comments that use bad words, incite violence, express hate speech or contain links are summarily deleted.
.