Thanks to a plan by Luna / Fiona (Juliana Paiva) and Kyra / Cleyde (Vitória Strada), Alexia / Josimara (Deborah Secco) will give a helping hand and assume the passion she feels for Zezinho (João Baldasserini) in Salve-se Quem Puder. The hillbilly will deceive the actress and pretend to have returned to Judas do Norte. The redhead will go after him and become a "cannibal" by almost tearing off a piece of the beloved the first time in the soap opera at seven on Globo.
With the boy's absence, Ignácio's granddaughter (Otávio Augusto) will miss him and will decide to live that love in the scenes that will air on next Wednesday (28). What the actress will not know is that, in fact, the character of João Baldasserini will be hiding in a small room at the house of Bel (Dandara Mariana), their neighbor.
But as soon as he knows that the stranger is on his way to the site in the interior of São Paulo, he will decide to disguise himself as a woman and travel on the same bus as her to Judas do Norte.
So as not to lose everything, as soon as they land in the fictional city of Daniel Ortiz's plot, Ermelinda's son (Grace Gianoukas) will hurry to get to the site before Alexia. Confused, he will remove the women's clothes, but when it comes time to put it away, he will not realize that he forgot his bra on the floor of the room.
Soon after, the redhead will arrive. "Oh my, our lady of longing, make Zezinho welcome me with open arms", will ask the actress before knocking on the door of the tree.
"Alexia, wow, has come in, feel free. What are you doing here? Did something happen there in São Paulo, was it? ", The boy will pretend to be surprised. Straightforward, she will go straight to the point." It happened. I mean, it didn't happen to your mother or the girls. Was with me. I know that you must not understand anything, of me being here, you must be quite surprised ", the beauty will start the conversation.
"But it's just that, when you left the house, I realized … Oh my God, how difficult it is to do this", the redhead will release, nervous. Zezinho will encourage you to speak what is stuck in your throat and ask if it is about him.
Alexia will freak out when she finds underwear
Misunderstood
"Zezinho, I never imagined that I was going to live this. That I was going to feel something like this. But, in fact, I'm … I'm furious!" Nervously, she will ask whose piece it is and if she has another woman with him in the house.
"Carma which is nothing you're thinking about ", she will try to ease the situation of the hick. Alexia will start walking around the house looking for the woman she will imagine to be hiding." If you leave, I explain everything correctly you", the countryman will ask.
Deborah Secco's character will not give a damn and will say she wants to leave, but Zezinho will not let it. He will drag you into the bedroom to prove that there is no one there. On the way, the girl will bite you for real. "You almost took my finger off, you cannibal!", Complains the man.
Even with the room empty, Alexia will not believe that there was no woman in the house. "Do you know what I came to do here? I came to tell you … I came to say something very important. Zezinho, when you left the house, I ended up understanding a lot of things, I understood that I was very hurt on account of the things that happened and left me traumatized, afraid to fall in love, to get involved ", will start the actress.
"I thought I would never meet a nice, sincere guy again that I could trust. But then, you came here, to the place and I missed you, I realized that I need you close to me. I'm in love for you ", will confess.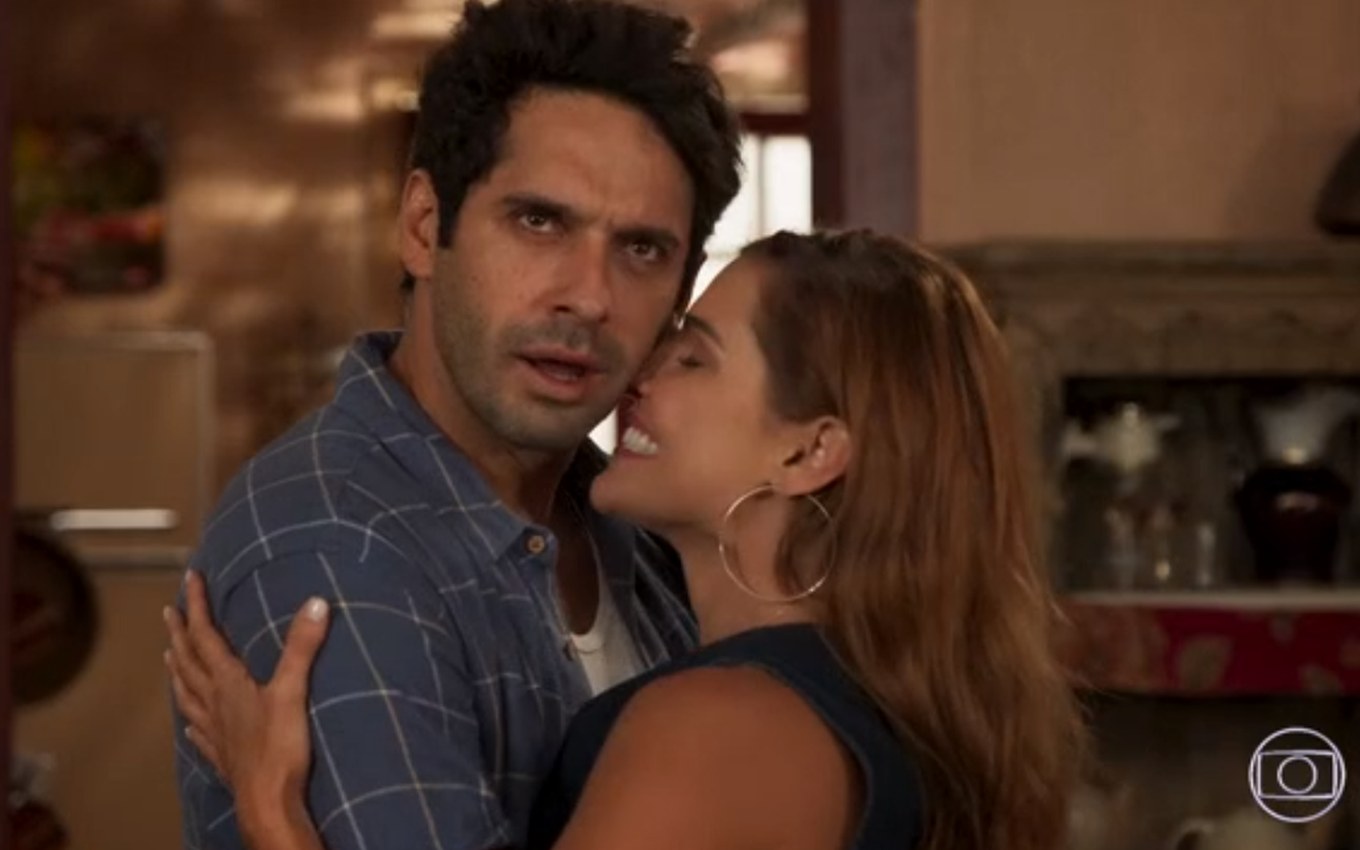 Zezinho and Alexia declare each other
First time
"Alexia, you have no idea how long I waited to hear this", will admit the chucro, who will see the mood between them be cut off the moment the woman freaks out again because she thinks he was with another one.
To put an end to the confusion, Zezinho will explain that he was wearing the bra and will tell the whole plan elaborated by her friends. "Was you to come to your senses, stop with all that pride there, accept my love and assume that you love me too ", will justify the besieger.
Alexia will still try to debate, but will soon give up. "I got tired of so much discussion! That's not what I hit the road for all night! Now, I want to enjoy the man I love", will end the redhead, throwing herself in Zezinho's arms and giving a breathtaking kiss in the hillbilly.
Save Yourself Who Puder started airing in January 2020, but had its recordings halted in March last year due to the Covid-19 pandemic. The soap opera aired again on March 22 this year with the replay of the chapters of the first phase. The public will see unpublished episodes starting in May.
---
Find out everything that will happen in the next chapters of the soap operas with the Noveleiros podcast
Listen "# 55 – Couple pierces eye and premonition: Emotions in A Vida da Gente!" in the Spreaker.
---
Subscribe to the channel TV News on YouTube and watch videos with revelations of what will happen in Globo soap operas.
.