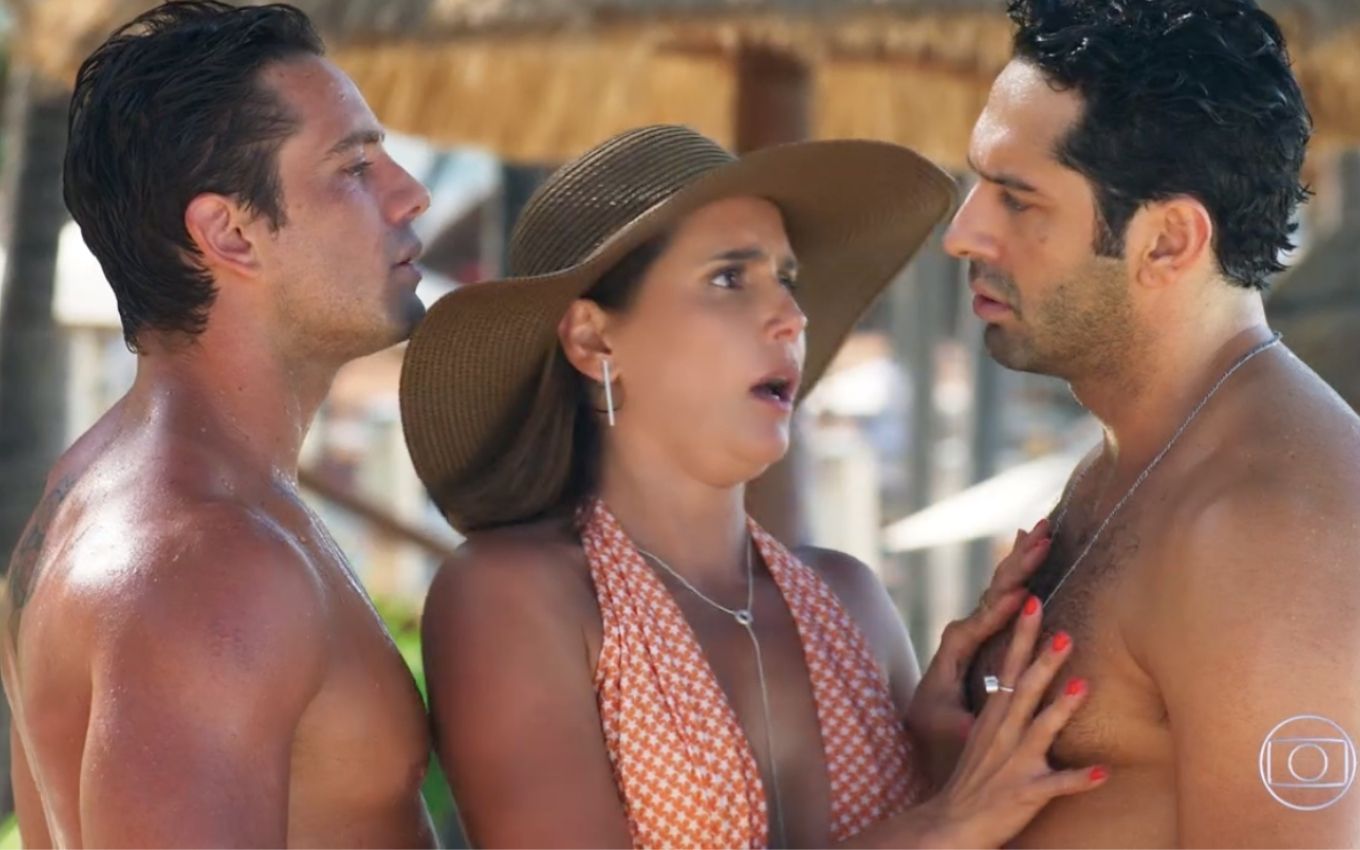 Alexia / Josimara (Deborah Secco) will face a huge sexual tension involving Renzo (Rafael Cardoso) and Zezinho (João Baldasserini) together and wet in Salve-se Quem Puder. In Globo's seven o'clock soap opera, the actress will have an erotic dream and will see her two suitors leaving the sea shirtless, but will wake up clinging to Kyra / Cleyde (Vitória Strada).
In the scenes that will air from next Thursday (15), the young women, who share the same bed, will be dreaming of their respective loves. While the decorator is imagining her wedding with Rafael (Bruno Ferrari) in Mexico, Alexia will return to the day she saw Renzo (Rafael Cardoso) coming out of the sea in Cancún.
"My dear lady of Vale a Pena Ver de Novo, now, I understand why the soap operas love a flashback. What a body!", Comments the redhead in the dream. The cat thug will recognize the actress. "Alexia? Alexia Máximo?", Will say the healed one.
"Skip that text and let's go to action. Before I follow you like crazy, watch your aunt shoot the judge. Kiss me before I report you to the police, go! It's your last chance!" protagonist. "I don't understand anything!", Dominique's nephew (Guilhermina Guinle) will speak. "Kiss me!", Will demand Ignácio's favorite granddaughter (Otávio Augusto).
As soon as the criminal grabs the character of Deborah Secco, she will look at the sea and see Zezinho (João Baldasserini) shirtless, leaving completely wet and with his hairy chest exposed. "Oh, no. This dream is too small for the three of us!", Complains Petra's sister (Bruna Guerin). "Who is this guy?", Asks the villain.
Kyra and Alexia will wake up almost to kisses
The hillbilly will then alert the rival. "Oce get away from her, you murderer! ", the killer will send." Who is murderer, boy? I never killed anyone! ", Renzo will complain." Stop! Stop fighting for me so I stay … Oh, I stay … Molinha ", the redhead babbles.
Alexia's two suitors will be fighting over her, when the actress will start to wake up from sleep. "Wow, Zezinho, what a footprint. And you, Renzo, calm down, who has Alexia for everyone", will release the girl.
"Oh, Rafa, kiss me now", whispers Kyra. At that moment, the two witnesses to Vitório's murder (Ailton Graça) will open their eyes, see that their mouths are close together and will scream in fright.
Save Yourself Who Puder started airing in January 2020, but had its recordings halted in March last year due to the Covid-19 pandemic. The soap opera aired on Globo on March 22 this year, with a replay of its entire first phase. The public will see unpublished episodes from May 17.
In addition to the spoilers, the TV News publishes daily summaries of the novel written by Daniel Ortiz.
---
Subscribe to the channel TV News on YouTube and watch videos with revelations of what will happen in Globo's soap operas.
Feedback Policy
This space aims to expand the debate on the subject addressed in the news, democratically and respectfully. Anonymous comments are not accepted nor that they violate laws and ethical and moral principles or that promote illegal or criminal activities. Thus, slanderous, defamatory, prejudiced, offensive, aggressive comments that use bad words, incite violence, express hate speech or contain links are summarily deleted.
.