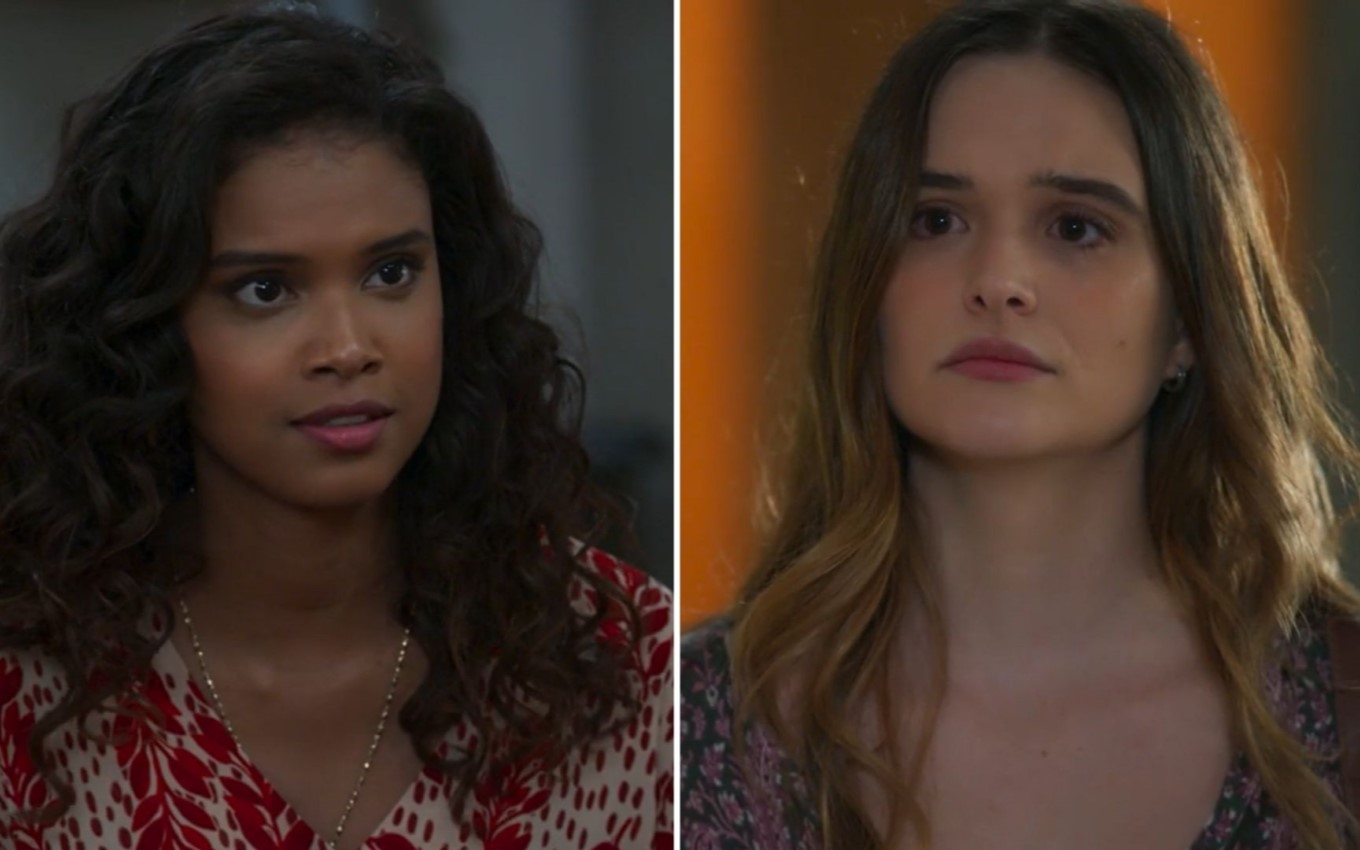 Ursula (Aline Dias) will come face to face with Luna / Fiona (Juliana Paiva) and Téo (Felipe Simas) arriving from the "honeymoon" and will be false with the couple in Salve-se Quem Puder. The ex-girlfriend of Micaela's brother (Sabrina Petraglia) will apologize for assaulting the Mexican woman. After surprising them both with her sensible attitude, she will emerge doping herself with tranquilizers so as not to set up a shack with her rival in Globo's seven o'clock soap opera.
The public followed the addiction of the character of Aline Dias in medicines black stripe. Everyone knows that she was hospitalized because of her addiction to tranquilizers, even had a scene in which Helena (Flávia Alessandra) saw her with a hidden bottle of medicine.
Following the airing next Monday (31), the couple will have returned from Campos do Jordão (interior of São Paulo) and will be face to face with the repression. Luna will try to avoid a conversation by entering the Emporium Delícia in a hurry. "Wait, Fiona. You don't have to be afraid of me," will say the sly one.
Mário's daughter (Murilo Rosa) will explain that she is not afraid, but that she would like to avoid confusion in the place. Ursula will make herself a good girl and affirm that she will not make a mess like the last time. She will still pretend to be natural when Téo says she is dating the character of Juliana Paiva.
I want to take advantage of the fact that I met them both to apologize to Fiona … For attacking you that day, I couldn't have done that. I rested this time outside, I thought about what happened and, as much as it hurts me to lose Téo, I know that now he is in love with you.
Luna will say that if the enemy is really sorry, she is forgiven. Téo will announce that he hopes they can still be friends. The two lovebirds will enter the restaurant where the young lady works.
Pure Pretending
Luna will ask if her boyfriend believed her ex's forgiveness. "I really want to believe it, but I don't put my hand on the fire for it," says the boy.
The couple will change the subject and enter into an atmosphere of romance when the girl asks Hugo's son (Leopoldo Pacheco) to go home and rest. "You are doing me so well that there are times that I even forget that I am going to operate. I don't even worry about the risks anymore, because I know you are going to be there with me", the director says.
When both are looking at each other in love, Ursula will be watching them from afar, anxious and with hatred. She will take a pill from a jar in her bag. "That's all it takes to hold me, and I don't make a shack," she will think aloud before swallowing a capsule.
Only novel novel in Globo, Salve-se Quem Puder is all recorded. The plot opened on January 27, 2020, but was interrupted in March of the same year due to the Covid-19 pandemic.
With the exhibition of 53 unpublished chapters to end the saga, the forecast is that the soap opera will end on July 16. A new reprise will enter the range of 19h because the broadcaster decided to postpone the premiere of "The More Life, the Better".
---
Find out all about the next chapters of the soap operas with the Noveleiros podcast
Listen "# 60 – Kyra falls into Alan's arms in Save Yourself!" in the Spreaker.
---
Subscribe to the channel TV News on YouTube and watch videos with revelations of what will happen in Globo's soap operas.
.