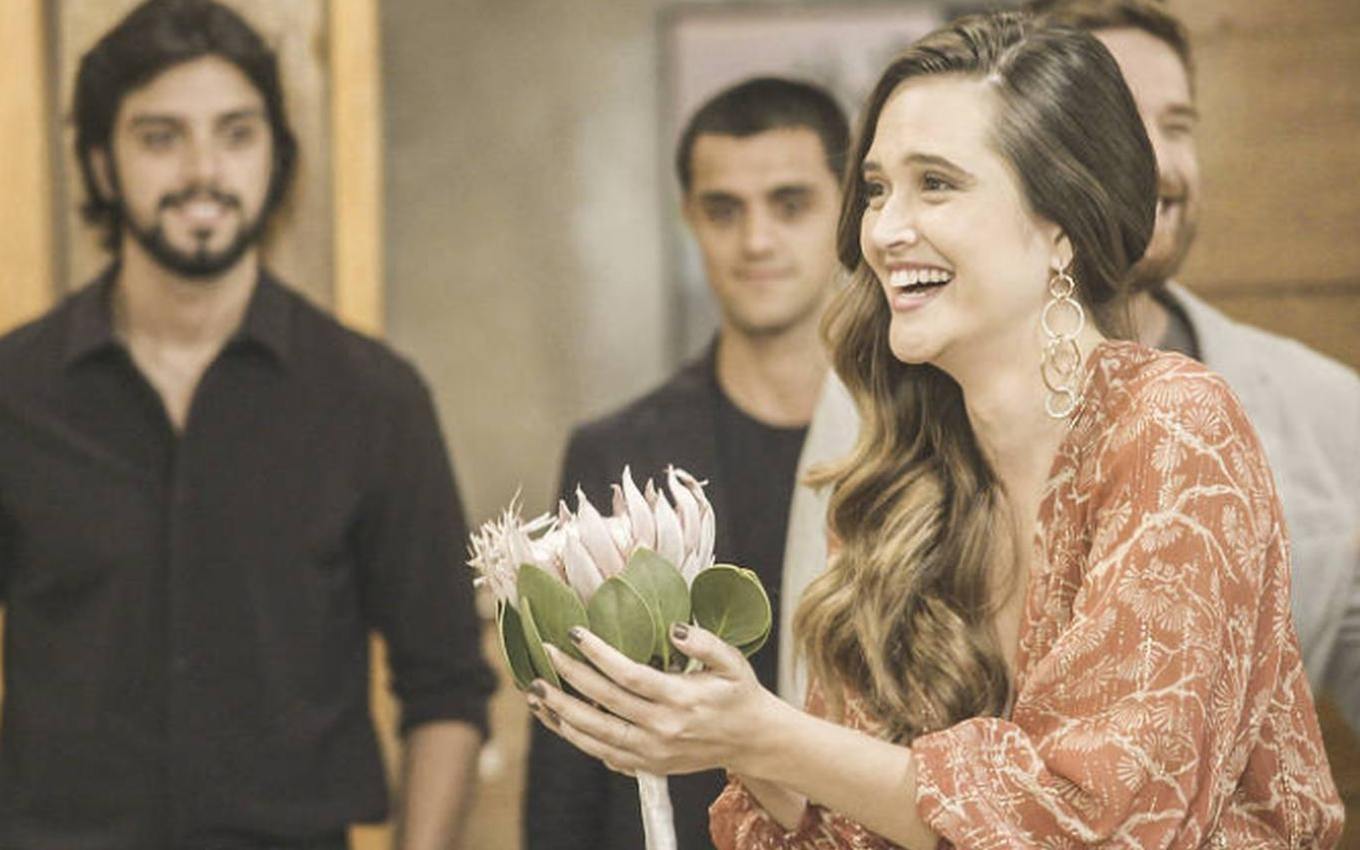 The love triangle formed by Luna/Fiona (Juliana Paiva), Téo (Felipe Simas) and Alejandro (Rodrigo Simas) will experience great emotions in the final of Salve-se Quem Puder. The physiotherapist will pick up the bouquet at the wedding of Helena (Flávia Alessandra) and Mário (Murilo Rosa) and will further entice the suitors on the Globo telenovela.
A surprise set up by the young people will provide the businesswoman and the cook with a blessed new beginning. The boys will organize a small ceremony for the couple to renew their vows in scenes that will air from this Thursday (15).
The chef de cuisine will be in a suit in the living room waiting for the blonde. Alejandro will play the wedding march on the guitar, while the bride goes down the stairs accompanied by Téo, who will take her to the justice of the peace.
"We are here today to renew the vows between Mário and Helena Furtado," the judge will begin, while the couple will look at each other with emotion. The Mexican will drop a tear when she sees her parents renew their vows.
"And may the love that brings them together today continue to guide them for the rest of their lives," the celebrant concluded. The couple will kiss to the sound of applause from the guests.
Towards the altar?
With everyone happy and the celebration going on, Luna will be pulled by Gabi (Nina Frosi) for another important moment of the night. "Come, your mother will throw the bouquet," will call the former chambermaid. "I'm going to be embarrassed, they're both here," the girl will advise.
"You have to stay with Alejandro!", will say Gabi, who will be interrupted by Úrsula (Aline Dias). "No, no, no. It's with Téo, you don't know what the poor thing went through in my hand", will retort the former rival.
Luna will be amused and will end up accompanying the girls for the game. Helena will count down and throw the bouquet. Gabi and Úrsula will try to catch the flowers, but they will fall on Juliana Paiva's character. From a distance, Alejandro and Téo will smile at the girl at the same time — hopeful to be chosen by her.
The only new telenovela on Globo, Salve-se Quem Puder will end this friday (16). The rerun of Pega Pega (2017) will go into the 7pm band afterwards because the network decided to postpone the premiere of Quem Mais Vida, Melhor.
---
Subscribe to the channel TV news on YouTube and watch videos with revelations of what will happen in Globo's soap operas.
.