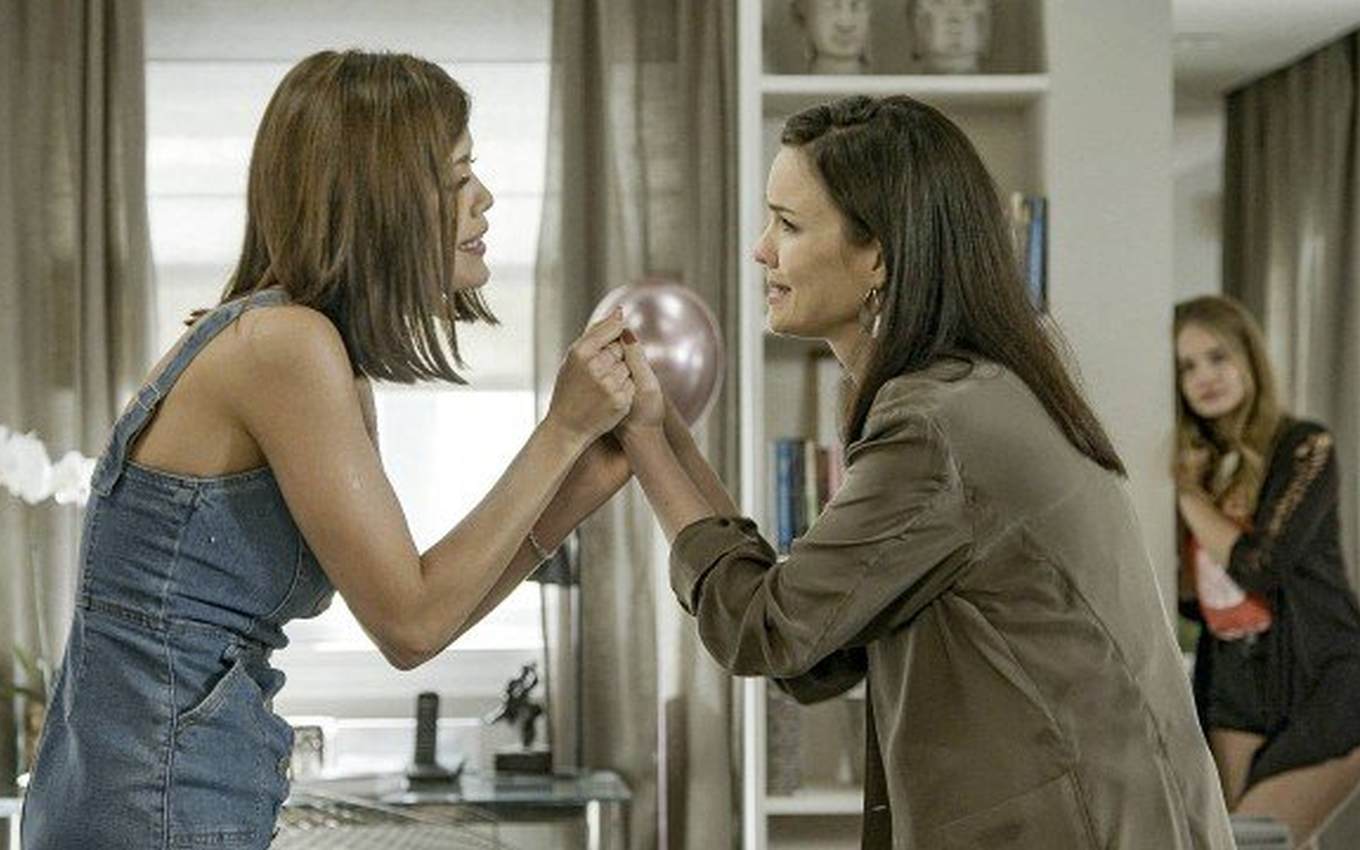 Kyra/Cleyde (Victoria Strada) will be thrilled to re-encounter Agnes (Carolina Kasting) in Save Yourself. After the arrest of Dominique (Guilhermina Guinle), the decorator will "resurrect" and return to the family home. The madame will be incredulous when she sees her daughter alive, and the moment will be full of tears and laughter in the Globo telenovela.
In scenes that will air this Tuesday (13), Bia (Valentina Bulc) will tell her mother and Junior (Igor Cosso) that her older sister is alive after they see the news of the villain's arrest on TV. The protagonist had already returned from the "world of the dead" to prevent the teenager with heart disease from participating in an artistic gymnastics competition.
Rafael (Bruno Ferrari) will be responsible for looking for Vitória Strada's character at Ermelinda's (Grace Gianoukas) house and taking her to her mother. Upon arriving at the site, the owner of Labrador Digital will be confused when he bumps into Alan (Thiago Fragoso), who will also have gone to the hillbilly's residence to see Alexia/Josimara (Deborah Secco).
Meanwhile, Agnes will be at her house decorating the entire place to welcome her daughter. She will spread several balloons around the environment and large letters that form the firstborn's name. "I think there are few balloons, Kyra loves everything well decorated", the woman will observe.
"Calm down, Mom, you don't need anything else. You're too excited," Bia will say, as the ex-nanny sneaks into the kitchen without her mother noticing. Kyra will cover Agnes' eyes, which she will think is the youngest daughter's prank. "Bia, stop that, your sister will come in… Bia?", the madame will say, as she lets go. "Kyra! My daughter!" she will celebrate, who will be enveloped in a hug.
Let me see you, my love! I had so many dreams about us like that, but then I would wake up the next day and I knew it was impossible. That only a miracle would bring you back.
"Miracles exist mom, I'm here! I miss you!", the girl will be moved, hugging the whole family.
The only new soap opera on Globo, Salve-se Quem Puder is all recorded and will end next friday (16). The rerun of Pega Pega (2017) will be in the 7pm range because the network decided to postpone the premiere of the serial, Somos Mais Vida, Melhor.
---
Learn all about the upcoming chapters of soap operas with the Noveleiros podcast
Hear "#65 – All About the End of Save Yourself Who Can!" on Spreaker.
---
Subscribe to the channel TV news on YouTube and watch videos with revelations of what will happen in Globo's soap operas.
.