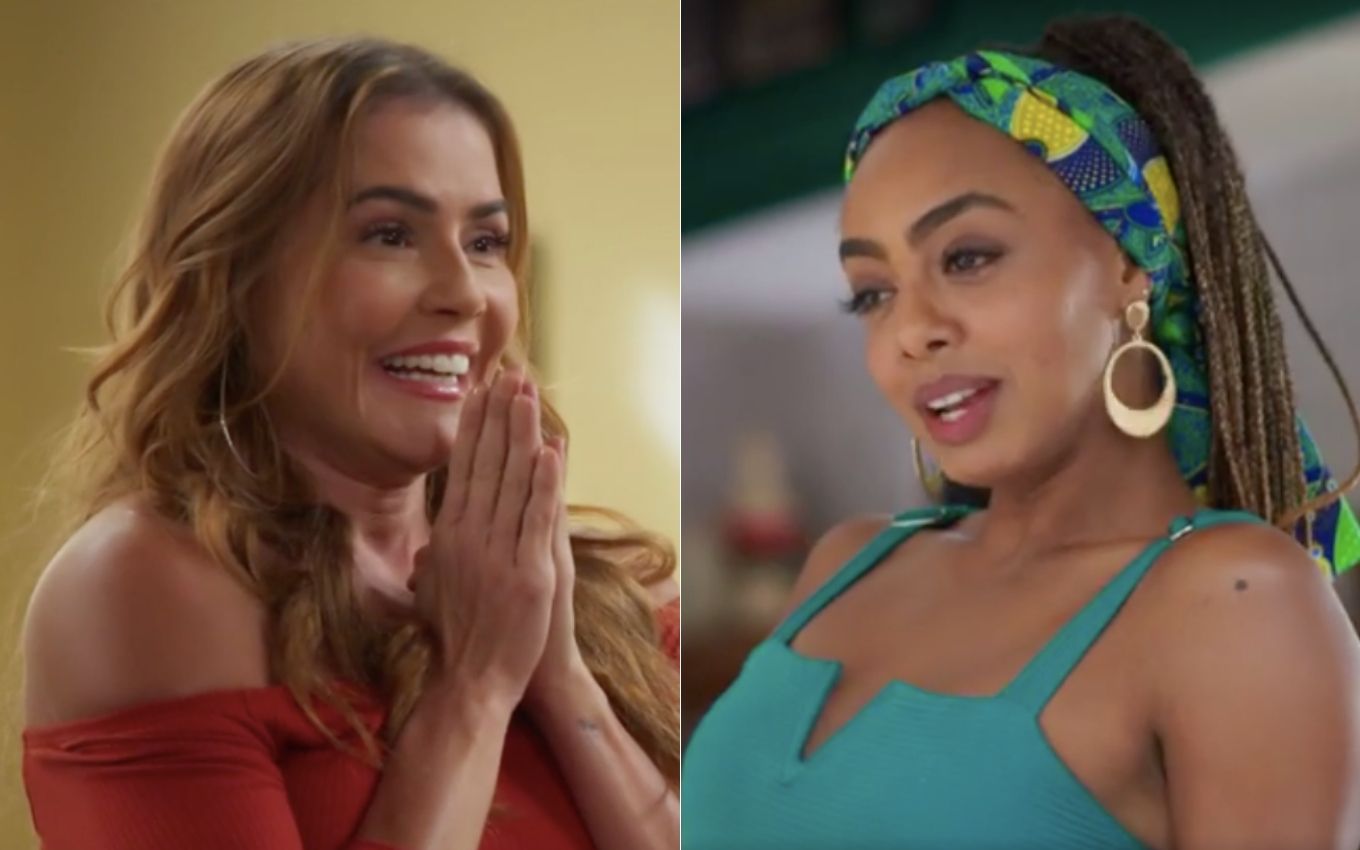 Back to her old life, Alexia/Josimara (Deborah Secco) will even become a model for the Bel brand (Dandara Mariana) in the last chapter of Salve-se Quem Puder. This Friday (16), the actress will bury the fights she had with Edgar's daughter (Cosme dos Santos) and will push her rival to success in Globo's seven o'clock soap opera.
In front of Edgar's cafeteria, the stylist at the start of her career will surprise Graziela's daughter (Deborah Olivieiri) with a gift box. "It's yours, Alexia. Look, I'm sorry if I offended you. I didn't know anything about your story," the girl will recognize.
"Oh, you don't need to apologize or give me a present… Or rather, you do,
yea! This dress is a spectacle! Is there one more here?! Girl, the world needs to know your talent!", the actress will warn, all happy trying out the new looks.
"The neighborhood has been making some requests, we'll go slowly", will comment the young woman who was interested in Zezinho (João Baldasserini). "Slowly nothing! Now that I'm resurrected and I'm full of fans, I insist on being your model! Get a camera!", will order the future wife of the hillbilly.
Magazine cover
Next, Bel will do a photo shoot of Alexia wearing the clothes of her humble designer at various points on the street. The model will share the clicks on social networks.
"Done! I posted and marked your professional profile in the photos. You're going to rock. And, look, I insist on using this one at Fátima Bernardes!", will promise the Globo soap opera star.
"Brigada, Bel!", the girl will say goodbye to the plot written by Daniel Ortiz. The cell phone of the character played by Dandara Mariana will start beeping incessantly. "Seven new followers? Thirteen?! Ninety-eight? One hundred and fourteen?", the seamstress will be surprised. "Guys, Alexia is really great!", will recognize the former enemy of the actress.
Audiences will see a passage of time in the final scenes showing the partner Kyra/Cleyde (Vitória Strada) and Luna/Fiona (Juliana Paiva) making the most success, performing professional photo shoots, stamping magazine covers and giving various interviews.
In one of the sequences, the cover will announce that Alexia uses the Bel Santos brand, which will further boost her career as a fashion designer.
The only new telenovela on Globo, Salve-se Quem Puder will end this Friday. The rerun of Pega Pega (2017) will come in the 7pm range because the network decided to postpone the premiere of the unreleased Quem Mais Vida, Melhor.
---
Learn all about the upcoming chapters of soap operas with the Noveleiros podcast
Hear "#65 – All About the End of Save Yourself Who Can!" on Spreaker.
---
Subscribe to the channel TV news on YouTube and watch videos with revelations of what will happen in Globo's soap operas.
.