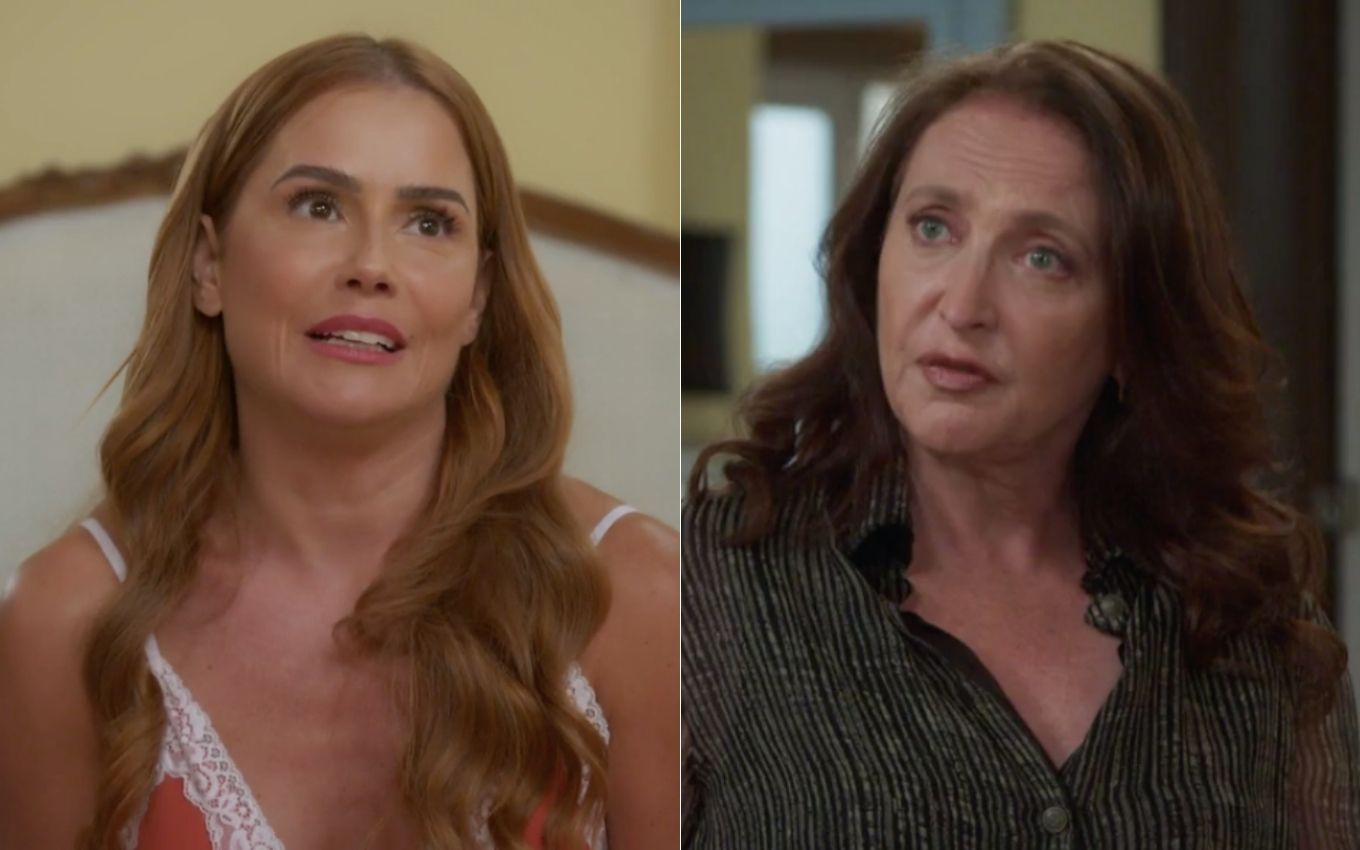 At the end of Save Yourself Who Can, Alexia/Josimara (Deborah Secco) will cry with her mother's request for forgiveness and will "wash her soul" when she finally feels loved by Graziela (Débora Olivieri). After spending months hiding from Dominique's gang (Guilhermina Guinle) and even pretending to be dead in the Globo telenovela, the actress will be reunited with her family.
In the scenes that air on Wednesday (14), Alexia will be moved at Alan's (Thiago Fragoso) house when she sees the people she loves the most. The biggest surprise of the night will be Graziela trying to redeem herself for having passed over the girl and given unconditional love only to Petra (Bruna Guerin).
"But how long for them to arrive!" complains the former model. "Calm down, aunt. I saw that the car has already arrived", will reassure Tarantino (Daniel Rangel). "Ladies and gentlemen! With you: Alexia Máximo!", Alan, Queen (Alice Palmar) and Mosquito (Ygor Marçal) will play.
Kyra/Cleyde's (Vitória Strada) and Luna/Fiona's (Juliana Paiva) partner will slowly enter the family home and will be grabbed by Graziela. "My daughter! Let me squeeze you, see if it's true. I still don't believe it! Alexia!", Ignacio's daughter (Otávio Augusto) will cry, crying. "It's me, yes, mom! I'm back! Everything's fine now. I was missing you so much. Hug me, mom. Hug me," the artist will say, overcome with emotion.
In the sequence, the character of Debora Olivieri will recognize all the mistakes she made with her daughter, whose pregnancy interrupted her modeling career, which motivated so much contempt. "Forgive me, daughter, please! Forgive me!" Alan's aunt will plead. "You're not to blame for anything that happened, mother", will answer Zezinho's lover (João Baldasserini).
"Yes, I do, daughter… It's my fault that I wasn't the mother you deserved. I didn't express my love for you as I should. You can't even imagine how it was that time thinking you were dead, in things that I hadn't been able to tell you. I was a terrible mother!", the woman will speak.
"Forget it, Mom! Shoo, blame, shoo! There's nothing worse than guilt. The important thing is how we're going to be from now on", will warn Ignacio's favorite granddaughter. "From now on, you will only hear one thing from me, daughter. That I love you, that I love you a lot. A love that overflows!", promises Graziela, kissing the eldest heiress.
Everyone will be moved by the scene, and the protagonist will see Tarantino crying. "And you there, handsome? Aren't you going to give your cousin and godmother a hug? Did you forget about me? I'm Alexia, I'm…", the actress will joke. "The best!", the family will complete in chorus.
The only new telenovela on Globo, Salve-se Quem Puder comes to an end next Friday (16). The rerun of Pega Pega (2017) will enter the 7pm range because the network decided to postpone the premiere of Quem Mais Vida, Melhor.
---
Learn all about the upcoming chapters of soap operas with the Noveleiros podcast
Hear "#65 – All About the End of Save Yourself Who Can!" on Spreaker.
---
Subscribe to the channel TV news on YouTube and watch videos with revelations of what will happen in Globo's soap operas.
.