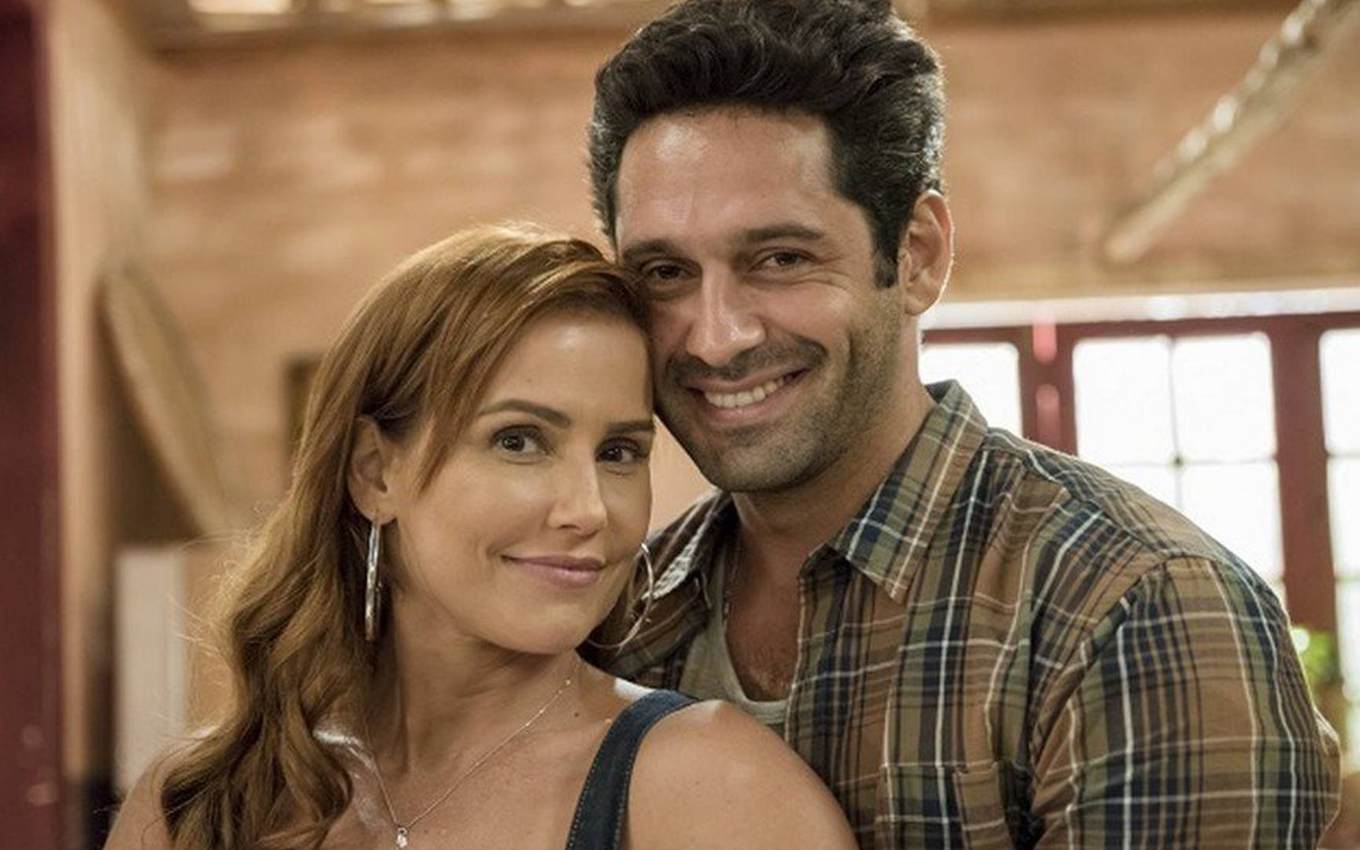 Alexia/Josimara (Deborah Secco) will surprise Zezinho (João Baldasserini) with a marriage proposal at the end of Salve-se Quem Puder. Without realizing it, the actress will ignore a romantic act by the hillbilly when she goes to meet some fans. To redeem herself, the redhead will kneel at her lover's feet and ask him if he wants to be "Mr Maximo" in Globo's seven o'clock soap opera.
After putting Dominique (Guilhermina Guinle) behind bars, the protagonist will resume her life in Daniel Ortiz's plot. The actress's love life will also get back on track, and she will settle down with the "mozão". Romantic, the countryman will prepare a surprise to ask his beloved to marry him.
She will enter Ermelinda's (Grace Gianoukas) house and find the hillbilly all dressed up, with an open wedding ring box in his hand. "you Want to be Mrs. Pleasant? Or you Do you accept me as Mr. Maximo? Or both? Could it be?" he will ask.
Kyra/Cleyde (Vitória Strada) and Luna/Fiona (Juliana Paiva) will be excited about the scene. "Go, Alexia, say 'yes'! It's 'yes', Zezinho! She accepts! There!", the decorator will hasten. Anxious, the boy will wait for the redhead's response. "Carma then who has to speak the magic word is the Sweetheart", he will answer.
But the former secretary will not be able to respond to the request, as a group of admirers will shout for her name at the door of the house. "Are you listening to this?" the artist will be delighted. "It's on the street, but Zezinho is waiting", recalls the Mexican.
Alan's cousin (Thiago Fragoso) won't think twice about running to the gate to meet the fans, leaving the farmer planted on the living room floor. "Look, this nut is going to say 'yes', alright? But I think there's something big going on out there. And I'll see too," Kyra added.
Alexia will ask for Zezinho's hand in marriage
fame and love
Excited about her fans, the actress will spend the entire afternoon taking pictures and signing autographs. "I need to reactivate my profile on social media. And start making some videos of welcomes, thanking them for their affection", she will comment, before taking an ear tug from Luna.
"Isn't there something more important to do now?", the physiotherapist will need. Meanwhile, Zezinho will complain to the chicken Filipa:
Where was I thinking? propose a star of television? Filipa, I know the damned Love me… He has the donkey forgot that now she's going to be an actress for Globo, she's going to become famous. Or you Do you think Alexia will think about marrying me? She's going to want to know about her career. The farmer here just goes catch her life.
Alexia will notice her blunder and run to find the brucutu. "Kneel down now. Don't make me lose my temper. Kneel down and ask me to marry you," she will demand. "He has I'm not even going. you turned the coast at the time I asked. preferred the fan", will claim Ermelinda's son.
João Baldasserini's character will claim that he became a "burden" for the redhead's career, as even Patrícia Poeta wants to interview her at the Encontro. "I'm from the country, on one I don't even know how to speak properly. I'll never be able to go to a party of global with you. By my side you will be embarrassed," he will argue.
Alexia will lose patience, tear the ring from his hand and kneel down. "What the hell! It's stubborn… Zezinho, I mean, José Prazeiroso. you want to marry he ate and be Máximo?" she will ask, imitating her companion's accent.
"I'm the one who has to kneel. Get up," he will ask. "In a good way I get up. Dona Ermê, you give me the hands yours fio in marriage?", the protagonist will continue.
"I'll give him his hand and so will the rest," fired the matriarch played by Grace Gianoukas, who will have become a kind of cupid for the couple. "There, it's gone. Now we're engaged. You will stop being the big boy to be my hubby", Alexia will conclude.
The only new telenovela on Globo, Salve-se Quem Puder will end next Friday (16). The rerun of Pega Pega (2017) will come in at 7 pm because the network decided to postpone the premiere of the soap opera Quem Mais Vida, Melhor.
---
Learn all about the upcoming chapters of soap operas with the Noveleiros podcast
Hear "#65 – All About the End of Save Yourself Who Can!" on Spreaker.
---
Subscribe to the channel TV news on YouTube and watch videos with revelations of what will happen in Globo's soap operas.
.