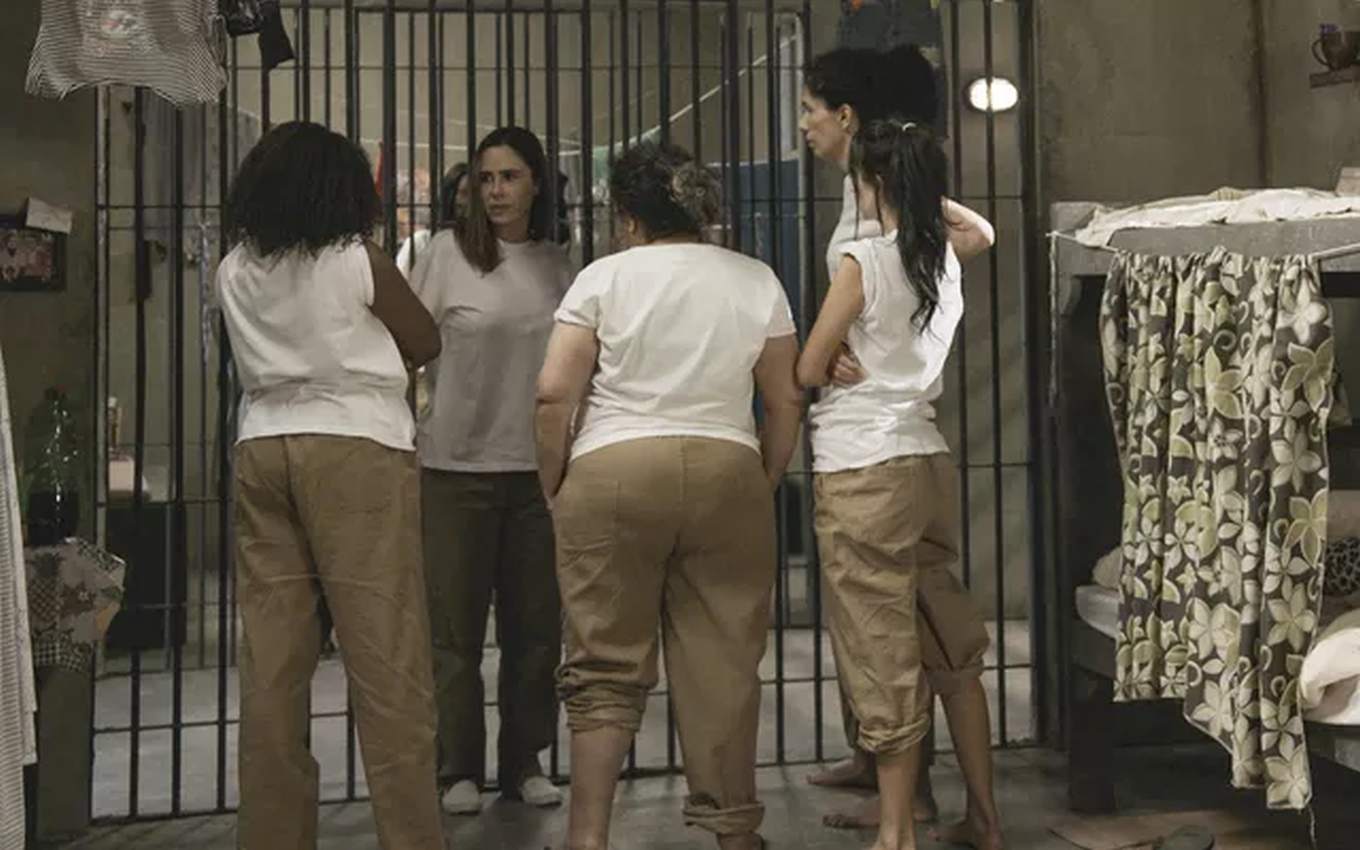 Dominique (Guilhermina Guinle) will be in the worst shape at the end of Save Yourself Who Can. Even in prison, the lawyer will not lose her pose and will demand an individual cell for having a college degree. But the bandit will be humiliated by other inmates and forced to clean the toilet. "As long as you're in the pigsty, you're just like us," warns one of the bosses at the place in Globo's seven o'clock soap opera.
Hugo's "employee" (Leopoldo Pacheco) was captured by the police after kidnapping Alexia/Josimara (Deborah Secco). In scenes scheduled to air this Wednesday (14), Renzo's aunt (Rafael Cardoso) will be indignant at having to share the cell with other prisoners.
"I have higher education. I have the right to an individual cell", the criminal will shoot. "That's cute! She wants TV, walks made, minibar and internet. But it's missing, my dear, Have fun!", the jailer retorted as he shoved her into a common cell.
The arrival of the madame will draw the attention of the prey, who will look her up and down. "Why are they looking at me like that? I'm a lawyer, I know a lot of people. Tomorrow I'll get a habeas corpus and get out of this pigsty!", will laugh Lúcia's daughter (Cristina Pereira).
Dominque will be humiliated in prison
The inmates will not be intimidated and will go after the villain. "Okay, doctor… But as long as you're in the pigsty, you're just like us. I mean, almost the same, right, girls?" will provoke one of the fangs. Dominique will then be pushed against the wall and pulled by her hair.
"Let go of me, you're hurting me!" the bandit will scream, which will only further irritate her cellmate. "Swear? I'm taking it with so much affection!", he will joke. "Ready! Now you can start cleaning the toilet. With your tongue!", the inmate determined, dragging the newcomer to the toilet.
The only new telenovela on Globo, Salve-se Quem Puder will end next Friday (16). The rerun of Pega Pega (2017) will come in at 7 pm because the network decided to postpone the premiere of the soap opera Quem Mais Vida, Melhor.
---
Learn all about the upcoming chapters of soap operas with the Noveleiros podcast
Hear "#65 – All About the End of Save Yourself Who Can!" on Spreaker.
---
Subscribe to the channel TV news on YouTube and watch videos with revelations of what will happen in Globo's soap operas.
.