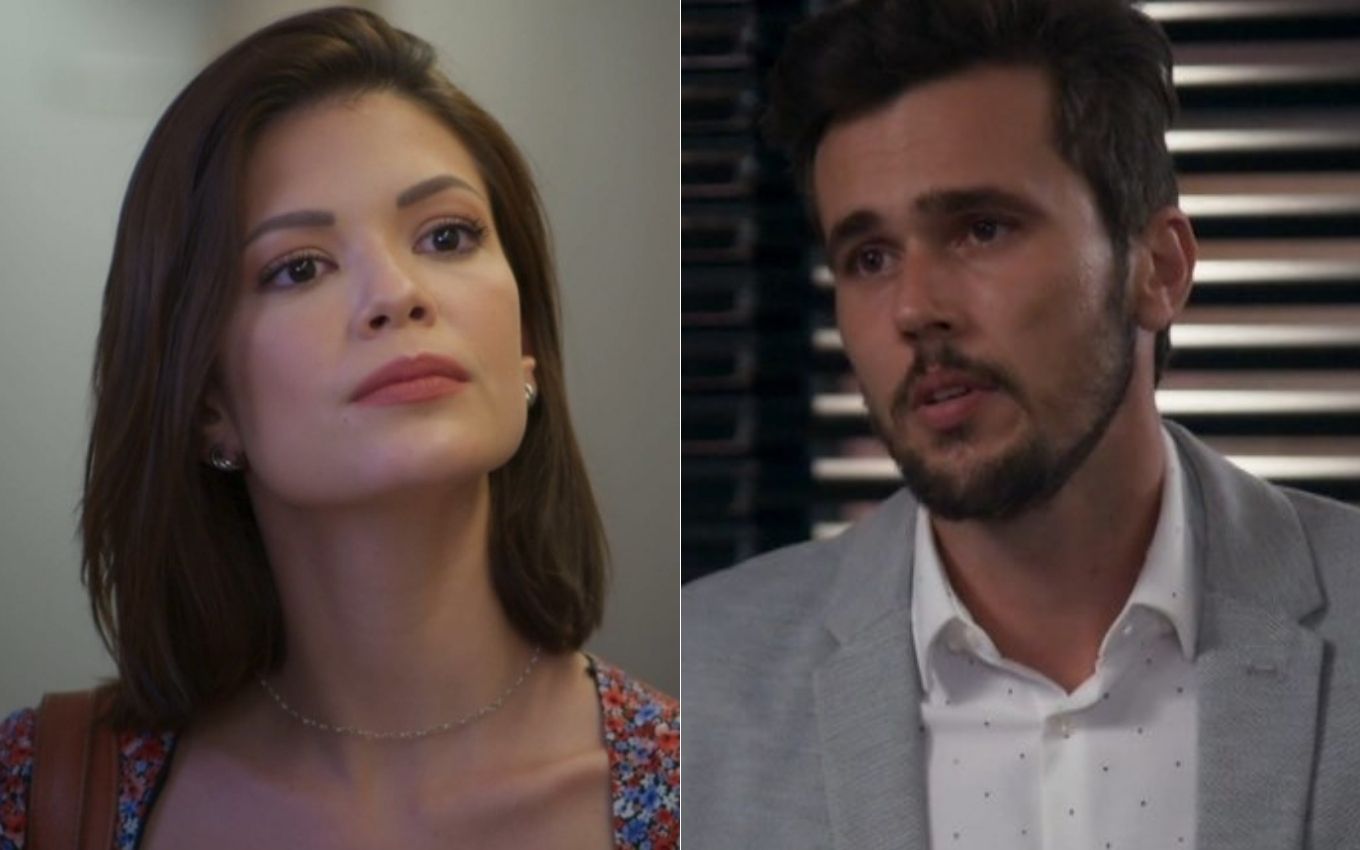 After Rafael (Rafael Ferrari) finds out that Kyra/Cleyde (Vitória Strada) is alive in Save Yourself, the protagonist will step in the door and invade the Labrador Digital to tell the whole truth. The decorator will reveal that Renzo (Rafael Cardoso) almost killed her in Cancún and will say that she was forced to join the witness protection program on Globo's seven o'clock soap opera.
In the scenes scheduled to air from next Wednesday (7) in Daniel Ortiz's serials, the businessman will be alone in the office when he hears a noise in the kitchen. He will be surprised to see Alexia/Josimara's friend (Deborah Secco) disguised in a wig.
"I'm sorry tou a little out of shape. Climbing 13 floors isn't easy," will blurt out, quite breathless. Still disgusted by thinking he was betrayed by the girl, he'll question what she's doing there. The nanny will then let you know that the time has come for him to learn the whole truth about his false death.
"I don't want to talk to you anymore. Go away!", will retort Renatinha's boss (Juliana Alves). "I just need a little bit of your time. There's a lot that you he doesn't know", will ask the character of Vitória Strada. "I don't know and I don't want to know! That was a setup by your friend Josimara, right? But tomorrow she's going out on the street!", he'll get annoyed.
Kyra will take the cue to tell her that the secretary is actually Alexia Maximo. "The actress who died with you in Cancun? What are you talking about?", Rafael will doubt. "Not eu, not Alexia e not mexicana que was with us we died in the hurricane", the girl will fire.
Júlia's crush (Sophia Abrahão) will think it's all an invention of the ex-fiancée and that the three of them just found a way to "take a vacation" from their old lives and deceive everyone. The protagonist will then drop the bomb:
The three of us… We were witnesses to a crime in Mexico. And we had to be presumed dead because we were sworn to death. We were sworn to death by the gang whose boss… Dominique Machado [Guilhermina Guinle]. you met her. Renzo's aunt. In fact, he was the one who tried to kill us! Your new partner.
Bruno Ferrari's character will claim that the young woman has gone mad. Bia's sister (Valentina Bulc) will start narrating the whole story and will tell her that she met the actress on the plane. "Me, Alexia and the Mexican who was with us, we witness the murder of judge Vitório [Ailton Graça]. He was killed by Renzo's aunt, Dominique. And he was an accomplice!", she will assure.
puzzle
"It can't be. Renzo is my friend, he wouldn't do that!", the boy will retort. The decorator will then remember how the ex-fiancé met the partner: "Renzo didn't appear out of nowhere in your life. And he didn't even approach just to be your friend. He did it to investigate. He wanted to know if we were was even dead".
"It can't be. All this time I've been working with a criminal. He became my partner, my best friend," the businessman will revolt. Luna/Fiona's friend (Juliana Paiva) will explain the deal she made with the redhead:
Alexia alone was here to keep an eye on you, it was part of our agreement. And I took care of her grandfather. But when Renzo showed up, she was forced to change her look. Then she started to come with glasses, braces and those horrible bangs.
Rafael will kiss Kyra after learning the truth
Furious at realizing the risk the girls took, Rafael will enter the ex-bandit's office and start breaking everything. "When I come face to face with Renzo, I swear I'll take justice into my own hands! I'm going to end him! He ended your life, your family, mine!" he will scream. Kyra will calm the boy:
I know it's revolting! I've been living in hiding for months, scared. Far from my family, from you. But all that I tou telling you is for you to keep it a secret! These people are dangerous! They almost killed us! And the last thing I want in life is for you to be in danger too.
Reconciliation
"All this time you running away from these bandits, at risk. And I couldn't do anything to protect you! And I still offended you that night! Forgive me, my love!", will ask the head of Catatau (Bernardo de Assis).
"I couldn't tell you the truth. I was afraid of this reaction that you just had. If Renzo's gang discovers that you you know everything, it will be enough for you. And I would never forgive myself if anything happened to you. That's why I lied saying those things. To protect you", explains Alan's (Thiago Fragoso) lover.
"Me thinking the worst things about you. And you only was wanting my good. How I love you, Kyra. I love you so much… Great!", the handsome man will declare himself, who will pull the protagonist into a passionate kiss.
"Me either was I miss you very much. I had to come and open up because Alexia said you wanted to tell Renzo that I'm alive. And you were going to end up handing me over to the bad guy," she will say. "I'm glad you came. I want to finish off Renzo, of course. But I promise that I will control myself, for your safety", will assure the businessman.
The only new soap opera on Globo, Salve-se Quem Puder is all recorded. The plot premiered on January 27, 2020, but was interrupted in March of the same year due to the Covid-19 pandemic. The serial was once again presented in March of this year and will end on the next 16th.
The rerun of Pega Pega (2017) will be in the 7pm range because the network decided to postpone the premiere of Quem Mais Vida, Melhor.
---
You can hear more about Salve-se Quem Puder and all the soap operas on the air through the link below, in the 63rd episode of the Noveleiros podcast, from TV news.
Listen to "#63 – All about Kyra and Rafael's reunion in Save Yourself!" on Spreaker.
---
Subscribe to the channel TV news on YouTube and watch videos with revelations of what will happen in Globo's soap operas.
.