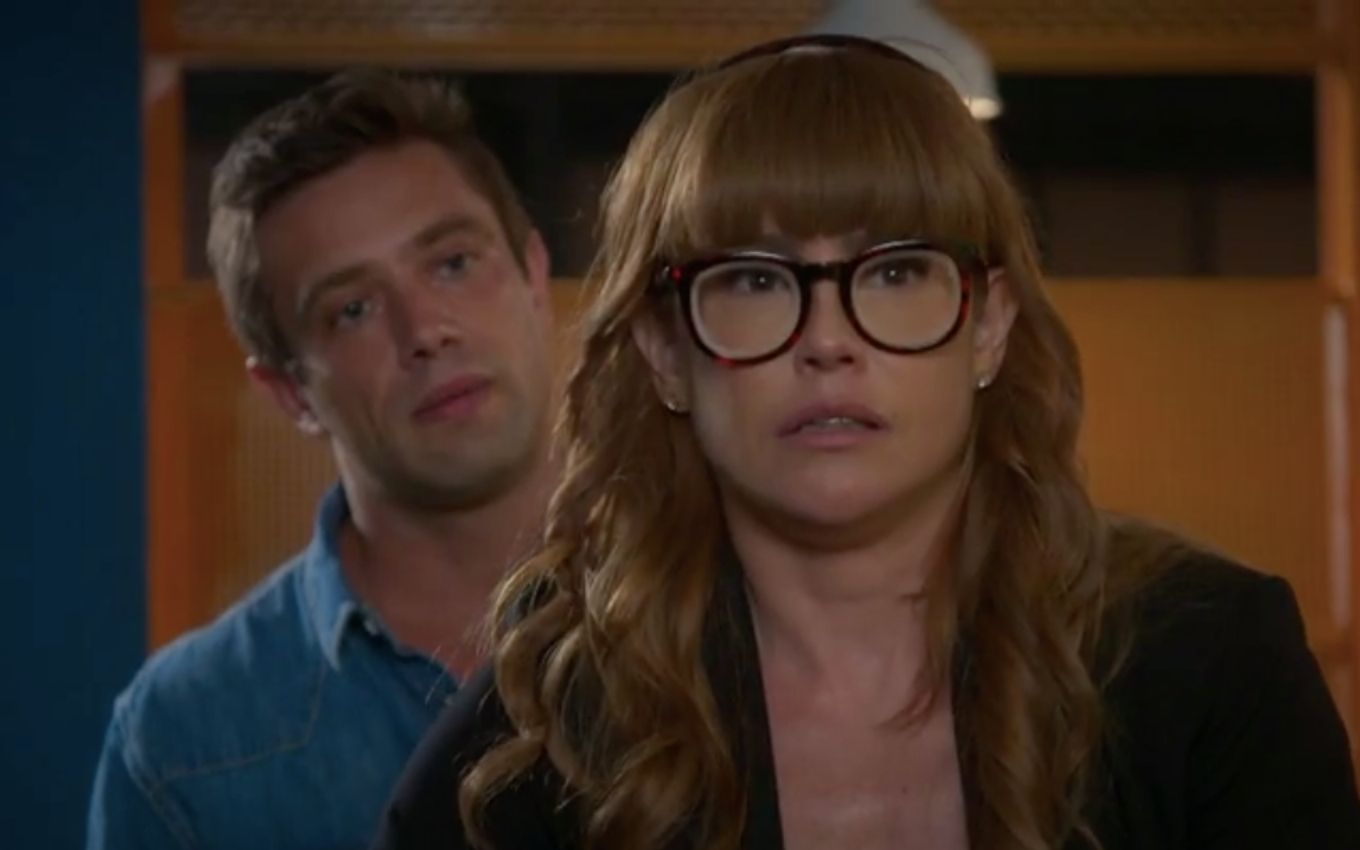 Completely in love with Alexia/Josimara (Deborah Secco), Renzo (Rafael Cardoso) will switch sides in Save Yourself Who Can. Dominique's nephew (Guilhermina Guinle) will beg for forgiveness from the protagonist of Globo's seven o'clock soap opera, will promise to betray his aunt and will fight for a happy ending with the actress.
In the final stretch of the plot written by Daniel Ortiz, Renzo will finally unmask Alexia's disguise and put her against the wall during a dinner with his secretary. Upon discovering that the Labrador employee gathers evidence against him, the bandit will corner Kyra/Cleyde's partner (Vitória Strada) and Luna/Fiona (Juliana Paiva) in a bathroom.
"We're in a restaurant, a public place! If you grab me, I'll scream!", will threaten the girl in scenes that will air from July 8th. "Do you think I'm an idiot? That I don't know what an electronic point is? And that pen should have a tape recorder?", Rafael's partner (Bruno Ferrari) will shout. "I'm getting scared! Let me out!", Ignácio's granddaughter (Otávio Augusto) will ask.
"What's going on? Are you setting a trap for me? I'm not going to hurt you. I just want to have a very serious talk with you, Alexia Máximo!", Lucia's grandson (Cristina Pereira) will shoot, revealing that he found out Josimara's true identity.
"I bet it's another hallucination of mine! It will pass, it will pass, it will", will cry the confused woman. "Stop it, Alexia! Do you think I don't know that Josimara is just a disguise?!", will question Zezinho's rival (João Baldasserini).
"You've said that in other hallucinations. This one will end at some point! Of course, it will only end when you kill me, so kill me soon, I can't take it anymore! I want to wake up from this delusion!", will plead Alan's cousin (Thiago Fragoso).
Alexia and Renzo will end up kissing more
"What are you talking about? Look, I won't hurt you. I just want us to talk, no lies. You don't know how I waited for this. Since I saw Josimara for the first time, I suspected it was you . But it was impossible, you had been buried. Then I started to believe that Josimara and Alexia were just very similar", will say the handsome one, all affectionate. "My Lady of the Last Judgment, this is not a hallucination!", the madwoman will confirm.
But when they broke into my house and they only took my aunt's computer and her ring. The amulet your grandfather gave you. I became suspicious again. And when I took off your glasses in Labrador… And I saw your look. So vibrant. That look that has never left my head since our night in Cancún. Then I was sure Josimara was you, Alexia.
"I already understand this is real. I just want to know what you're going to do to me", will ask the artist, scared. "Do you really want to know? I'll show you", Renzo will say, pulling his beloved for an intense kiss. Alexia will try to resist, but will end up giving in too.
"I imagine you're still scared, suspicious. What happened in Cancún was very tragic, but I've already made it clear that I'm sorry", will argue the healer. "Okay, you kept saying that you were sorry for having wronged a woman, which is me. But I know this is part of your manipulation game!", will retort Petra's sister (Bruna Guerin).
"No, Alexia! I always knew my aunt had her business. But I didn't get involved until she insisted I go to Cancún… She wanted me to help pressure that judge. I knew it was wrong, but it never crossed my mind that the situation was going to reach that point. I had no idea that she had already killed people!" he will say.
"Are you wanting me to feel sorry for you? You went after us, Renzo! It was to kill, like a professional killer! You went to my room and took me with the girls, so we could be thrown into the sea, in the middle of the hurricane! Only a monster would do that!", recalls the protagonist.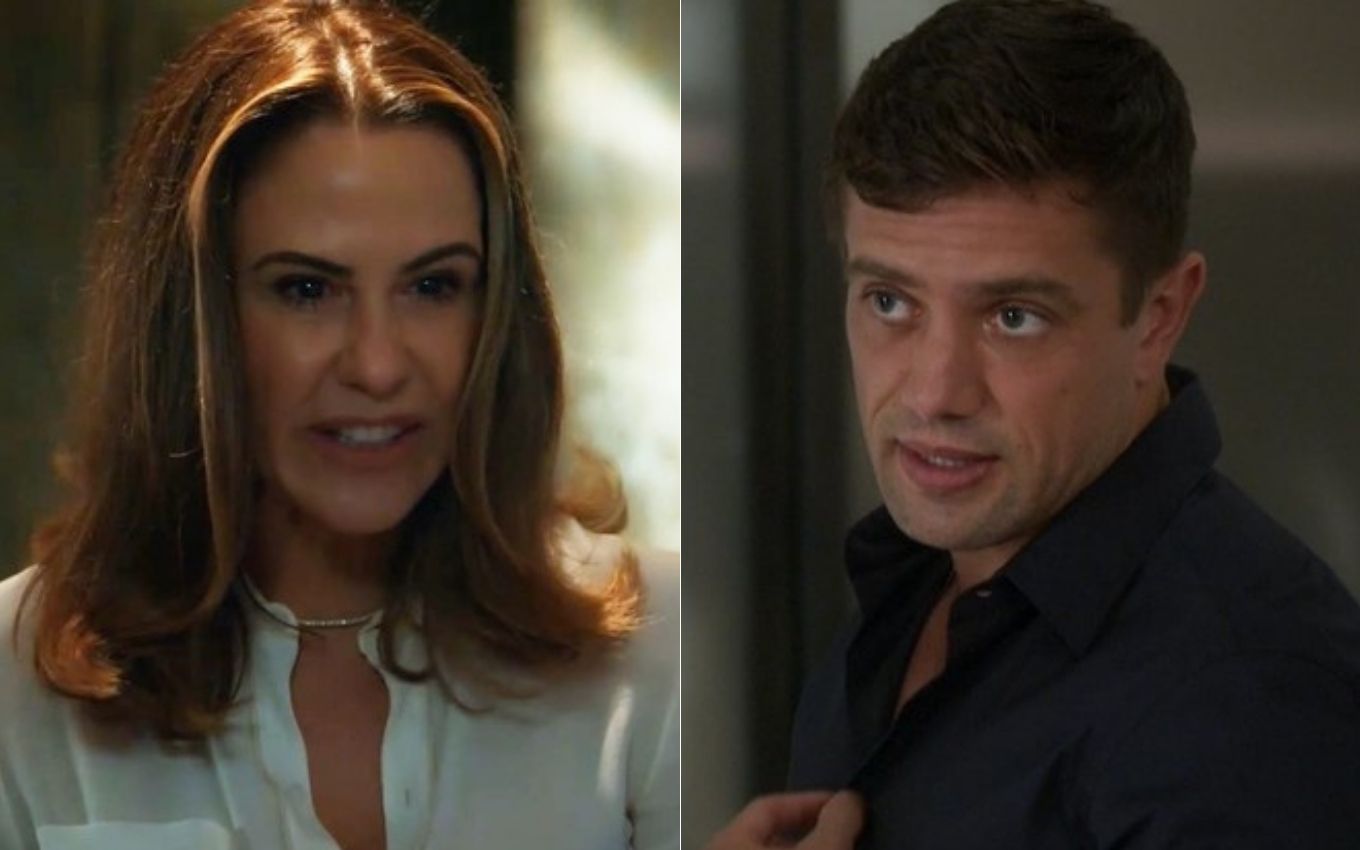 In the end, Dominique will be betrayed by Renzo
Redemption
In the sequence, flashback scenes will be shown, and Dominique's nephew will defend himself saying that he tried to save the trio of witnesses to the murder of Vitório (Ailton Graça).
"I'm being honest. There isn't a day that I don't remember what happened. The pain I caused for you, for your families. I approached Rafael to try to redeem myself", he will lament, truly sorry. "It may even be that you feel remorse and aren't as cruel as your aunt. And that's why you invented the foundation with the name of Kyra. But none of that erases what you did!", the redhead will warn.
"I know. And I'd rather pay for my mistakes to get rid of this guilt. What I most want in life is for you to believe in me. What can I do to make you forgive me, Alexia? I'll do anything!" will beg the blonde. "Renzo, even if I believe you're sorry and that your aunt is the big culprit, that won't be enough. What happened ended my life!", will say Graziela's daughter (Débora Olivieri), hurt.
"A lot of people suffered because of that crime. Look, I only see a way for you to repair what you did. Confess and turn over your aunt's gang to the police", will evaluate the character played by Deborah Secco.
"Alexia, do you still not understand that I'm not part of the gang? I don't know anything. The most that will happen is that my aunt and I are going to be arrested. But if the intention is to get the politicians and businessmen involved, you they will need more tests", alerts the Labrador partner. "I know, the Federal Police itself has already said that it's no use catching just the two of you. Otherwise this case would have been over for centuries," the witness will say.
"You want me to go to jail, right? You hate me! I'll help you, Alexia. Get any proof you need. I just want your forgiveness. If you promise me that, I don't mind passing on the rest of life in prison," Renzo will declare. "My forgiveness you already have. Brigade, Renzo. I always knew you had a good heart. Now I have to go", Alexia will advise. "I will give your life back, Alexia. I promise", will end the false villain, thrilled.
The only new telenovela on Globo, Salve-se Quem Puder enters its final stretch and comes to an end on the next 16th. The plot premiered on January 27, 2020, but was interrupted in March of the same year due to the Covid-19 pandemic. The serial was re-run in March 2021.
The rerun of Pega Pega (2017) will enter the 7pm range because the network decided to postpone the premiere of Quem Mais Vida, Melhor.
---
You can hear more about Salve-se Quem Puder and all the soap operas on the air through the link below, in the 63rd episode of the Noveleiros podcast, from TV news.
Listen to "#63 – All about Kyra and Rafael's reunion in Save Yourself!" on Spreaker.
---
Subscribe to the channel TV news on YouTube and watch videos with revelations of what will happen in Globo's soap operas.
.