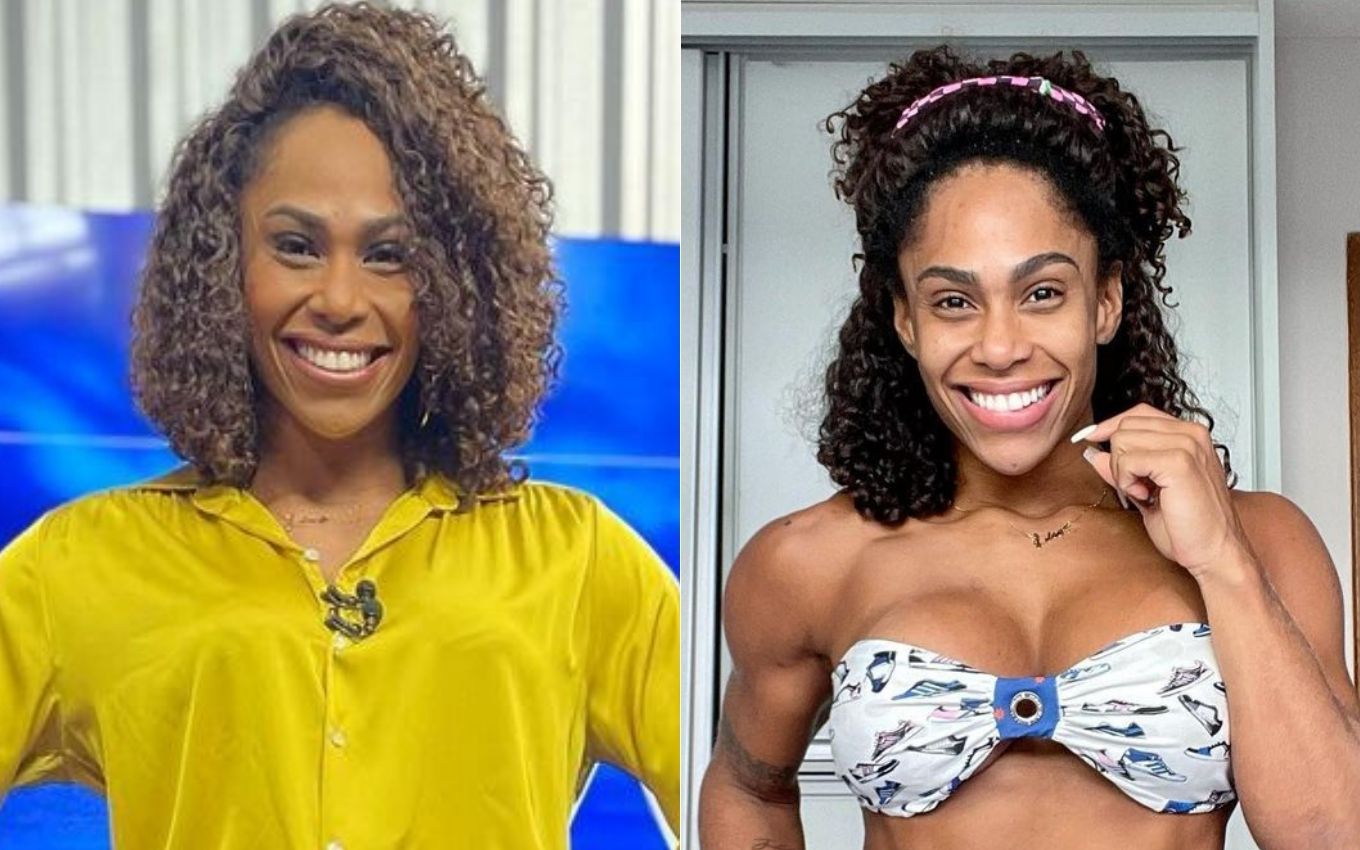 Lise Oliveira, presenter of TV Aratu, an affiliate of SBT in Salvador (BA), became a meme on social networks after showing her muscular arms on Aratu Notícias. The "bombadone" reveals to the TV news who has been on a workout and diet routine for over 12 years. "Today there is no Lise without going to the gym every day", delivers the journalist.
Born and raised in the capital of Bahia, Lise is proud to be from Salvador and has been enjoying the recent impact of her fitness, as she is also a digital fitness influencer. "I was surprised because I already lead this life regulated with a lot of discipline in relation to physical activity, to eating all right and healthy for many years", begins the Bahian woman.
"So, it's like an old novelty (laughs). I was surprised and very happy when I started following the memes, which were many, of different types, each with a different approach, very creative. The people at WhatsApp started talking to me, my friends, co-workers too, sent me prints. I didn't expect it," she celebrates.
Also presenter of Chegue Mais, an electronic magazine that airs on Saturdays on TV Aratu to talk about fashion, beauty, aesthetics, gastronomy and healthy living, Lise explains that her intense work and training routine is old.
"I've been training for 12 years. It coincides with the time I've graduated from journalism college and the time I've been working on TV. I joined TV Aratu 12 years ago as well. I graduated and started working as a reporter here and then I started working at the gym. Because I realized that I was working with my image, as I was working for a broadcaster," he says.
"I thought: 'As I'm going to transmit information, I also need to take care of another work tool that will now be my image. So I'll take care of it.' it ended up that I decided to dive into this training and diet routine with a lot of discipline. And it became a habit, it became part of me," he adds.
Today there is no Lise without going to the gym every day, without putting everything that has to be done in relation to diet on the menu, everything is cute, so I thought more about it. I gained more and more health and quality of life, and the consequence is this, a better self-esteem, I like the result in the mirror.
Impacted by the shape of Lise Oliveira, Bahia presenter of Aratu Notícia pic.twitter.com/taVnwT1NOh

– kata (@julianakataoka) October 1, 2021
The weather forecast for tomorrow is leg training with a high probability of hitting the shoulders and trapeze. pic.twitter.com/keWV99iqWv

— No Pain No Gain (@PaginaNPNG) October 1, 2021
Lise Oliveira at César Trali's club of journalists SHEIPADOS https://t.co/cd0zZPyw8x

— Calistenista Erect (@VictorMourrais) October 2, 2021
Who is Lise Oliveira?
At 34, Lise Oliveira presents Aratu Notícias and Aratu Mais on TV Aratu, but she is also a fitness blogger and now studies Nutrition thanks to her passion for exercise and balanced diet.
"I think my purpose is cool, to reach more people. What I do on social networks is to show just that, quality of life, health maintenance through physical activity, healthy eating. I study Nutrition, I'm in the fourth semester of college. I like the subject so much that I decided to go back to studying", he reveals.
"Today I'm in a routine of work, college and training. It's very tough, but it's been super worth it, because we have to do what we like to be able to do it well, with dedication. It's very rewarding for that", he praises the influencer.
Asked by the article about what advice she would give to anyone looking for a healed body, Lise is emphatic when she emphasizes that everything is part of a process and that it is necessary not to compare yourself with others.
"I've never been chasing a shape, thinking 'I want to have a top body, I want to be healed, muscled', I never thought about it. As I didn't have a specific goal of being the way I am today, I never pressed myself about this, because I knew it was a long walk. So you really have to take advantage of this walk, you don't have to rush to reach that goal," advises the journalist.
I am a former chubby. My mom put me on Weight Watchers at the age of ten. It worked for me, I was a chubby child until a certain age and then I started to acquire better eating habits, I changed my eating pattern with the help of my mother. I became a woman, joined a gym, started training and started to reap the results of all these processes. I didn't aspire to get healed, it happened because I started planting it and never stopped.
"If you have a goal, if you want to feel more beautiful or beautiful in front of the mirror, you have to start, you don't have to press yourself to get results right away, because it's a construction, you know? Like I said , it took me 12 years to reach the shape I'm in now. And I didn't even want that, it happened. It's nice not to pressure yourself, not to be demanding."
The SBT employee also reinforces rest and the famous "garbage day", since a regulated life doesn't have to be a prison. "I myself, on the weekend, give myself the right to eat something off the diet, a meal or two, so don't push yourself too hard. Even an athlete or bodybuilder will go off the diet at some point. So don't sacrifice so much . Did you make a mistake now? No problem. Tomorrow it starts again," he says.
"We need to give the body a rest. I usually say that resting is also training. So, at least once a week, it's important that you take this break", recommends the former reporter.
Dedicated to work and training, Lise Oliveira lives with her mother and is an only child, but dreams of building a big family one day and hopes to find a nice person to do that with her.
"I used to date, but today I'm not dating anymore and I don't have kids. I haven't married yet because I haven't had the opportunity to find a guy with whom I feel safe and confident to lead a marriage and build a family, but that's in my plans, meet a wonderful person, get married and have children," he concludes.
.