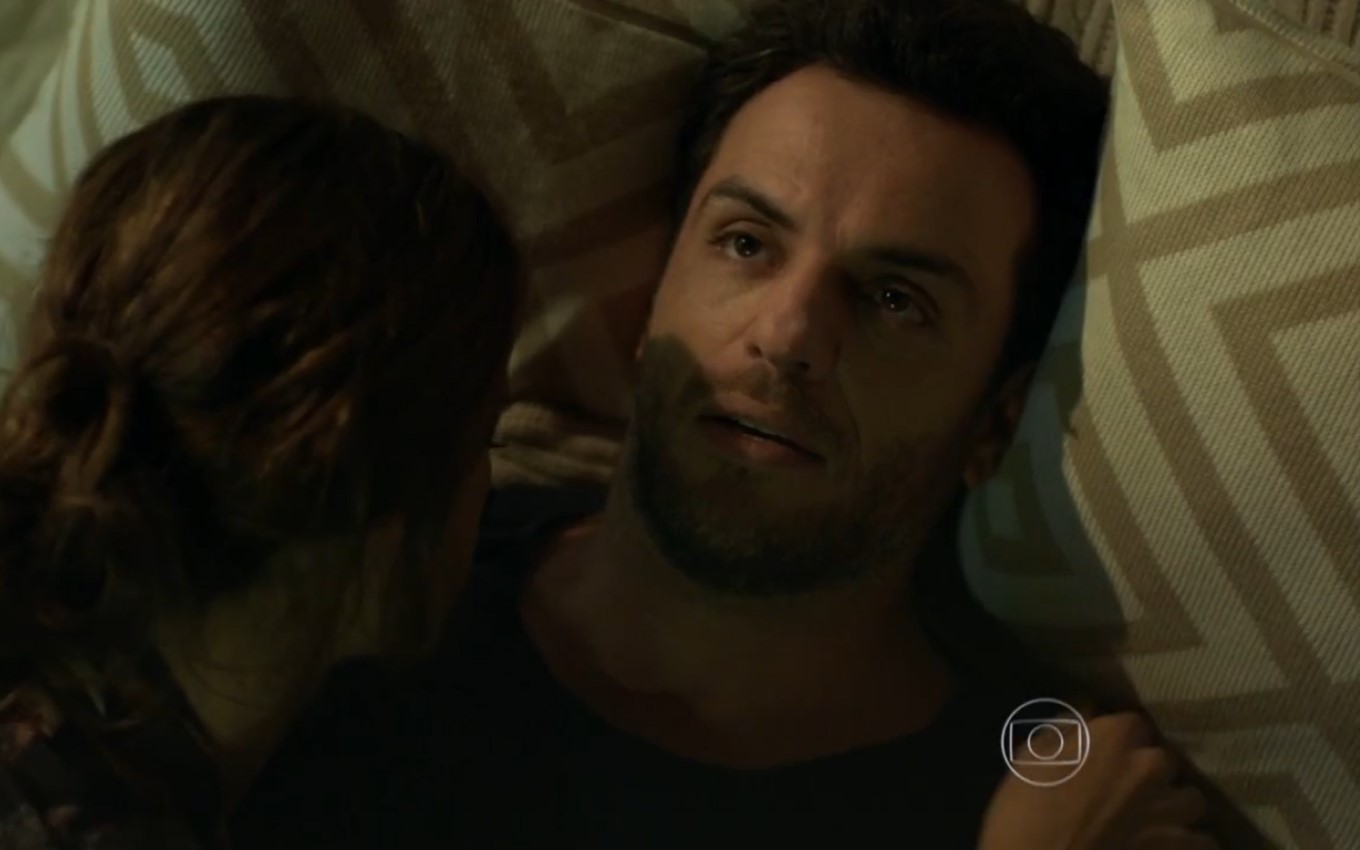 Alex (Rodrigo Lombardi) will watch Arlete/Angel (Camila Queiroz) go to bed with Guilherme (Gabriel Leone) in Verdades Secretas. Obsessed with the nymphet, the millionaire will have to swallow his jealousy to hide from Samia (Alessandra Ambrosio) his interest in the teenager. When he's alone, he'll attack the young model like an animal and freak out on Globo's eleven o'clock soap opera.
Since discovering that Giovanna (Agatha Moreira) was part of Fanny's (Marieta Severo) book pink scheme, Rodrigo Lombardi's character has even tried to be an understanding father. He consulted with a psychologist, decided to be present in the lives of his children and invited them on a trip to Angra dos Reis (the coast of Rio de Janeiro).
Next chapters, during the weekend at the beach house with his kids and their friends, Alex will see when his nephew goes to a cabin with the girl and will hide behind the protective man posture to deceive his girlfriend.
"I think I have to put an end to this party outside. It's my house, my responsibility. There's this Arlete, and she's dating my nephew, she's underage and I saw the two of them going far away", will tell the rich man .
Samia, however, will find the entrepreneur's behavior strange. "Wake up, girls her age already have sex. What's your problem with this girl?", asked the top model. At that point, she will throw you on the bed, but she won't notice that your head is elsewhere.
At breakfast the next day, Angel and Gui will announce their relationship, and the young woman will take the opportunity to provoke the rich man. "It was the most unforgettable night of my life", will announce the teenager. "Now it's official, we're dating. We are one, me and her. For me, she's unique", will add the boy.
After putting up with the indirections, Pia's ex-husband (Guilhermina Guinle) will enjoy a moment alone with the nymphet. He will pull Carolina's daughter (Drica Moraes) by the neck and attack her like an animal.
"You won't get out of my head. I want you and I'm not a man to give up. I don't know how, but you'll come back to me," threatens Alex.
Originally aired in 2015, Verdades Secretas returned to the air on Globo in a kind of "warm up" for its sequel, which will show the character of Camila Queiroz seven years after the end of the first version shown on open TV. Secret Truths 2 is scheduled for release on Globoplay by the end of this year.
Find out where to watch Secret Truths, in addition to discovering the other endings of the soap opera. O TV news it also publishes the summary of the eleventh sheet.
---
Subscribe to the channel TV news on YouTube and watch videos with revelations of what will happen in Secret Truths and other soap operas.
.