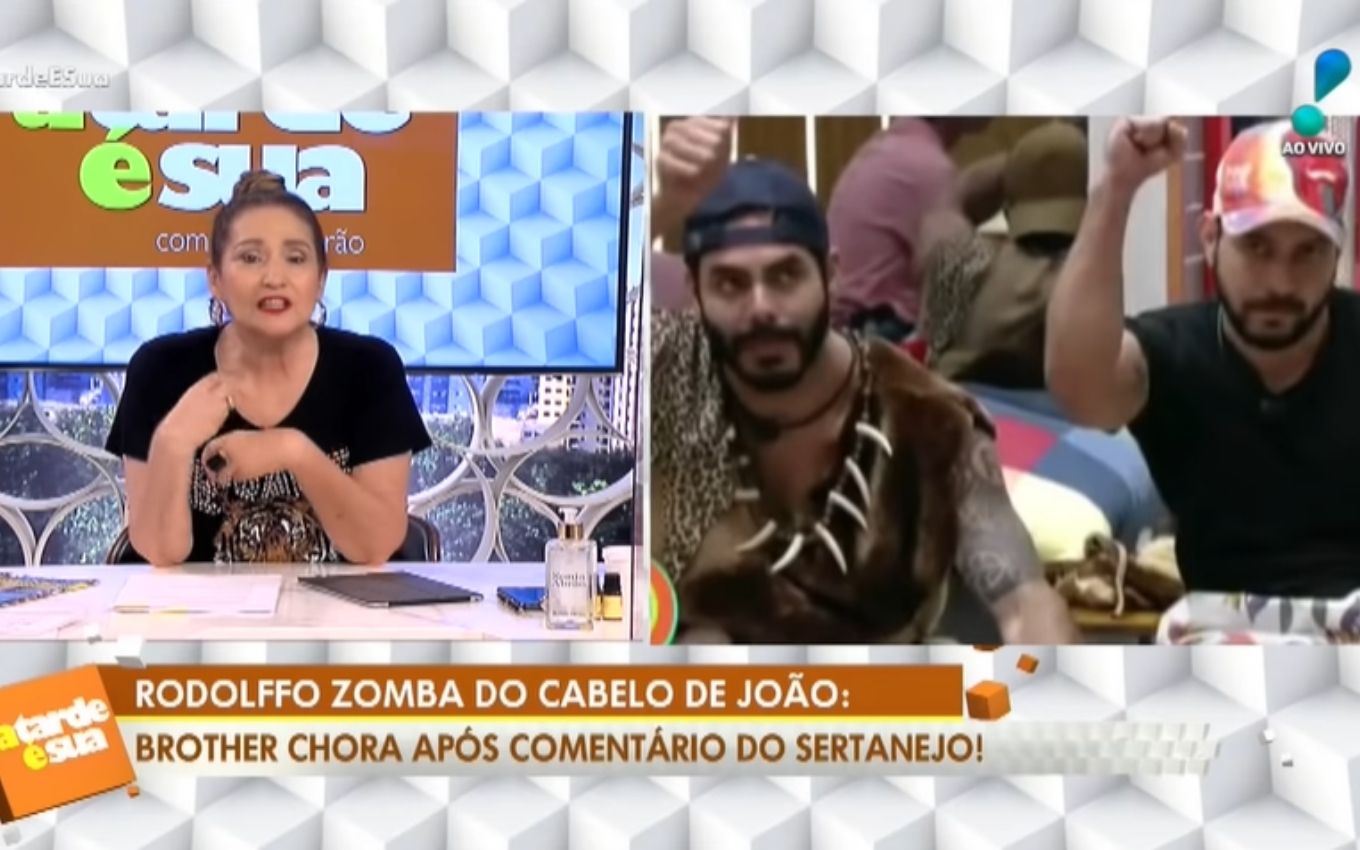 Presenters Sonia Abrão and Thiago Rocha clashed this Tuesday (6) at A Tarde É Sua when analyzing a racist comment made by Rodolffo Matthaus regarding João Luiz Pedrosa's hair at BBB21. The commentator recalled a moment when Juliette Freire wore a wig by Camilla de Lucas and joked, in front of the mirror: "I look like a cave woman". At the time, the two laughed.
"Why didn't Camilla bother when Juliette took the lace, wig, anyway, the hair prosthesis? Isn't it prejudice for you to take someone's prosthesis, a wig, a lace, turn around and say: 'Wow, I'm feeling caveman '. Man, sorry, it's the same expression ", defended Thiago, who disapproved of the influencer's criticisms of Rodolffo's attitude.
Sonia Abrão disagreed: "It is not! She did not say: 'Look at my hair here, I look like a cave woman just like Camilla'. She did not do that". "But if the wig is from Camilla …", insinuated Thiago, before the presenter said, "You can wear a lace from someone who will look terrible on you and great on another guy."
"Her position was this. For her, Camilla's lace looked like that of a caveman. At no time did she take it and say, 'Look, my cave hair looks like Camilla's', which was that Rodolffo's tone. There's a comparison, "concluded Sonia Abrão, who also asked his colleague to understand Camilla de Lucas's outburst.
Watch below the moment between Juliette and Camilla mentioned by the presenters. See also some excerpts from the discussion in A Tarde É Sua:
Juliette said she thought she looked like a cave woman with Camilla's lace, she said why the lace, which was not curly, it was messy, it was not racism. It would be racism if she compared Camilla to a cave woman because of her curly hair. # BBB21pic.twitter.com/woWlcrKaZU

– Virgilio Guedes Jr (@GuedesVirgilioX) April 6, 2021
#sunday Sônia Abrão does not accept that anyone says anything about Juliette or Fiuk, she is a capstan. # BBB21#lace#camiladelucas#joaopic.twitter.com/jX8ILTx2Al

– Simone Medeiros (@ SimoneM41979600) April 6, 2021
Good afternoon grupoooo !! #AtardeESua
IT'S #FogoNoParquinho and the weather heats up between @SoniaAbrao e @ThiagoRochaBR kkkkkkkk# bbb21 this is bullshit left over for my favorite presenter Sônia Abrão … 😂😂😂
I love you Sôniaaaa !! ❤❤❤👏👏👏👏🙌 pic.twitter.com/1AM1MBvRVb

– Aroldo Ramos (igbigharolld) April 6, 2021
Sonia Abraão EATING THE RABO of Thiago Rocha's scrotum, defending Rodolffo saying:

"If Camila is so proud of her hair, why does she wear a wig?" #AtardeESua# BBB21pic.twitter.com/B4qmDfDcd0

– ELiéser (@Eli_Brodare) April 6, 2021
#AardeESua# bbb21#redebbb

Thiago Rocha said that when Camilla went to talk to Rodolfo, she played Lumena, she was militant and if she likes her hair so much because she wears a wig.

Sonia's response: pic.twitter.com/9J9Y7Mvp1A

– Wandeson Ferreira (@Wands_Ferreira) April 6, 2021
Accusation of racism in BBB21
Last Saturday (3), Rodolffo compared João Luiz's hair to the wig of the caveman monster he and Caio Afiune wore: "Almost the same [cabelo] do João ". The joke was pointed out as being racist, and the sertanejo team commented.
"We apologize on behalf of Rodolffo for the comment. We know that it was not said in spite, but that it ends up hurting some. As Rodolffo himself has spoken several times inside, he asks to be warned when he says something that it's cool to be told. It doesn't happen in there, he never learns that he has hurt someone ", claimed the profile of the singer.
Juliette Freire also made comments in the same sense: "Yeah, that hair is blackpower". "It is not, it is different," replied João at the time. The Paraiba tried to fix it: "It is not a black power, but if it was short, well made and trimmed".
Later, João Luiz cried when talking about the situation to Camilla: "He was dressed as a caveman and associated a caveman wig to my hair. That was very annoying. He said: 'Ah, my hair is the same as of João ". The fact was also cited by the teacher to vote for the countryman during the formation of the Sunday wall (4) in the confessional.
During the Discord Game, João exposed his revolt with Rodolffo, who justified himself: "If everyone observed what the monster's wig looked like, I believe it was a bit similar". "At that time I shut up, but you don't know how much that hurt me. There's no point in coming up with excuses! I'm tired. I'm not in a cartoon! Is there bone in my hair?", Said the professor.
Afterwards, in conversation with Juliette, Rodolffo said that he was being chased by João Luiz: "Save this information, save this event for a greater prominence in live … He wants with all his might that I leave the program. I don't know which one it's the guy's nuisance ".
On Tuesday afternoon (6), Rodolffo again sought to apologize to João, citing his father's hair in his youth. "I don't know if I can give you the exact answer that I give as an excuse, because I am not well and I am not doing well. But time may work," replied the teacher.
---
Subscribe to the channel TV News on YouTube and check out our daily newsletter with the main highlights of the day
.