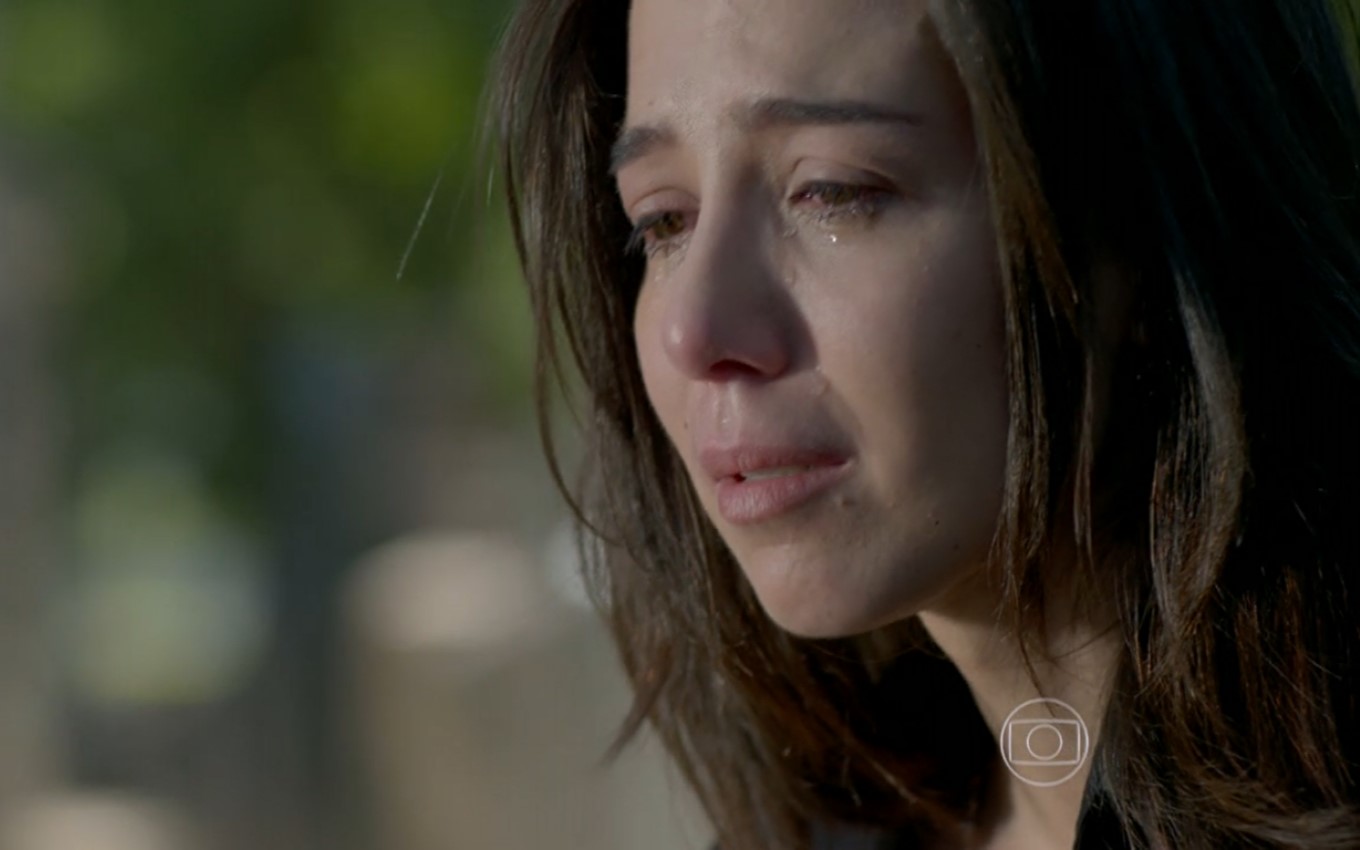 Second, 8/9 (Chapter 103)
Cora is furious with José Alfredo. Claudio tries to get Enrico to confess the name of his accomplice. Cora cries thinking about José Alfredo. José Alfredo gives a piece of his diamond to each of his children. Danielle records a statement for Maurílio about José Pedro's family. Jurema goes to Cora to find out about Jairo.
Leonardo claims that he will return Amanda the money her friend spent on him. Vicente returns to the restaurant and thanks Felipe for his help. Maria Marta asks José Pedro to leave Danielle. João Lucas tells Du that he will fulfill the promise he made to his father when he won his diamond. Amanda insinuates herself for José Pedro. Maurílio tells Téo about the recording made by Danielle. José Alfredo is looking for Maria Isis.
Tuesday, 8/10 (Chapter 104)
José Alfredo begs Maria Isis to talk to him in his apartment. Tuane tries to seduce Elivaldo. Maria Marta celebrates the end of the novel by José Alfredo and Maria Isis. Cora thinks about getting revenge on Maria Isis. Danielle asks for a divorce for José Pedro and Maria Marta is thrilled. Joshua comforts Marisa. Claudio tells Beatriz that Enrico sabotaged Vicente's restaurant. Téo believes he will win the hearing against Claudio.
Maria Clara has a bad feeling about her father and comments to Vicente. Amanda tells Maria Marta that she will sleep with José Pedro. Magnolia and Severo go to Vicente's restaurant and Maria Isis asks them to leave early. Cora tries to find out where Cristina will keep her piece of the pink diamond. José Pedro thinks about his wife. Danielle and Maurílio chat animatedly in the hotel bar. José Alfredo tries to get along with Maria Isis.
Wednesday, 8/11 (Chapter 105)
José Alfredo asks Maria Isis for forgiveness. João Lucas and Maria Clara believe that the father is hiding a terminal illness. Teo prepares for the audience. Danielle does not answer José Pedro's phone call. Amanda goes to José Pedro's room, but he rejects her. Amanda visits Leonardo at the hospital. Cristina argues with Vicente. José Alfredo asks Maria Marta for a divorce. Felipe is humiliated by Enrico.
Claudio, Beatriz and Merival go together to the forum. Antoninho tells José Alfredo that his story will be the theme of his samba school. Cristina pays Maria Marta another portion of the money she owes her. Maria Marta finds it strange that Maurílio doesn't want to see her.
Salvador asks Orville not to sell his paintings. Téo and Claudio's lawsuit is filed and the blogger is arrested for contempt. José Pedro catches Danielle and Maurílio in the hotel bar. Téo leaves the forum in handcuffs and is the target of several photographers.
Thursday, 8/12 (Chapter 106)
Cláudio, Merival and Beatriz celebrate the end of the process. Maurílio invents an excuse for José Pedro, who asks to talk to Danielle. Enrico provokes Vicente at Manoel's bar. José Alfredo thinks about Maria Isis. Danielle tries to convince José Pedro that he didn't side with Maurílio. Magnolia and Severo are thinking about traveling. Erika tries to help Teo. José Pedro tells Maria Marta that he caught Danielle with Maurílio.
Xana advises Vicente to think carefully before exchanging Cristina for Maria Clara. Enrico gets annoyed when he sees that Téo was arrested after the hearing against Claudio. Orville tells Carmen that they need to take care of Salvador. Teo is released.
Leonardo encourages Amanda to marry José Pedro. Téo has a crisis when he sees his name in the headlines and decides to denounce José Alfredo. Cora is surprised by Cristina's reaction when she read the news about her father. José Alfredo tells Joshua to start his plan.
Friday, 8/13 (Chapter 107)
Bianca tells Cláudio and Beatriz of Téo's new attack on José Alfredo. José Alfredo tells Maria Marta that he took the necessary measures against Téo. Claudio visits Leonardo. Otoniel comments to Antoninho about the state of Jurema. Cora talks to Cristina who will testify against José Alfredo. Claudio comments to Beatriz that Leonardo is involved with Amanda. Cora decides to tell her story to Teo.
Jonas tells Orville that the Argentine collector wants to trade Salvador's paintings. José Alfredo remembers the night Sebastião died. José Alfredo asks Maria Marta to invite Maurílio to his house. A policeman searches the mansion for the Commander. The Império jewelry store is invaded by inspectors. José Alfredo observes the greenish liquid in the glass. José Alfredo attacks Maurílio and ends up feeling sick.
Saturday, 8/14 (Chapter 108)
Silviano accuses Maurílio of the Commander's death. The police return to the mansion and José Pedro informs what happened. Josué asks to use Marisa's cell phone to tell Cristina about José Alfredo's death. Teo is surprised by Cora's story. Cora gets into a crisis when she finds out about José Alfredo's death and tells Maria Isis, who faints when she receives the news. Danielle facilitates Erika's entry into the mansion.
Josué takes the bottle of green liquid from José Alfredo's pocket. Maria Isis goes to Maria Marta's house and the two prepare José Alfredo's body. Maria Clara, José Pedro and João Lucas decide to cremate José Alfredo's body, but Cristina calls Josué to stop the brothers. José Pedro throws Danielle out of his house. All follow the procession for the funeral of José Alfredo. Cora hides behind the tomb after everyone walks away. José Alfredo opens his eyes inside the coffin.
---
Empire chapters are provided by Globo and are subject to change without notice
.