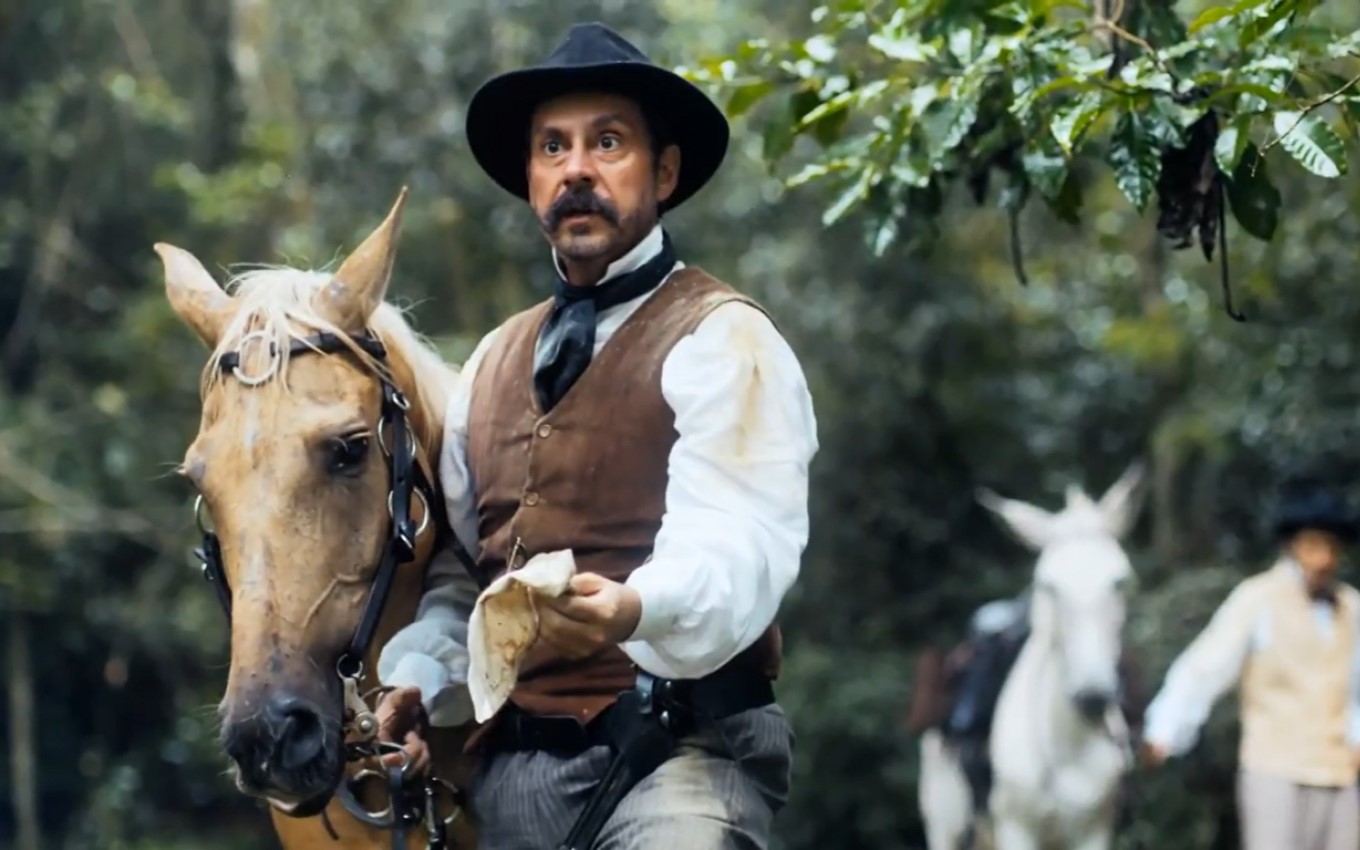 Second, 9/8 (Chapter 1)
Dom Pedro and Teresa travel with scientists. Luísa buries her father and complains about the presence of colonels Ambrósio and Eudoro. Tonico talks to Nélio about his future wife. Luísa mistreats Ambrósio and Eudoro. Jorge, Nain and some Malês set out to invade Ambrósio's farm. Solano, son of the president of Paraguay, surprises Pedro and asks to marry Isabel.
Salustiano tries to defend Ambrosio from Jorge, and hits the colonel with a shot. Tonico finds his father dead and the jagunço blames Jorge. During his escape, Jorge is shot. Pilar runs away from home. Luísa tells Eugênio that she won't sell the farm. Tonico sets out to look for his father's alleged killer. Pilar finds Jorge injured.
Leopoldina hides from Lourdes in the tavern. Germana finds the princess, who despairs and cries for help. Pedro tells Teresa that he'll put a governess to prepare Isabel. Pilar saves Jorge's life and is enchanted by him. Tonico finds a trail and releases his dogs. Pilar and Jorge are found by a jagunço.
Tuesday, 8/10 (Chapter 2)
Luísa stops her jagunço from shooting Pilar and Jorge. Tonico finds Nain and questions him about Jorge's whereabouts. Quinzinho and Clemência save Leopoldina from Germana. Eugênio alerts Luísa of the attack on Ambrósio's farm. Eudoro tells Tonico that Jorge is hiding on Luísa's farm. Pilar manages to take the ferry to Salvador. Jorge dreams of Pilar.
Luisa receives the Emperor's letter. Teresa complains about her marriage to Celestina. Tonico appears at Luísa's farm. Jorge tells what happened to the Countess, who decides to keep him in her house. Tonico cries beside Ambrose's body. Eudoro pressures Dolores to find out her sister's whereabouts.
Pilar manages to take the exam at the medical school. Jorge discovers Mariana's whereabouts. Pedro decides to return to Rio de Janeiro, and Teresa worries. Tonico launches his candidacy during Ambrose's wake. Eudoro invades the medical school and Pilar despairs.
Wednesday, 8/11 (Chapter 3)
Eudoro takes Pilar out of college. Tonico complains about not having received support from the colonels. Teresa contradicts Pedro and keeps an artifact she found during the trip. Luísa frees all the children born on her farm. Eugênio questions Jorge about the invasion of Ambrósio's farm. Eudoro tries to force Pilar to get engaged, but she confronts Tonico. Luísa invites Jorge to go with her to Rio de Janeiro.
Licurgo and Germana take Quinzinho's money. Eugênio scolds Luísa for freeing and changing Jorge's name. Pedro and Teresa arrive at the palace. Pilar searches for news from Jorge. Samuel mistakes a girl for Pilar and ends up being detained by a policeman. Luísa and Pedro meet and fall in love with each other.
Thursday, 8/12 (Chapter 4)
Teresa and Eugênio don't notice the exchange of looks between Pedro and Luísa. Eudoro is suspicious of Pilar's behavior. Olu prevents Samuel from being arrested by Borges. Licurgo and Germana disguise themselves to deceive Quinzinho and Clemência. Pillar gun with Cosme your escape. Pedro writes eulogies about the countess in his diary. Eudoro stops Pilar from fleeing the farm. Olu introduces Samuel to his daughter Zayla.
Teresa talks to Celestina about the Countess of Barral. Pedro insinuates himself to Luisa. Naiza helps Pilar get ready for the wedding. Eudoro tries to convince Floriano to support Tonico's candidacy. Samuel discovers a clue about Mariana. Pilar forces Naiza to take her place at the wedding and flees the farm.
Friday, 8/13 (Chapter 5)
Tonico expels all guests from the wedding. Candida and Olu invite Samuel to live with them. Luísa meets Isabel and Leopoldina, and Pedro is even more enchanted by the Countess. Tonico demands to marry Dolores to settle Pilar's displeasure, and Eudoro is distraught. Samuel gets a job in town. Tonico assures Nélio that he will be elected as a deputy.
Eudoro orders the burning of everything that belonged to Pilar, and Dolores despairs. Teresa does not like the new rules imposed by Luísa. Licurgo and Germana think about how to prevent Quinzinho from destroying his tavern. Luísa talks to Eugênio about her plans for the royal family. Pilar arrives at Luisa's house and finds Samuel.
Saturday, 8/14 (Chapter 6)
Pilar and Samuel talk. Tonico comments to Eudoro that he will surprise the colonels. Pedro and Teresa think about the children they lost. Quinzinho looks for the money from the loan that Licurgo and Germana buried in the tavern. Luísa hires Pilar to take care of her son, and Samuel is overjoyed. Pedro discovers that Teresa brought artifacts from their trip.
Baltazar hides an enslaved man who ran away. Tonico pretends to avenge his father's death for the colonels, but Floriano is suspicious. Pilar questions Samuel about Jorge. Luísa admires Pedro. Floriano surprises Tonico and announces that his candidacy will be supported by the colonels. Pedro tries to seduce Luisa. With Guebo's help, Samuel surprises Pilar and the two kiss.
---
The chapters of Nos Tempos do Imperador are provided by Globo and are subject to change without notice
.