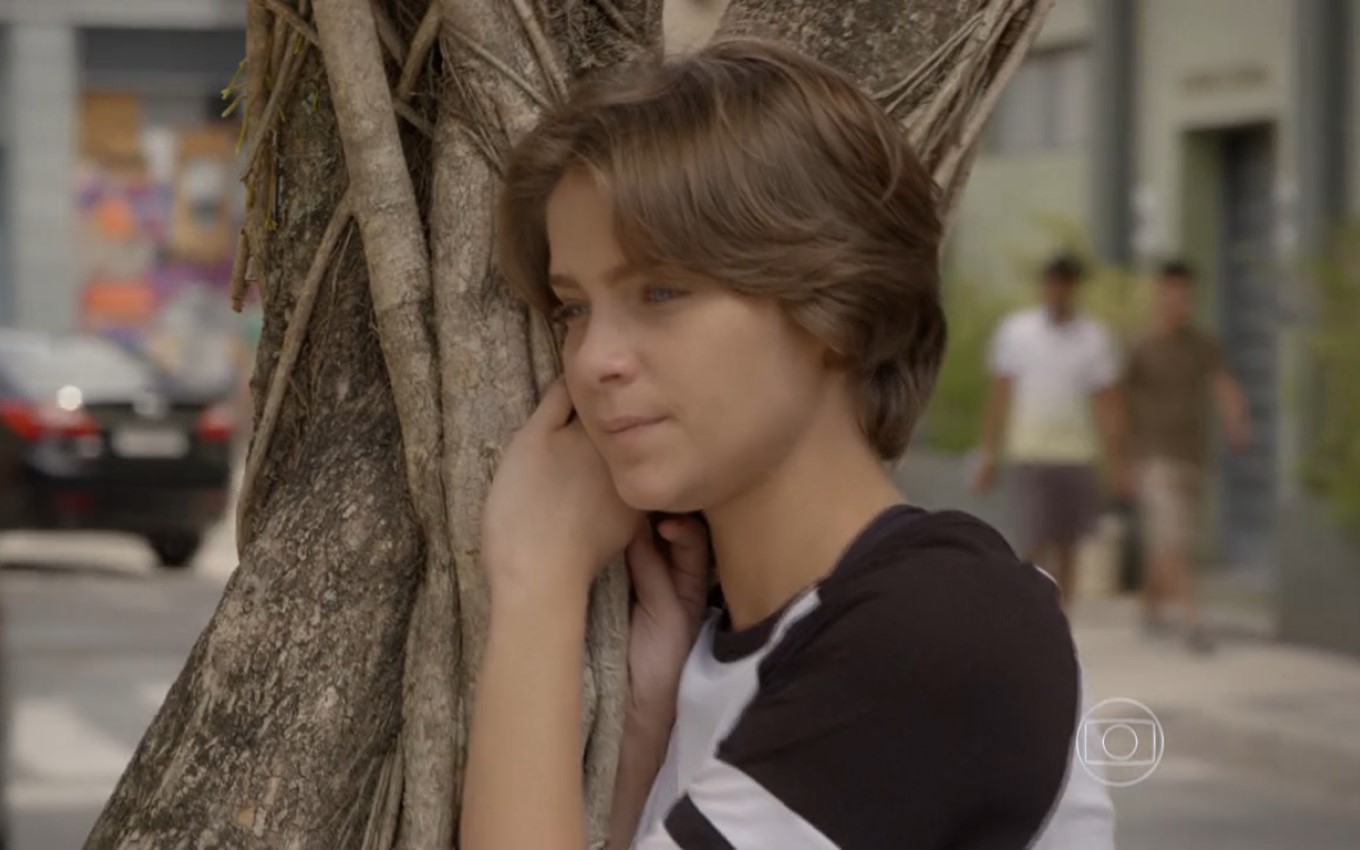 Second, 9/20 (Chapter 170)
Pedro declares himself and convinces Karina to kiss him. Wallace asks to join Lobão's academy and Nat tells Heideguer. Karina notices Pedro's setup and leaves furious. João tells Karina about Dandara's pregnancy. Marcelo supports Pedro. Karina cries as she watches Gael with Dandara and Bianca.
Gael begs Karina to stay with him. Heideguer manages to get Lobão to accept Wallace without hurting the boy. Gael asks Heideguer how he can stop Karina from playing for the Warriors. Karina believes she will lose her place in Gael's family to Dandara's baby. Pedro finds the keyring he gave to Karina.
Tuesday, September 21 (Chapter 171)
Pedro believes he will be able to see Karina again, but Delma forbids him to leave the house. Gael invites Dandara to move back in with him. Pedro disobeys Delma and asks Duca to take him to Nat's house. Dalva and Duca remember Alan looking at Karina's key chain. Jade and Henrique tease Cobra. Lobão goes to Nat's house and Duca hides, but the villain surprises Pedro. Henrique kisses Jade, who is bothered by the thought of Cobra.
Karina returns the keyring to Pedro and demands that he leave. Lucrécia congratulates Jade for getting involved with Henrique, but says it's her daughter who should be happy. Pedro lets Lobão know that it was Duca who gave him Nat's address. Gael asks for Dandara's hand in marriage to João. Wallace comments to Karina that he misses Gael.
Wednesday, 9/22 (Chapter 172)
Lobão pressures Duca to find out how the boy got Nat's address. Nat and Karina exchange confidences. Gael and Dandara inform João that they will move in together. Without realizing that it's also a pendrive, Karina gives her boxing glove keychain to Nat. Pedro suffers for Karina.
During the performance of the play at Ribalta, Cobra and Bianca tease each other in the audience. Lobão discovers that Duca lied to him. Bianca congratulates Jade, who kisses Henrique to provoke Cobra. Lobão confronts Duca, and Heideguer saves the boy. Cobra tells Karina that Dandara and João have moved into Gael's house. Nat looks for Duca at Aquazen. Lobão arrives at Roberta's gym.
Thursday, 9/23 (Chapter 173)
Roberta distracts Lobão so Nat and Duca can escape. Duca pressures Nat and asks her to leave Lobão, but the fighter says she needs to compete in the championship first. Marcelo tries to cheer Pedro up, and Delma listens when her ex-husband tells her son that their marriage is over. Heideguer transfers money from sponsors to Wallace. Mari and Jeff prepare for the opening of their kiosk at Aquazen.
Nat goes to Duca's house and the two end up together. Lobão tells Karina that he's going to prepare a surprise for Nat. Barbara advises Wallace to save his money. Delma orders Pedro to accompany his band to the show at Aquazen. Nando kisses Delma. Karina decides to go to the inauguration of the kiosk and runs into Pedro. Lobão doesn't find Nat in his house. Cobra convinces Karina to stay at the party and Pedro sees the two dancing together.
Friday, 9/24 (Chapter 174)
Karina and Cobra support each other. Lobão is furious with Nat's disappearance. Duca asks Nat to leave his house so as not to find Dalva. Pedro announces a song for Karina, who gets annoyed and leaves the party with Cobra. Bianca tries to stop her sister from leaving.
Marcelo supports Pedro. Lobão puts pressure on Nat. João advises Bianca. Jade dances with Henrique. Karina and Cobra struggle to vent their sorrows. Tomtom surprises Delma and Fernando together. Roberta stays with Marcelo, much to Pedro's despair. Karina asks Cobra to kiss her and Pedro sees the scene.
---
The chapters of Malhação Sonhos are provided by Globo and are subject to change without notice
.