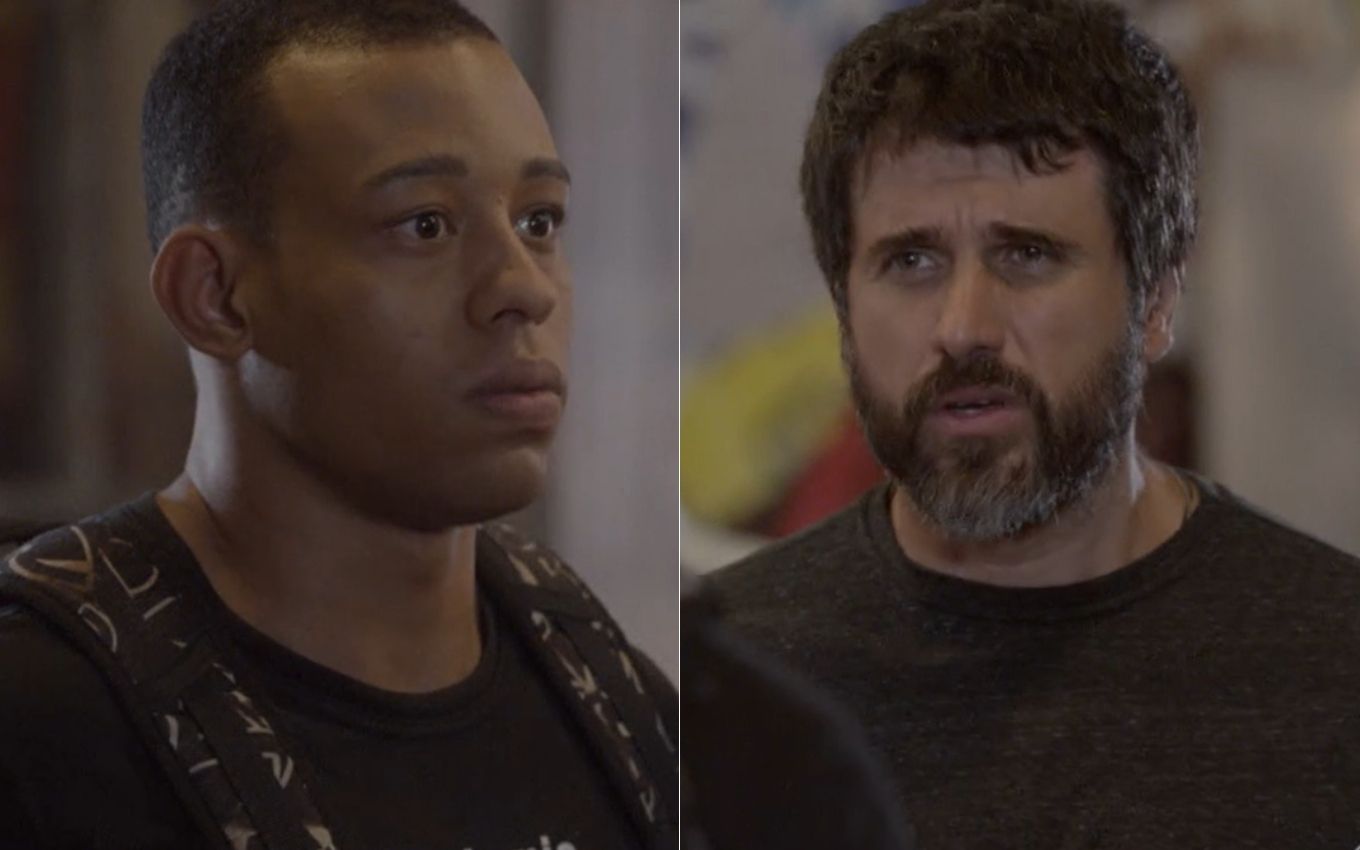 Second, 10/11 (Chapter 185)
Nat gives in to Lobão's traps and gives his opponent the victory, but Gael is intrigued. Nat manages to register Heideguer and Lobão's confession with his camera watch. Karina's fight begins, who is fiercely fought by her opponent. Gael is kicked out of the gym. Karina follows Cobra's advice and manages to win the fight, but Gael doesn't see it.
Nat reveals to Duca that he got the recording. Nat discovers that his recording failed and despairs. Karina tells Nat that she won't return home until Gael admits she is a fighter. Marcelo looks for Roberta and the two kiss. Snake faces Lucrezia. Lobão confirms to Luiz that the target of his revenge is Duca. Nat decides to run away and invites Duca to travel with her.
Tuesday, 10/12 (Chapter 186)
Duca tries to convince Nat to give up on running away and reveal to Lobao that they are together. Lucrezia throws Cobra out of her house and Jade is devastated. Gael tells Wallace that he's rooting for him, even though he believes the boy isn't ready to compete in the championship. Jade gives Cobra an ultimatum.
Nat ends his relationship with Lobão, who gets angry. Gael reveals to Heideguer that Nat accused him of manipulating the championship results. Cobra asks Edgard for help in acting more politely. Heideguer threatens Nat to Lobão. Nat finds the pen drive de Alan.
Wednesday, 10/13 (Chapter 187)
Nat reads the dossier prepared by Alan against Heideguer and Lobão. Lobão surprises Nat, breaks his laptop and claims that it will destroy it. Karina asks Lobão for permission to sleep at Pedro's house. Lobão and Nat fight, until the girl faints. Lobão believes that Nat is lifeless and asks Luiz for help to get rid of the fighter.
João and Bianca celebrate the showing of the boy's commercial. Gael tells Duca that Nat sought him out and was upset. Lobão and Luiz find a farewell note that Nat wrote to Karina. João kisses Bianca. João is recognized on the street for his commercial and Bianca is jealous. Duca and Karina find Nat's note and believe the fighter has fled.
Thursday, 10/14 (Chapter 188)
Duca and Karina lament Nat's escape. João tells Pedro that he's going to ask Bianca for a date. Lobão shows the pen drive from Alan to Heideguer. Gael believes that Nat has deceived Duca. Heideguer and Lobão discover that it was Karina who gave the pen drive to Nat. Gael worries about Karina. Wallace tells Gael that Karina went to live with Lobão.
Lobão searches Karina's backpack and cell phone. Cobra asks Edgard to help him prepare for Lucrezia's tea. Lobão tries to find out some information about Nat with Karina. Edgard takes Cobra to Perfection and he is embarrassed. Gael invades Lobão's house to get Karina out of there.
Friday, 10/15 (Chapter 189)
Gael and Lobão argue and don't see Karina pack her backpack. Karina doesn't let Lobão intimidate her. René goes with Gael to the clinic where he took the DNA test. Lobão tells Karina to invite Pedro to sleep at her house. José hides from Gael and runs away from the clinic. José receives money from Lobão to disappear from the clinic where he works.
Cobra arrives for tea at Lucrecia's house and she is surprised. Pedro is terrified of Lobão's house, and Karina is amused. Lobão arrives home just as Pedro tries to open a drawer.
---
The chapters of Malhação Sonhos are provided by Globo and are subject to change without notice
.