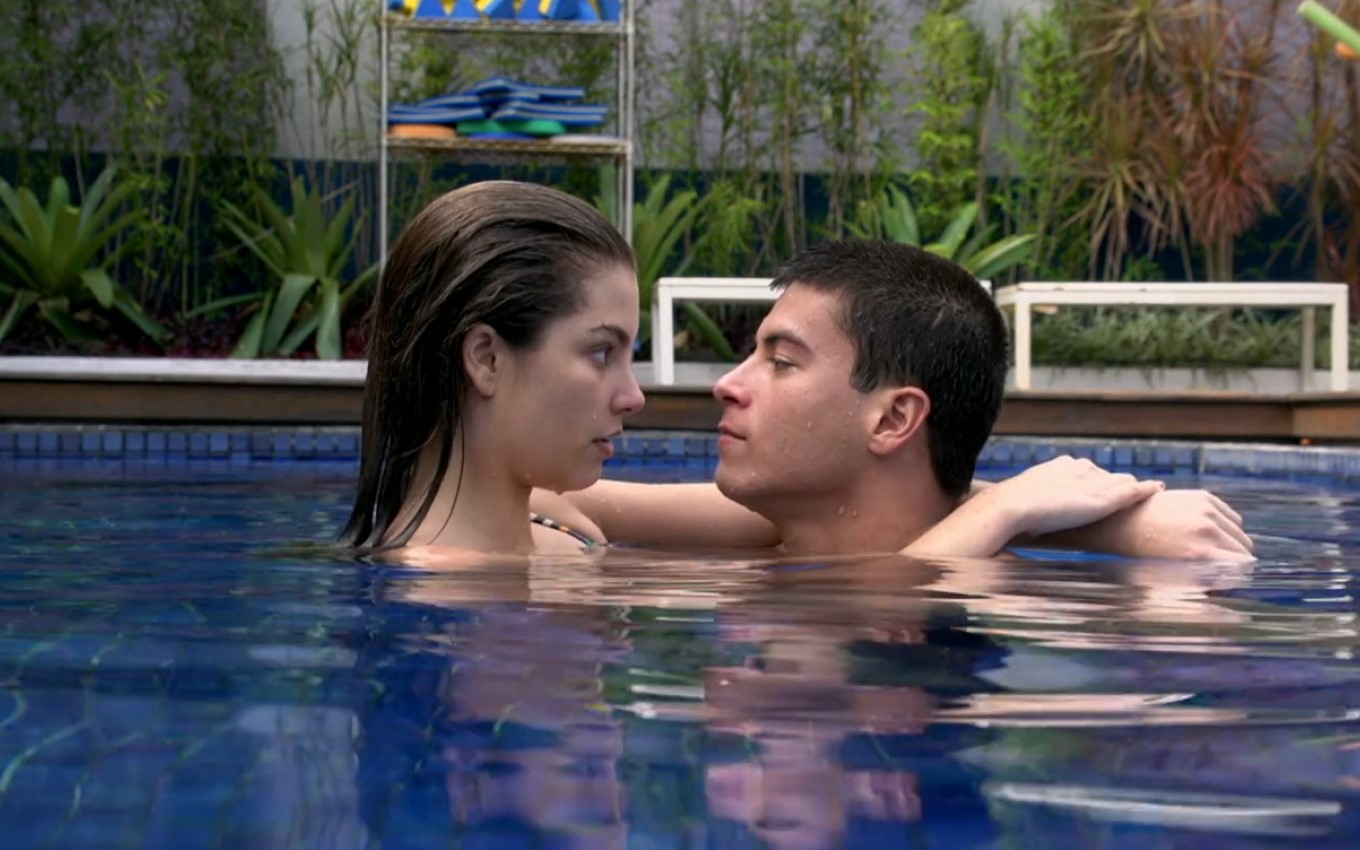 Second, 7/12 (Chapter 121)
Nando invites Delma and Tomtom to go to the party in Ribalta. Fabi, Pri and Joaquina agree to help Bianca. Pedro explains his plan to Sol. Delma and Tomtom praise Karina. Sol, Pri, Fabi and Joaquina make false statements to João.
Lucrécia decides to go to the party in Ribalta. Jade dances for Cobra at HQ. Pedro gets annoyed when he sees Delma having fun with Nando. Jade manages to deceive Lucrecia, and Edgard scolds her.
Gael arrives at the party and is devastated to see Dandara and René together. Joaquina is interested in Gael. Vicky tries to provoke Karina. Duca asks to dance with Bianca.
Tuesday, 7/13 (Chapter 122)
Bianca and Duca dance together. Delma notices Nando's advances and walks away. René thinks about getting back together with Dandara. Joaquina goes after Gael. Pedro and Karina make out in the girl's bedroom. Wallace and BB hinder Bianca and Duca.
Bianca arrives home, and Gael realizes he was tricked by Karina about Pedro's presence. Sol decides to wait for Wallace to return home. Delma tries to talk to Gael. Sol is upset when Wallace convinces BB to join them. Delma invites Gael and Karina to have lunch with her and Pedro. René kisses Dandara, and Gael sees.
Wednesday, 7/14 (Chapter 123)
Dandara tries to explain herself to Gael. René insists on getting back together with Dandara. King helps Simplicio convince Beth to take him back. Marcelo appears at Delma and Gael's lunch. Delma advises Gael to trust Karina. Wallace and Lincoln don't believe in Simplicio. Roberta asks to stay with Marcelo.
Duca and Bianca decide to give their relationship another chance. João creates a fake profile on the social network. Nando invites Delma to listen to music, and Tomtom joins them. Pedro asks to date Karina in front of Gael. Bianca and Duca make out at the Aquazen pool.
Thursday, 7/15 (Chapter 124)
Gael catches Duca and Bianca dating. Dandara tells João that he liked his new profile. Pedro and Bianca discover that João has ruined the profile of the character they created to deceive Vicky. Duca sees Bianca kissing João. Roberta suggests that Duca think better of what to do about Bianca.
Gael asks Dandara for help regarding Joaquina. João asks René to teach him how to win girls. Ruth believes in Simplicio. João questions Dandara's preference for Gael or René.
Friday, 7/16 (Chapter 125)
João suggests that Dandara stay with René. Jeff asks Jade about Lucrecia's health. Bianca says that João must conquer Vicky. Jade is delighted with where Cobra wants to take her.
Duca and Bianca make up. Joaquina throws Alan's glove in the square with the pen drive containing the dossier on Khan. Duca and Karina train at the gym. Jeff visits Lucrecia, and Jade is furious. Duca tells Karina what Bianca did with João.
---
The chapters of Malhação Sonhos are provided by Globo and are subject to change without notice
.