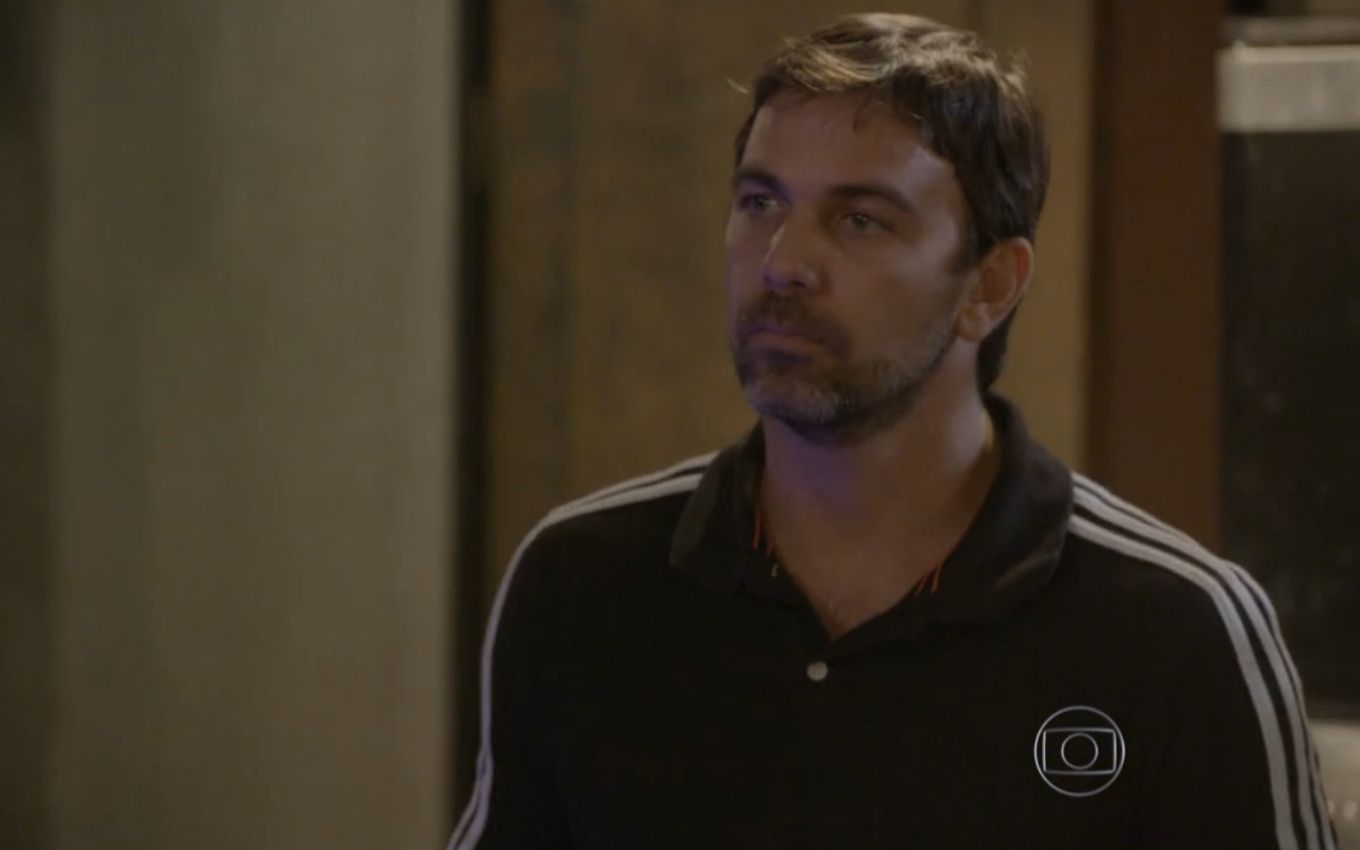 Second, 10/18 (Chapter 190)
Lobão intimidates Pedro to find out where he got the pendrive that gave it to Karina. Jade is jealous of Cobra. Lobão catches Pedro going through the drawer where he heard the sound of his cell phone. Bianca tells João to tell Mari and Jeff about the event he is planning.
Lobão pretends to be nice in front of Karina, and Pedro despairs. Jade thanks Cobra for his behavior during Lucrecia's tea. Ribalta's students talk about João's event. João demands Pedro's presence at Aquazen.
Lobão asks Karina about Duca and she gets worried. Gael suggests that Duca join the Warriors to get money. Lobão thinks about getting revenge on Duca for Nat. Bianca tells Gael of Karina's arrival at Aquazen. Lobão confronts Duca about Nat's whereabouts.
Tuesday, 10/19 (Chapter 191)
Gael steps forward to defend Duca, and Dandara tries to stop him. Jade takes Cobra to dinner at her house. Duca thinks about Nat. Luiz leaves and Lobão, drunk, stays near Aquazen. João's event is a great success. Heideguer arrives for Lucrezia's dinner, and Edgard is irritated.
Lobão sees Gael at his gym and thinks about teasing Duca. João declares himself to Bianca on stage and the two kiss, leaving Duca devastated. Dandara pushes Lobão into the pool and Joaquina records the entire scene. Snake is embarrassed at dinner, and Jade defends him.
Lobão leaves Aquazen humiliated. René tells Karina that she is Gael's daughter. Lobão is stopped in a Prohibition and ends up arrested. Karina goes to Gael's gym and calls him to train with her.
Wednesday, 10/20 (Chapter 192)
Cobra sees Karina and Gael hugging and is happy. Zé decides to give up participating in the Warriors so that Duca can apply. Gael tells Karina he won't let her enter the ring to fight in the Warriors. Dandara shows Gael the video of her pushing Lobão into the pool.
Lobão discovers that it was Joaquina who found the pen drive of Alan. Karina tells Cobra that Gael will have to accept her as a professional fighter. Lobão sends his lawyer to file a measure not to let Gael get close to Karina.
Gael goes with Dandara to do her baby's ultrasound. Karina is intrigued when Pedro says that Lobão questioned Tomtom about the glove keyring. The doctor is able to see the sex of Dandara and Gael's baby.
Thursday, 10/21 (Chapter 193)
Gael and Dandara get emotional when the doctor reveals the baby's sex. Joaquina tries to enroll in Lobão's gym. João is jealous of his brother, and René scolds him. Lobão gets a petition to stop Gael from talking to Karina, who doesn't like knowing that Dandara and Gael's baby will be a boy. Gael tells Cobra that he can't talk to Karina anymore.
Heideguer asks Henrique to help him get rid of Lobão. João sees Bianca and Duca hugging and gets sad. Lobão arms so that Gael is arrested. Dandara sees a police car parked in the square and doesn't let Gael get close to Karina. Karina suffers from Gael's contempt, and Lobão manipulates the teenager.
Friday, 10/22 (Chapter 194)
Lobão is happy with Karina's suffering. Cobra invites Lucrécia, Jade and Edgard to watch their fight at Warriors. Dandara confides in Karina that Gael cannot speak to her. Wallace feels bad before the fight and Sol is worried. Joaquina appears at Khan and Lobão orders her to be arrested in the bathroom. Karina asks Pedro to help her meet Gael.
Heideguer reveals his plan to get rid of Lobão and Henrique tries to hide his nervousness. Cobra sees Wallace sick and tries to support him. Karina comes out of her hiding place when she sees Gael arriving at the gym. Henrique starts recording Lobão's conversation with Montanha. Karina and Gael embrace in front of the gym.
---
In addition to following the Malhação Sonhos news here on the site, subscribe to the channel. TV news on YouTube and watch videos with revelations of what will happen in other soap operas and series.
---
The chapters of Malhação Sonhos are provided by Globo and are subject to change without notice
.