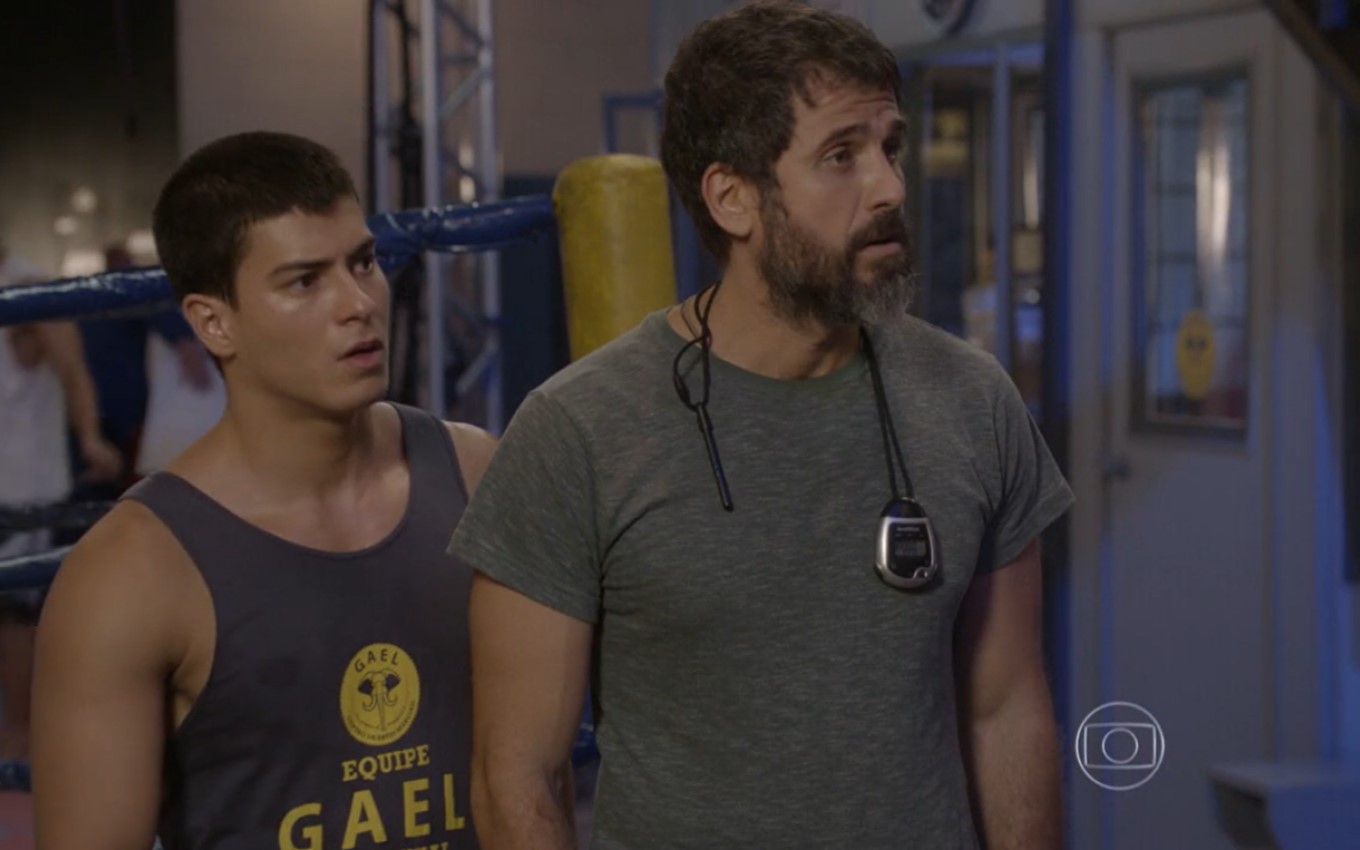 Second, 7/26 (Chapter 130)
Bianca and Jade confess to mutual sabotage, and Lucrecia is surprised. Gael takes Bianca and Jade to the hospital. Pedro and Karina have their first time. King tells Simplicio that the merchandise was sent to Beth's house. Sol doesn't believe that his mother is starting to like Simplicio again.
Lucrecia and Gael think about not letting Jade and Bianca audition for Julieta, but Edgard and Dandara try to convince them otherwise. Nando sings in Perfection, and Delma cheers up. Bete dances with Simplicio, and Sol sends him out of the house. Marcelo is jealous of Delma. René and Dandara help João to rehearse. Gael finds Karina and Pedro sleeping together.
Tuesday, 7/27 (Chapter 131)
Gael throws Pedro out of his house. Marcelo demands to talk to Nando, and Delma becomes enraged. Pedro tells his father about his first time with Karina. Beth shows the gift she got from Simplicio for Ruth. Sol advises Jeff to go after Mari. Bianca encourages Gael to win back Dandara. João asks René to sleep at his house.
Gael demands that Pedro not hurt Karina. João calls René his father. Everyone at the gym comments on Karina's different behavior. Bianca asks Duca to audition for Romeo. Mari breaks up with Jeff. Bianca and Jade audition for Julieta. Lucrezia chooses the actress for the play.
Wednesday, 7/28 (Chapter 132)
Lucrecia chooses Bianca to represent Julieta, and encourages Jade not to give up. Gael congratulates his daughter. Lincoln encourages Jeff to bring Mari back. The auditions for the role of Romeo begin. Cobra suggests to Jade to sabotage Bianca. Edgard enlists Bianca's help in deciding who will play Romeo.
Pedro provokes Duca when he remembers that Bianca will kiss the actors in the play. Simplicio reveals to King that he hid the drugs in Beth's house. João does well in his audition for the theater. Sol summons Wallace to talk about Jeff, and BB gets annoyed. Jeff tells friends that he loves Mari and her baby. Henrique arrives to audition to play Romeo.
Thursday, 7/29 (Chapter 133)
Henry impresses the judges and wins the role of Romeo. René and Dandara congratulate João. Bianca tells Henrique that she resumed her relationship with Duca. Gael supports Duca. Jeff leaves for Joaçaba. Heideguer celebrates the rapprochement between Henrique and Bianca. Duca says he will support Bianca's career.
King tells Simplicio that the two's scheme was discovered by the police, and the bandit worries about the family. Karina reads a text from Pedro about their first time and is furious with her boyfriend. Duca and Gael discover that Henrique is Heideguer's son.
Friday, 7/30 (Chapter 134)
Gael warns Duca to avoid confusion with Henrique. Police arrive to search Beth's house. Pedro apologizes to Karina for his writing. Beth is taken to the police station, and Simplicio watches her from afar. Simplicio calls Sol, telling him that he'll have to flee again.
Wallace reveals to Sol that Beth has been arrested, and Gael takes them to the police station. Heideguer says he will handle Beth's case. Wallace consoles Sol. BB confesses to Bianca that he's jealous of Wallace and Sol. The gang from Ribalta's gang goes to Sol's house.
---
The chapters of Malhação Sonhos are provided by Globo and are subject to change without notice
.