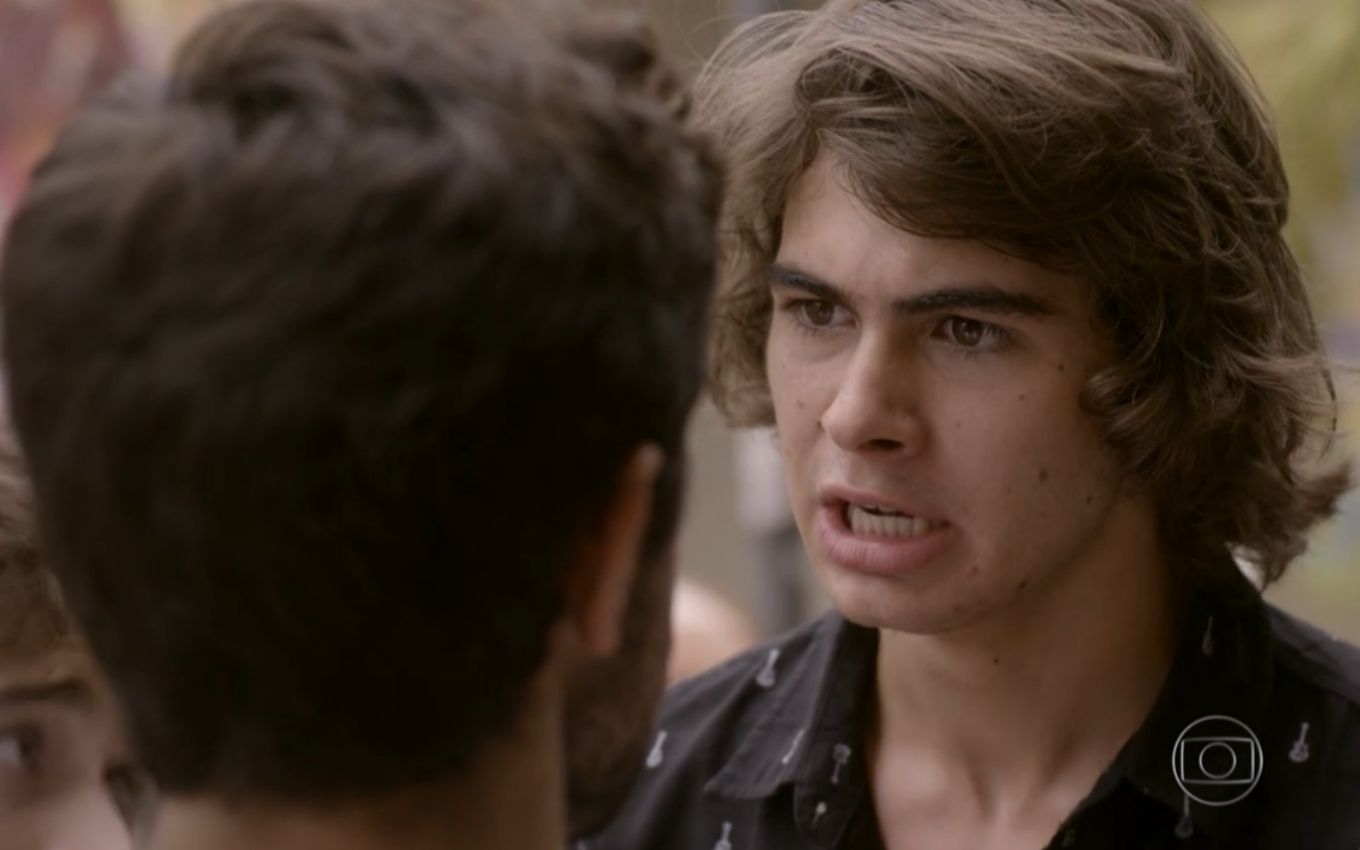 Second, 9/27 (Chapter 175)
Pedro walks away and doesn't see when Karina and Cobra confess that they still like their old boyfriends. Bianca thanks João for his support. Marcelo sees Nando and Delma together and decides to stay with Roberta. Mari and Jeff celebrate the successful opening of the kiosk. Gael is suspicious of the proximity between Bianca and João. Delma talks to Tomtom about Nando.
Pedro realizes that he spent the night on the street and believes that Karina has slept with Cobra. Delma and Marcelo argue. BB visits Wallace at the Khan Academy. Jade discovers that Cobra kissed Karina and decides to propose a relationship with Henrique. Duca prepares to face Lobão. Pedro challenges Cobra.
Tuesday, 9/28 (Chapter 176)
Pedro provokes Cobra, who claims that he and Karina are just friends. Worried about his friend, João asks Gael for help. Nat prevents Duca from facing Lobão and the two decide to make a copy of the academy's key to find evidence against the villain. Cobra sends a message to Pedro on behalf of Karina.
Edgard announces that John has been nominated to star in a TV commercial. BB is surprised by Bianca's tenderness for João. Nat manages to take the mold for the key to Lobão's gym. Marcelo puts pepper in Nando's juice. Gael goes to Khan to plead with Cobra. Gael and Lobão are summoned by Justice to retake Karina's paternity test.
Wednesday, 9/29 (Chapter 177)
Lobão asks Luiz for help to sabotage the DNA test result again. Cobra encourages Karina to look for Pedro. Karina sees Pedro playing with his sister and believes that the boy no longer suffers for her. Dandara tries to talk to René. Gael and Karina prepare for the paternity test.
René returns from the Amazon and looks for João, who tells him about Dandara's pregnancy. Lobão provokes Gael in front of Karina. René denies the affair between Ana and Lobão and tells Gael that the villain is not Karina's biological father. Lobão threatens a laboratory employee to falsify the test result.
Thursday, 9/30 (Chapter 178)
Lobão threatens José's wife and convinces the nurse to exchange the villain's and Gael's blood samples. Gael apologizes to René for having suspected the friendship between the actor and Ana. Nat and Duca plan to invade Khan. Lucrécia invites Edgard to dinner where Henrique will ask him for Jade's hand in courtship, and the director is suspicious.
Nat convinces Lobão to spend the night with her and tells Duca. Jade misses Cobra, but tries to repress her feelings. Cobra has a minor accident, Jade takes care of the boy and the two end up kissing. Lucrezia is annoyed by Jade's delay for dinner. Duca manages to enter Lobão's academy. Edgard is jealous of Lucrecia with Heideguer. Duca hides when he sees Karina arriving at the gym.
Sixth, 10/1 (Chapter 179)
Duca explains to Karina that he is looking for evidence against Lobão. Henrique decides not to wait for Jade and Lucrecia apologizes to the boy and Heideguer. Duca photographs Khan documents. Jade confesses to Lucrecia that she was with Cobra and is scolded by her mother. Heideguer tells Henrique that he will reveal the true business of the family to him. Karina argues with Nat.
Henrique dismisses Jade. Edgard consoles Jade. Nat and Duca get evidence on Lobão's betting scheme in the championship Warriors. Karina misses Pedro and Cobra advises her friend not to give up on the boy. Bianca convinces João to record the commercial. Lobão and Gael prepare to receive the result of the DNA test. Karina asks Sol for help to win back Pedro.
---
The chapters of Malhação Sonhos are provided by Globo and are subject to change without notice
.