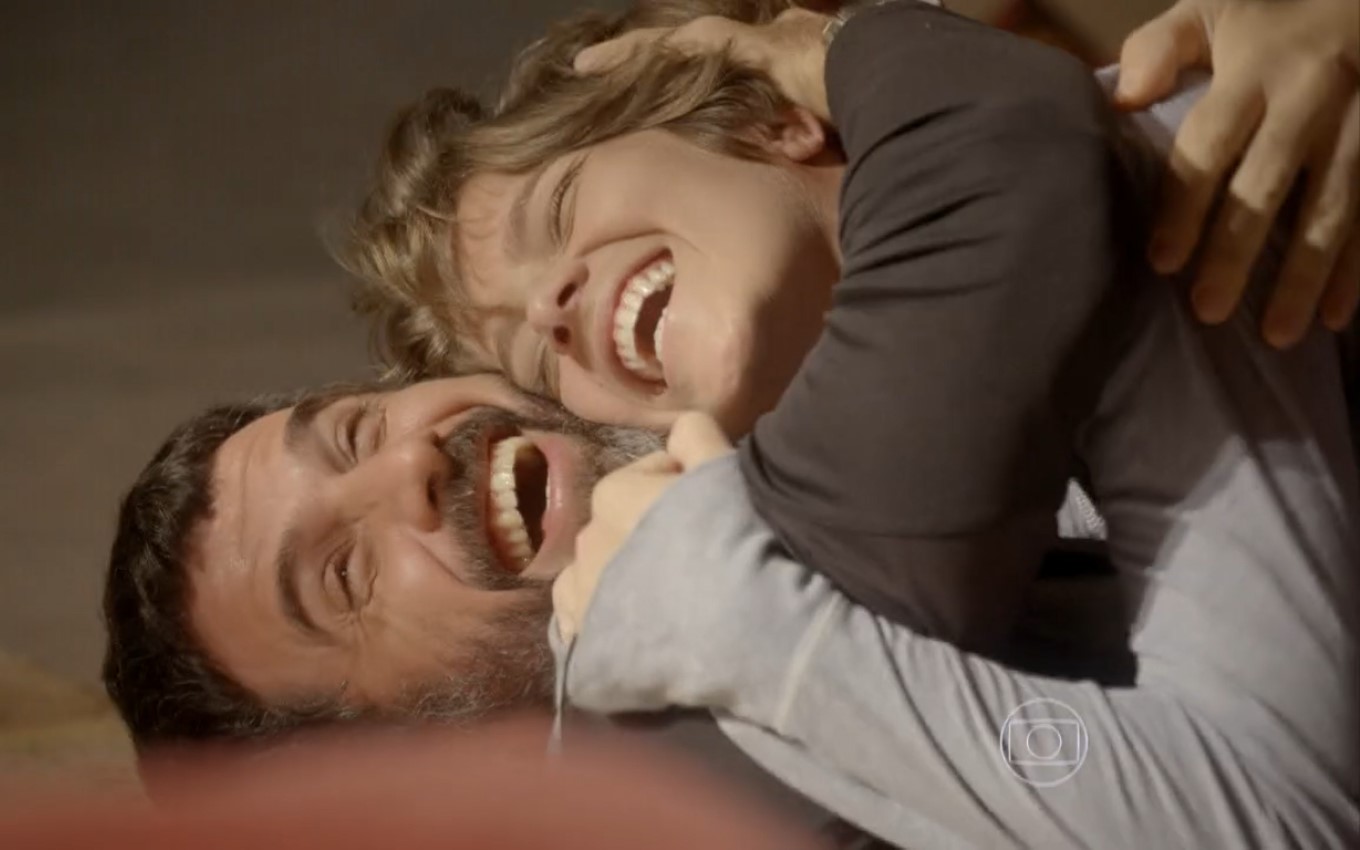 Second, 8/9 (Chapter 140)
Bianca pretends to be staging the play with João and kisses her stage partner. João discovers Bianca's plan and threatens her. Lobão visits Cobra, and Karina gets annoyed. Pedro tells Karina that Vicki will travel with the band. João and Jade plot against Bianca. Pedro invites Karina to travel with him. Lobão harasses Dandara, and Gael confronts him.
Tuesday, 8/10 (Chapter 141)
Lobão attacks Gael, and Dandara and Duca prevent the fighter from fighting back. Paula Fernandes responds to Lincoln and Tomtom's message and says she wants to meet Mari. Lobão manages to schedule the DNA test to confirm Karina's paternity.
Delma tries to intervene on Pedro's behalf, but Gael doesn't allow Karina to travel with her boyfriend. Sol regrets being away from Wallace. Karina is saddened by Gael. Nando, Delma, Tomtom and the members of Galera da Ribalta prepare to leave. Gael allows Karina to travel with Pedro.
Wednesday, 8/11 (Chapter 142)
Karina thanks Gael for letting her travel with Pedro, who is overjoyed. Robson's van breaks down on the road. BB and Wallace sell raffles for a dinner at Perfection to help Jeff and Mari get back to Rio. Jade convinces Edgard to rehearse the play in the square.
Heideguer encourages Wallace to use illicit means to make Simplicio confess his guilt and release Beth from prison. BB is surprised when Wallace calls Sol. Jade sabotages the dress that belonged to Ana, used by Bianca for rehearsing.
Thursday, 8/12 (Chapter 143)
Jeff and Mari say they will return to Rio. Duca despairs watching Bianca's rehearsal. Jade and João comment on the sabotage of Bianca's dress. Beth worries about Wallace when Sol tells him that the boy will talk to Simplicio.
Robson gets help fixing the van. Bianca's dress rips and she falls on top of Henrique, leaving Duca beside himself. Dalva scolds her grandson's behavior. King suggests that Simplicio is being threatened. Bianca ends her relationship with Duca.
Friday, 8/13 (Chapter 144)
Duca apologizes to Bianca, but the girl claims that their relationship has come to an end. Nando, Delma, Robson and the band members are forced to sleep in a church until the van is repaired. Heideguer tells Sidney that his intention is to corrupt Wallace.
Wallace and Sol manage to get Simplicio to confess to the crime. Sol and Wallace get together, and the boy worries about BB. Duca and Nat think about each other. Beth is released from jail. A police officer reveals to Heideguer that the chief has evidence that Lobão ran over Alan.
---
The chapters of Malhação Sonhos are provided by Globo and are subject to change without notice
.