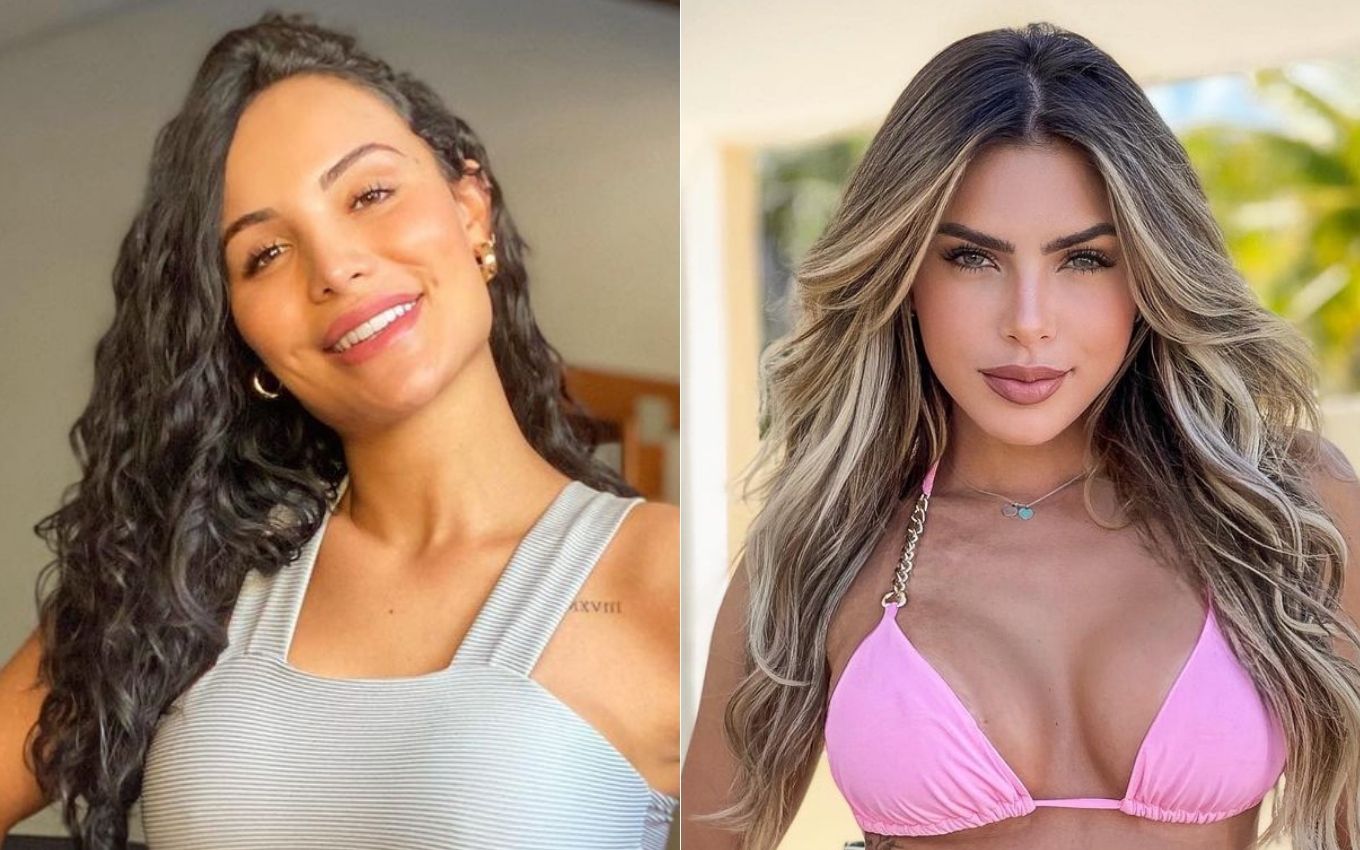 Fazenda 13 will maintain the tradition of old editions and will have an ex-panicat and a former dancer from Domingão do Faustão (1989-2021) in its cast. Erika Schneider, ex-ballerina of Fausto Silva's show, and Aline Mineiro, former member of Pânico (2003-2017), will compete in the reality of Record, which debuts this Tuesday (14).
Born in Guarulhos, Greater São Paulo, Aline Mineiro Queiroz was born on September 18, 1991, graduated as a flight attendant, but has never worked in the area. The 30-year-old brunette also has a degree in Performing Arts from the Wolf Maya School of Actors and currently works as a model and actress.
The ex-panicat worked as a stage assistant at the extinct Panico between 2015 and 2017, taking the place of Renata Molinaro. The model dates the comedian Leo Lins. Aline was criticized in 2020 after publishing a video making fun of the comedian with the caption: "Like all parties, he doesn't say anything, he's a little autistic." She deleted the post from social media.
Check out Aline's posts on social media:
Erika Schneider, on the other hand, is from São Roque, in the interior of São Paulo, and left the ballet of Faustão in January 2021 after eight years in the cast. The also model ended her two-year relationship with businessman Victor Perez earlier this year.
The blonde was fired from Domingão do Faustão by video call and entered the radar of Rodrigo Carelli, director of A Fazenda, for having lived an affair with Erasmo Viana — also quoted to be a pawn in the reality show. According to information released in the media, the dancer got the vacancy that had been destined for the ex-BBB Gabi Martins.
In conversation with the TV news shortly after her resignation, in February, the influencer said she was already waiting for the attraction to leave: "I wasn't upset. The show is going to end, and that's life. Everything has a beginning, middle and end. I, at least, already expected That end. I imagined the contract ending. One time or another, the girls would have to leave. I already imagined it."
Erika accumulates over 1 million followers on Instagram. On her profile, she publishes several photos in bikini and traveling. Check out:
Who's on Farm 13?
You already confirmed participants in A Fazenda 13 are: Victor Pecoraro, Mussunzinho, Tiago Piquilo, Liziane Gutierrez, Nego do Borel, Tati Quebra Barraco, Arcrebiano de Araújo, MC Gui, Mileide Mihaile, Dayane Mello, Valentina Francavilla, Fernanda Medrado, Gui Araujo and Marina Ferrari. Others will be featured at the show's premiere. In all, there will be 21 participants.
.