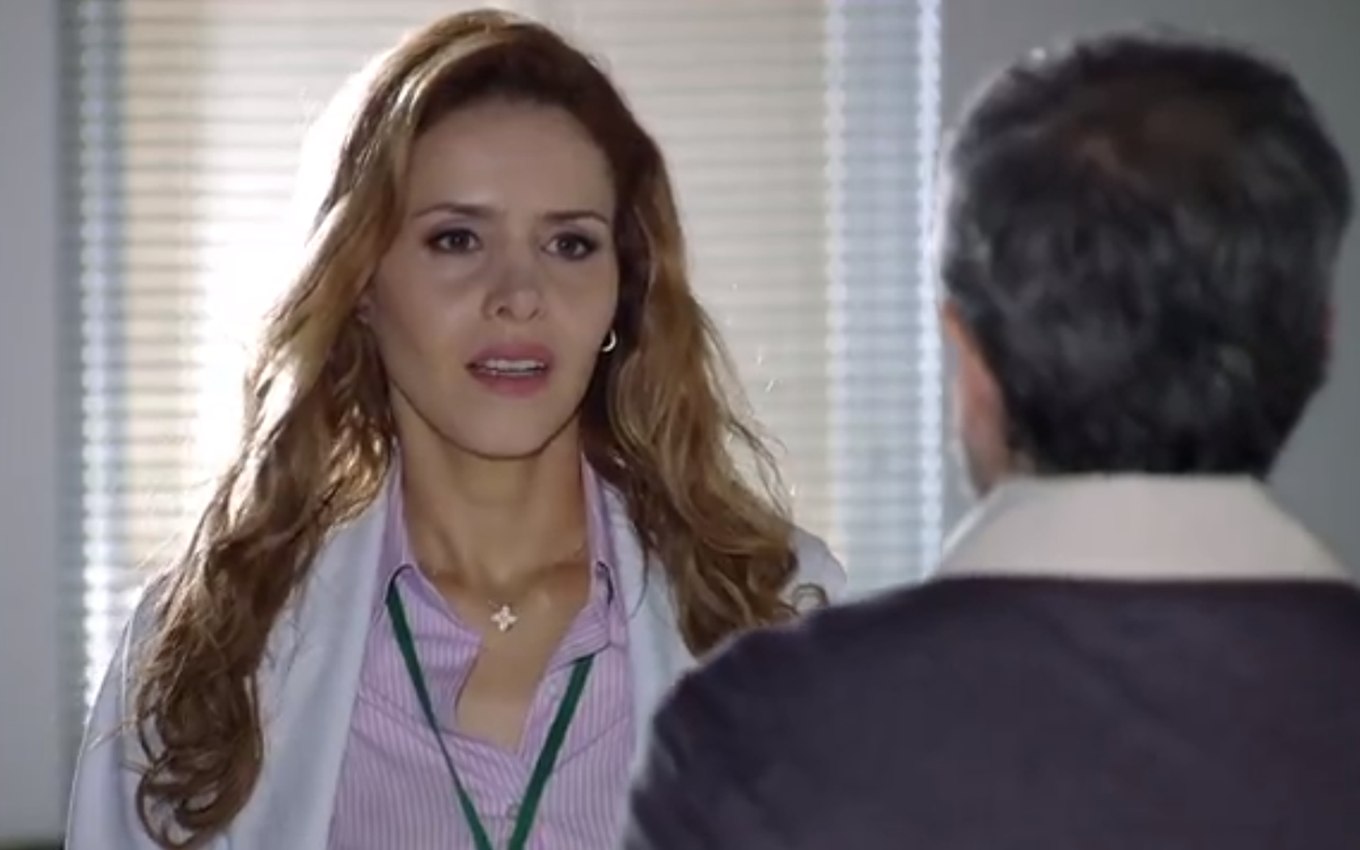 Celina (Leona Cavalli) will be on a tight leg with a request from Lourenço (Leonardo Medeiros) in A Vida da Gente. The doctor will accept having a coffee with her ex-husband, who will confess that he still loves her. The writer will propose that the two resume the marriage. Despite being moved, the blonde will not accept in the six o'clock soap opera at Globo.
The teacher will accompany Rodrigo (Rafael Cardoso) to the hospital. The boy will pay a visit to Ana (Fernanda Vasconcellos). At the reception, he will meet Celina in the scenes that will air on Friday (7).
"Wow, good to see you. I wanted to talk to you so badly. Do you have a minute?", Asks the writer. "In fact, I'm late, I have a call in a little while. It won't work, no," replied the pediatrician. He will then insist and assert that he does not need much time for coffee.
Convinced that it will be a quick conversation, she will accept. "Well, then, let's go to the canteen for a little while." They will sit down, and Celina will ask how he is. "I think I became an ex-husband. It's how I see myself, always talking about you, referring to you in an affectionate way. Because I couldn't turn my back on our life. I couldn't move on to the next chapter", will begin speaking Rodrigo's uncle.
"I even tried at first, I tried to believe in time, that time will heal the wound, that time will take me to another stage. Only, I think that this period has already expired. Time has not brought me any solution. Come on, Celina, I miss you so much ", the man will say.
The doctor will try to prevent the writer from starting with his regrets, but he will continue to speak. "But I'm really sorry. I'm still alone today. And I know you are too. Come on, why can't we give each other a chance?", Asks Lourenço, full of hope.
"This is such an old story. When two people separate and each goes to one side, the common territory disappears", explains Celina. "But I'm not talking about resuming an old story, I'm talking about starting another, new one. I still love you, Celina. I think about you every day", confessed the character of Leonardo Medeiros.
Even touched by the words of her ex-husband, Celina will remember the whole story that she lived with him, the lack of complicity and companionship and will say that their story is over.
Globo postponed the premiere of the unprecedented Nos Tempos do Imperador until the second half of this year. The season plot is expected to go on air in August. In addition to the spoilers, the TV News publishes daily the summary of the six o'clock soap that the broadcaster reprises due to the Covid-19 pandemic.
---
Find out everything that will happen in the next chapters of the soap operas with the Noveleiros podcast
Listen to "# 56 – Ana wakes up in A Vida da Gente! And now?" in the Spreaker.
---
Subscribe to the channel TV News on YouTube and watch videos with revelations of what will happen in A Vida da Gente and other soap operas.
.