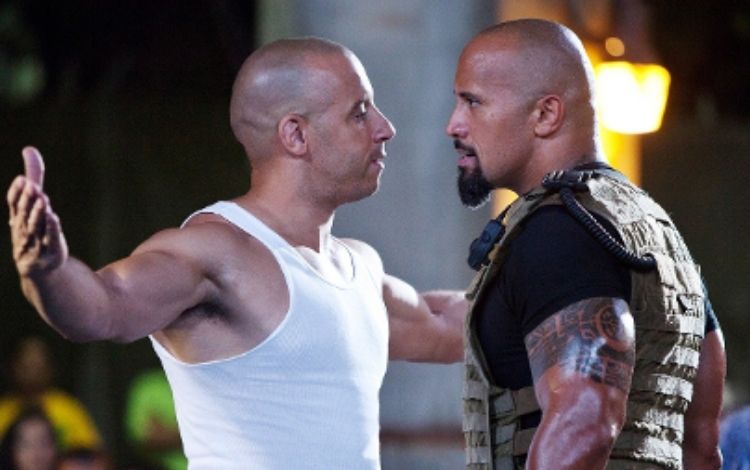 Dwayne Johnson made an Instagram post criticizing the former co-star and the subject resonated; he said that he quietly received support from professionals on the film set.
Reproduction/Universal Studios/13.10.2021
Dwayne Johnson said he asked not to share a scene with Vin Diesel

The actor Dwayne Johnson, also known as The Rock, gave details of his fight with the actor Vin Diesel behind the scenes of the franchise "Fast and furious" and confessed that he regretted having exposed the friction on social media. The confusion between the actors began in 2016, in the seventh film in the franchise and, in an interview with Vanity Fair, the artist said that he only agreed to make the eighth film with the condition of not sharing a scene with Diesel. "I thought it was the best thing to do. For everyone," he explained. The misunderstanding was made public after The Rock posted an Instagram post saying they had actors who didn't behave professionally on the film set. The actor did not even mention the name of his co-star, but speculation began and he decided to delete the publication. "Nothing specific happened, just the same old shit. And that wasn't my best day", commented the artist about the post.
The Rock didn't make it clear what Diesel was doing backstage and annoyed him, but emphasized that they have very different postures. "I look at all partners as equals, regardless of where you are, with respect and humility and being respectful like everyone else who is investing time, hard work and sweat," he commented. The actor said he was sincere in his post, but he feels he was wrong to express what he thought publicly. "It caused a firestorm. Yet, oddly enough, it was as if each crew member found their way to me and discreetly thanked me or sent me a note. [em apoio], but I shouldn't have shared that because at the end of the day, it goes against my essence. I don't share things like that [nas redes sociais] and I take care of that kind of bullshit away from the public. They don't need to know that. That's why I say it wasn't my best day," he concluded.