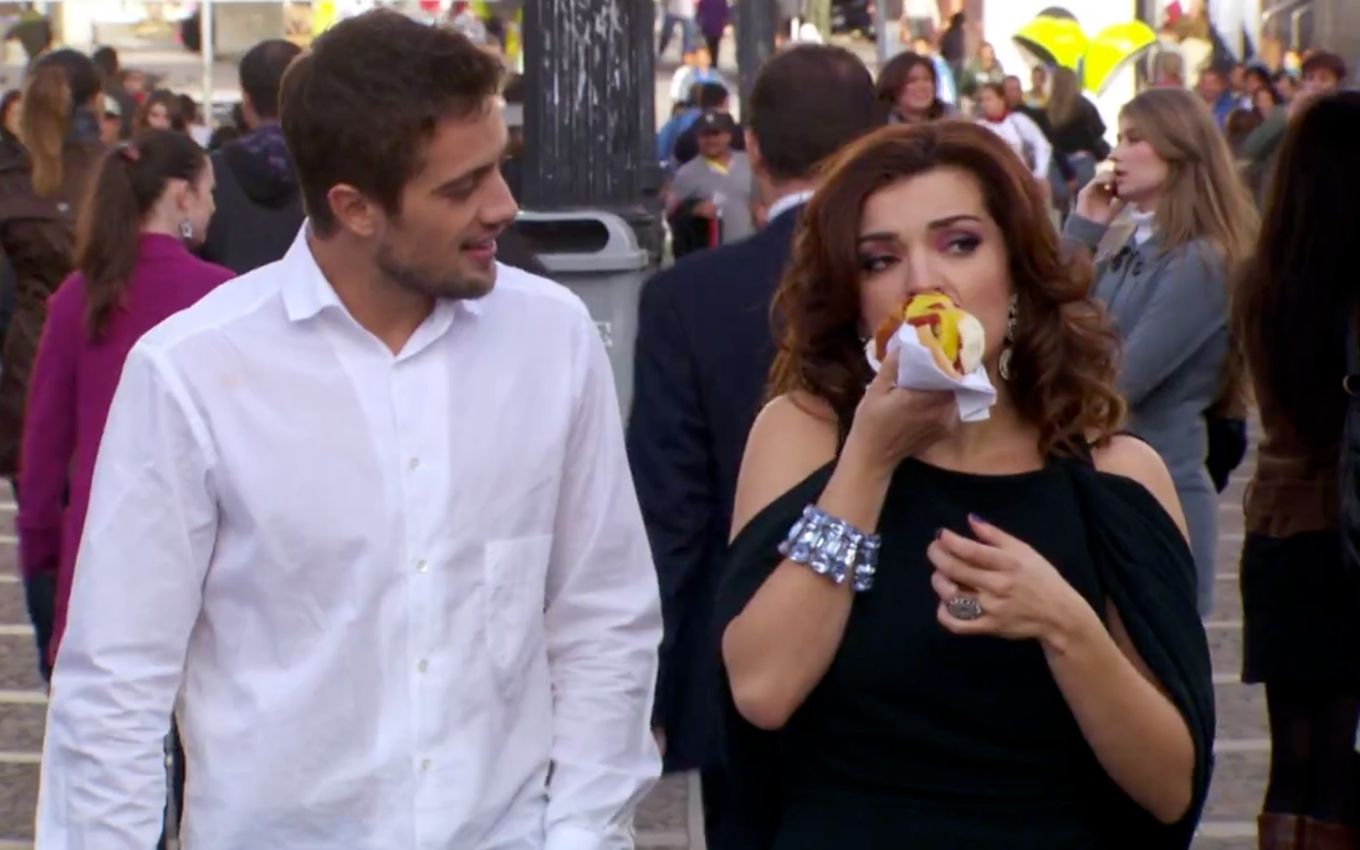 Desirée (Mayana Neiva) will have a Cinderella day in Ti Ti Ti. The model will be run over by Jorgito (Rafael Cardoso). Without money, the rascal will try to redeem himself with the model by taking her to eat a "rot". The "trash boy" will ask for the brunette's phone number, but Nicole's daughter (Elizangela) will run to catch a bus. In a hurry, she will leave one of her shoes behind.
The irreverent meeting will take place in the next chapters of the replay of Vale a Pena Ver de Novo. Stéfany's cousin (Sophie Charlotte) will accept her first job as a model and will participate in an editorial by Moda Brasil magazine in the central region of São Paulo.
Armandinho (Alexandre Slaviero) will discover the location of the photos and will bite himself with jealousy. He will see Desirée accompanied by men, deliver punches to the models and leave furiously. Marta's friend (Dira Paes) will try to run after the jealous one, however, she will be run over by Jorgito.
In love with the girl since he saw her at the Moda Brasil party, Rebeca's son (Christiane Torloni) will not believe in such luck. Thaísa's ex-boyfriend (Fernanda Souza) will have searched for the stranger for days.
Desirée will be hit by Jorgito
'Lucky' meeting
Helpful, Camila's brother (Maria Helena Chira) will assist the girl and try to take her to the hospital. However, the brunette will refuse. Thus, the character of Rafael Cardoso will redeem himself by offering a snack, in the same place where the accident will occur. She plans to eat a "podrão" (street cart sandwich) with the playboy.
He will pay the model a hot dog and insist on knowing more about the redhead. "In those times that I believe in destiny, you know? My day was stupid, until you appeared like that. All beautiful in front of me, right in the center of the city. Do you always walk like this?", The lover will confess.
Embarrassed, Desirée will explain that she is ready for a photo shoot, but that she did not like her first experience very much. "Do you believe they only gave you apples to eat?", Will release the girl, happy with her street snack.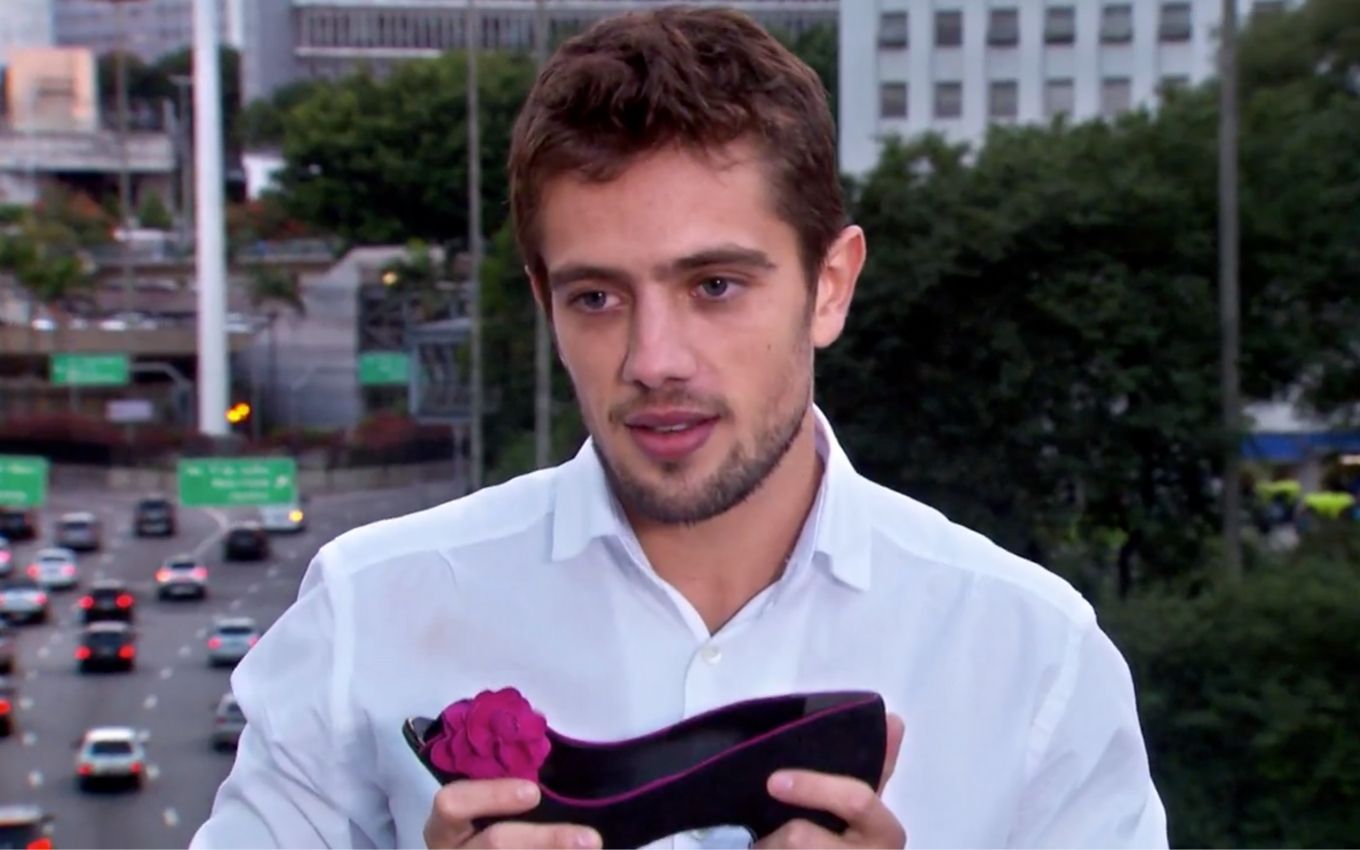 Desirée will leave "gift" for Jorgito
"Good, it's the most I can pay you. I'm hard, I fought with my mother. She wanted me to go to work at the family factory and that's not what I want. Do you understand?" . Curious, Gino's niece (Marco Ricca) will question what the rich man wants to do with his life.
"Something that challenges me, motivates me and really moves me," admits Breno's ex-son-in-law (Tato Gabus Mendes), ready to pounce. However, even before that happens, Mayana Neiva's character will spot the bus in her neighborhood and run to catch it.
"Wait a minute, Desirée. Give me your phone at least … I'll take you home," will ask the playboy, delighted. But the model will not hear the request and will enter public transport. In the race, she will leave one of her shoes behind and Jorgito will keep the memory. "My Cinderella!", She will sigh.
The show that Globo reiterates in the afternoon at Vale a Pena Ver de Novo is a reinterpretation of two classic novels by Cassiano Gabus Mendes (1929-1993): Ti Ti Ti (1985) and Plumas e Paetês (1980). Originally aired between July 2010 and March 2011, the plot was written by Maria Adelaide de Amaral and Vincent Villari.
---
Find out everything that will happen in the next chapters of the soap operas with the Noveleiros podcast
Listen to "# 54 – Is it worth watching the Empire replay?" in the Spreaker.
---
Subscribe to the channel TV News on YouTube and watch videos with revelations of what will happen in your favorite soap operas!
.