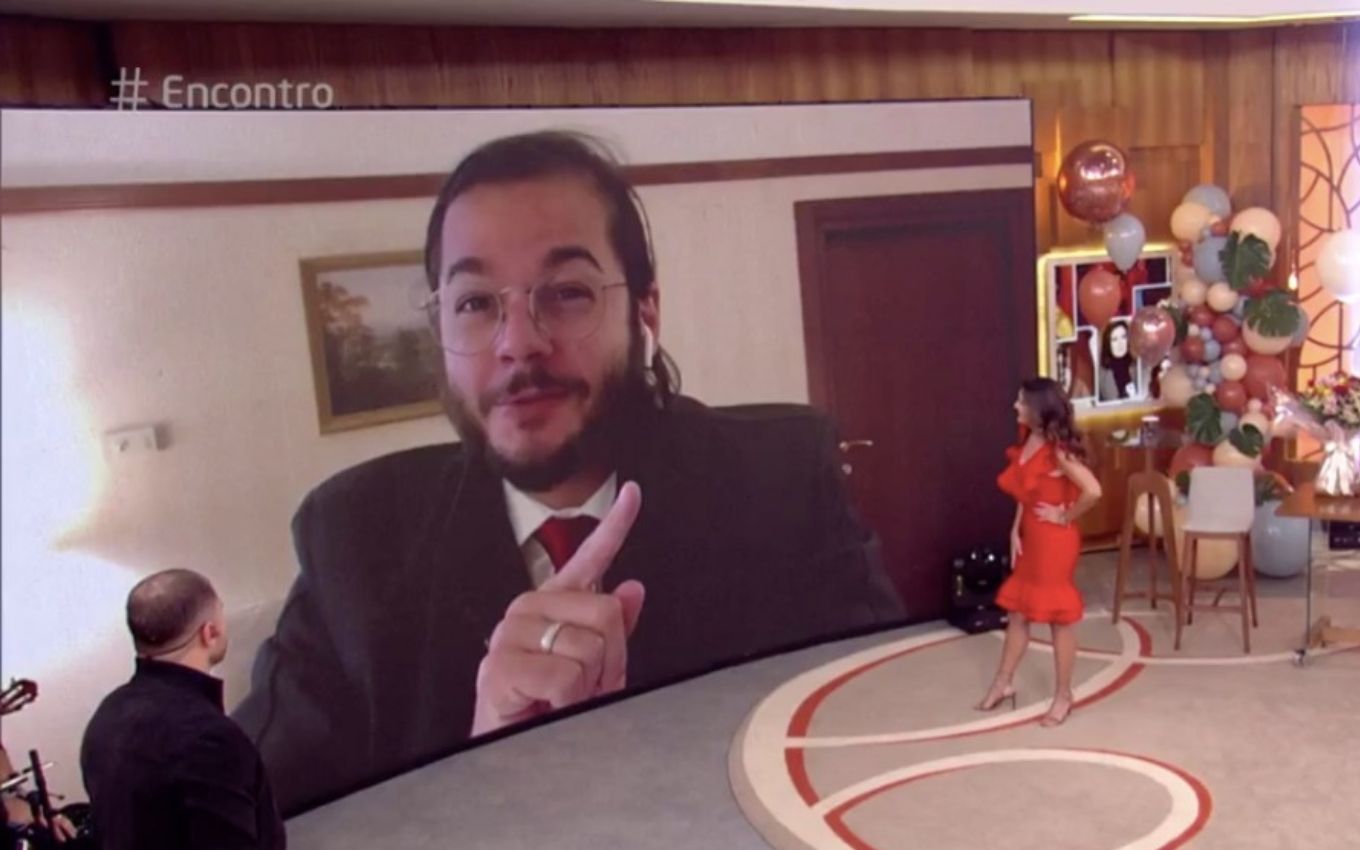 Túlio Gadêlha's surprise to pay homage to his girlfriend, Fátima Bernardes, at the meeting last Friday (17) made the program grow at Ibope in Greater São Paulo. In the special edition that commemorated the presenter's birthday, the morning registered 7.1 points, a rate higher than the average of the four previous Fridays, of 6.2.
According to data from Kantar Ibope Media, the program also obtained a 22.3% share (participation) of 32% of the televisions turned on during its airing, from 10:45 am to 12:02 pm. The meeting also had the participation of Diogo Nogueira and former player Cafu in the studio, as well as Paolla Oliveira via video call.
Second survey of TV news, on the four Fridays prior to the September 17 edition, the Fátima program did not exceed 6.6 points. On September 10th it scored 6.6; on September 3 it scored 6.0; on Aug. 27 it hit 6.6 again; and on the 20th of last month it registered 5.7. The total average of these days results in 6.2.
Fátima's boyfriend, Túlio entered the Encontro live playing the harmonica. The deputy performed a musical duet with Lenin and declared himself for his beloved.
At first, the titleholder of the attraction believed that the tribute would only be from the singer, who interpreted the song "Só que Me Interessa" – soundtrack of her romance with the politician. In the middle of the song, which was recorded on video, Túlio appeared playing harmonica directly from Russia, where he went to work.
See below the hearings for Friday, September 17, in Greater São Paulo:
Average of the day (7h/0h): 13.6
good morning SP
7,9
Good morning Brazil
7,7
More you
6,1
Meeting with Fatima Bernardes
7,1
SP1
9,8
Globe Sports
9,8
Newspaper Today
10,2
Afternoon Session: The Selection
10,5
You You You
14,9
Workout
14,7
in the times of the emperor
16,7
SP2
20,0
grab hold
22,0
National Newspaper
24,4
Empire
28,2
Globo reporter
20,1
Secret truths
13,3
Globo Newspaper
9,3
conversation with bial
7,2
Owl 1: Heaven on Fire
4,6
Owl 2: Don't Devour My Heart
3,4
Owl 3: The Eternal Girlfriend
2,8
how will it be
2,8
Average of the day (7h/0h): 6.7
Morning General Balance
2,0
Morning General Balance (location)
3,1
Speak Brazil
4,0
Nowadays
4,3
JR 24h (morning)
3,5
General balance
7,5
Proof of love
6,1
JR 24h (afternoon 1)
5,3
City Alert
7,2
JR 24h (afternoon 2)
5,6
Journal of Record
8,7
Genesis
11,1
when you call the heart
7,8
The Farm 13
9,4
The new super machine
5,2
JR 24h (dawn)
3,7
Speaks, I hear you
1,6
Religious
0,5
Average of the day (7h/0h): 4.9
First Impact
4,1
Come here
3,6
Good Morning & Co.
4,0
Chest Award Coupon
4,0
gossiping
3,6
Family Cases
4,7
indomitable heart
7,9
true loves
8,0
SBT Brazil
5,9
wheel to wheel
6,5
Chest Award Coupon
6,4
Chiquititas
5,4
Mouse program
5,2
Million Show
5,3
the night
4,2
Operation Mosque
3,2
Reporter Connection
2,6
SBT Brasil (re-presentation)
2,6
The Big Bang Theory
2,2
---
Source: Broadcasters
Each point is equivalent to 76,577 households in Greater SP
.