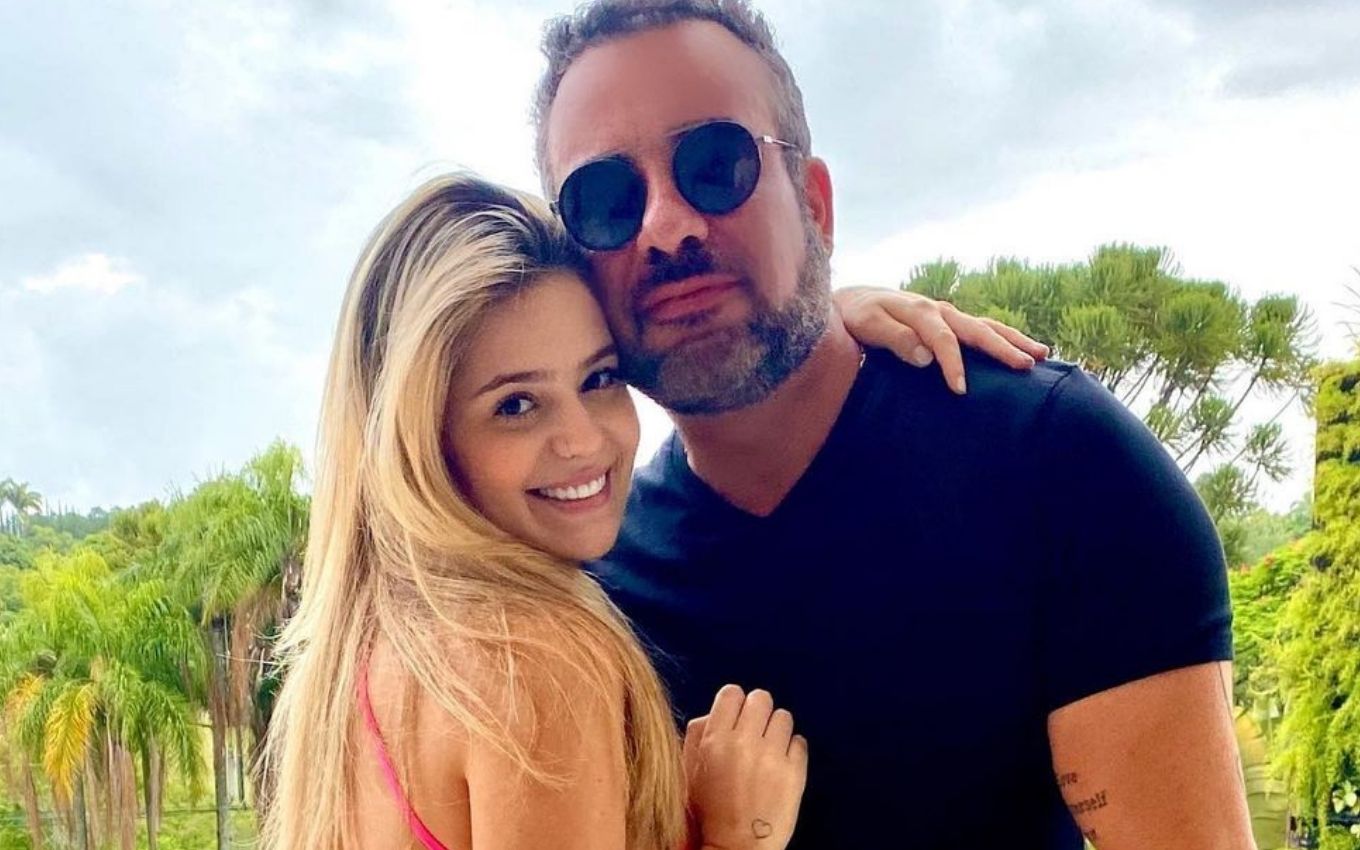 Viih Tube's father, Fabiano Morais talked to TV News about the daughter's participation in BBB21. The producer defended the strategy used by the youtuber in the game, revealed that the family has suffered threats on social networks and denied that the blonde is fake. He also said that Juliette Freire must be the champion of Globo's reality and commented on the "parents" of the young woman inside the confinement.
"Vitória is a very intelligent girl. As she is 20 years old, who is the youngest participant in the edition, she is putting a lot of grown man in her pocket in terms of the game. That's what I say to everyone who asks me: that it's not real life, it's a game. So people cannot judge a person's character, personality because they're playing, "said Viviane Tube's ex-husband.
"After all, it's worth a million and a half reais. How do I analyze Vitória's game? It's been a very good game. She makes alliances, captures votes, knows the strategy of who to ally with and not to ally with. That is a strategist. But not that she is like that out here. There it is completely different. There it is a game, it is not real life ", assured Morais.
The producer also said that he believes that her musical background helped her win the Leader's Test on Thursday (15). "Vitória is a very intelligent girl. In the game she has a very strong acumen. She plays the piano, and in music there is the metronome which is the same time as the second one. She realized the game and started to count the timing".
"For the musical education she had, that you have a metronome, you have a time. So I think she compared the time, with that she got it. Her merit. I think she still goes a long way in this game. I'm going to cheer a lot, right ? But it is the public who decides. It is not us. She was the champion for me. "
Viih falsa?
Youtuber's father also spoke about the false reputation that the public attributed to the young woman. "A joke is a joke, but it is not fake. That is a game, it is not real life. People have to live with people. She has been living for 70 days… How will you be intimate to be able to say 'this is it my best friend. "No, you don't know the family, you don't know the right person", he pondered.
"You got there, you fall on a parachute. You went into a house to be able to play, and you created some new friendships. You don't have access to family, the internet, the social network, nothing that's going on out here. You end up clinging to some of the people more or less. But that doesn't mean it's false. I don't believe it. "
Morais also denied that he had any manipulation on the reality show to help Juliette, one of the favorites of the edition: "I think the game there is real, there is nothing armed. The edition of this year's program was very good. Juliette is playing a lot well, she is charismatic, she is a sweet person, she has always been in difficult times with my daughter. As Vitória also sided with her ".
"In my opinion, even though I'm rooting for my daughter, but I think Juliette is on the right track to go to the final and be the big winner… Even though I'm rooting for my daughter", he handed over.
Threats on the web
The producer said that the BBB21 participant's family members have suffered attacks on social networks: "People think it is real life. We have been attacked a lot by haters, by false profiles with threats. a completely different life ".
"In 15 days, all this will end, life will go on. In a month, nobody remembers who Vitória do Big Brother is. I thought there was no need for many things that happened there, this story of cancellation by Karol. [Conká], Lumens [Aleluia]… Things out there are different ", he added.
Morais also said that the daughter's team will take appropriate measures against the false news published about the youtuber. "I think it is cruel to do what people do to gain views, likes and followers. People plant untrue, false news. And there are people who believe," he lamented. "We have all the prints of all the fakes news that they are posting. And we will take the appropriate measures. Did you say? You will have to prove it."
Parents in reality
True father of Viih Tube, Fabiano speculated the reasons for the young woman to find so many "parents" at BBB21 – she has already stated that Nego Di, Caio Afiune and Arthur Picoli are similar to the producer. "Everyone is the father of Vitória. I say that there is no need, it is nostalgia. Sometimes there is a glance that reminds you, right," he joked.
"Vitória is very family, a lot of emotion. I think that for as long as she's out of contact with her family, not knowing what's going on out here … Anything that reminds someone of the family, she already [compara] 'it looks like my father', 'it looks like my mother'. But 99% percent of none of the three … I have no characteristics, "he explained.
About the comparison with Caio, the producer replied: "I think [parece] very little, I think my big daddy side. I also like a little peace, bush, farm … Not that I have it, but this way I like this more homey side, more family. That yes, only and period. My personality is completely different from his ".
Morais said that he saw the scene of the blonde saying that Arthur looks like him: "First I don't do crossfit, start there. I go to the gym, but no … I don't think it has anything to do with it".
Check out the full interview and subscribe to the channel TV News on YouTube to check out our daily BBB21 newsletters:
.