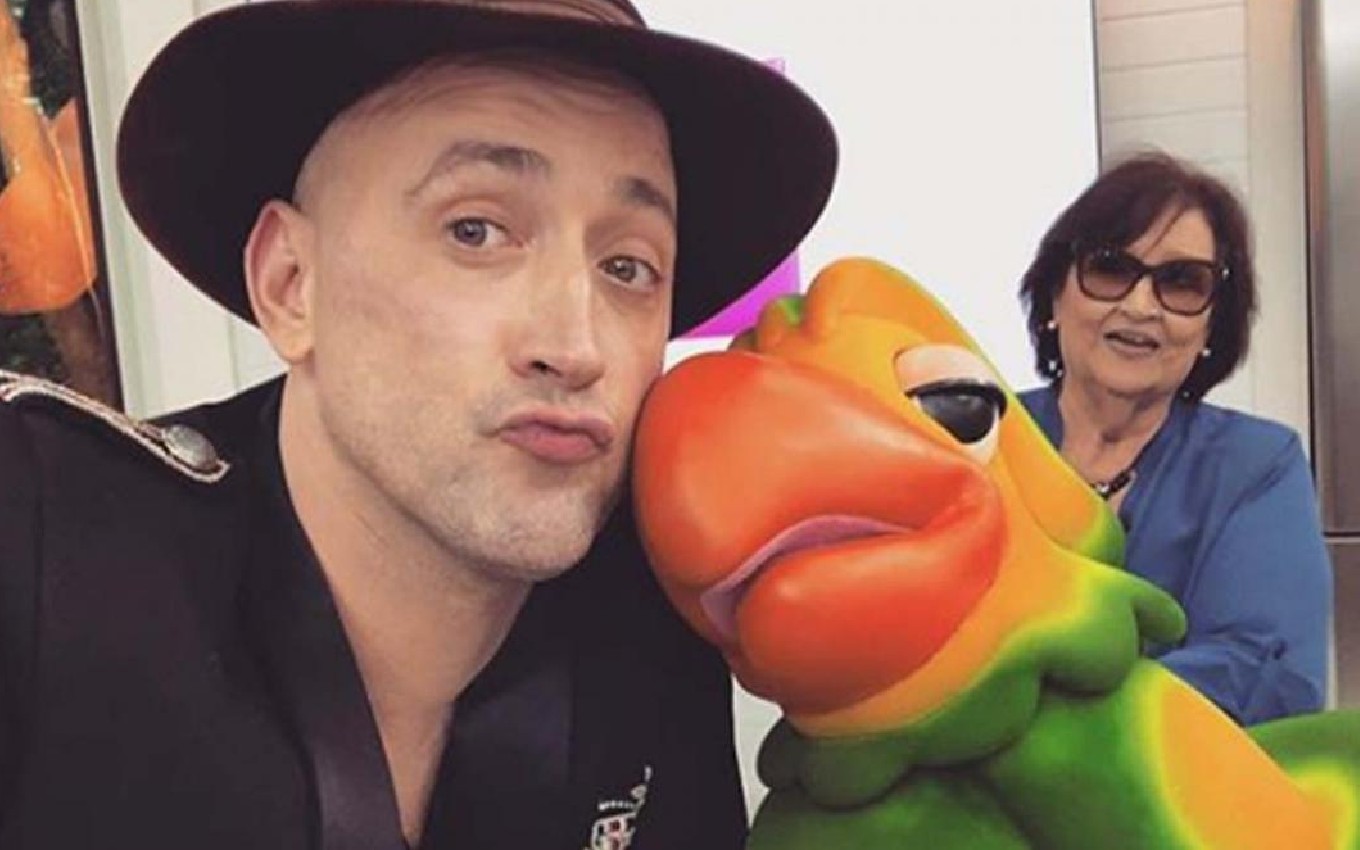 More You showed this Friday (7) a tribute to Paulo Gustavo (1978-2021), who died as a result of Covid-19. Ana Maria Braga recalled the comedian's visits to the program (the last one in December 2020) and mentioned the exchange of ideas they had during the years of friendship. The appearance of Louro José in some scenes also touched the web – the actor Tom Veiga (1973-2020), the character's performer, died in November last year.
Between excerpts of conversations at Globo's morning attraction, scenes from the works and family photos of Paulo Gustavo were shown. In the participations in Mais Você, the comedian helped to prepare a dish and interacted with Louro José. The images made the public lament the death of the duo.
Throughout this Friday's edition, Ana Maria commented that, in the last days, Paulo Gustavo has received many tributes from friends. Tatá Werneck sent a special video for the attraction. Very moved and crying, she talked about her love for her friend.
"It is very difficult to talk about Paulo without him being here. Paulo is a comet, it is a rip, a power, a force of nature. There is no such thing as finding Paulo and not being the best day of life, because Paulo seems to have rehearsed to make you happy ", he commented.
Tatá also asked people to honor what happened to the comedian. "Don't leave the house. We have 411 thousand families devastated (by deaths caused by Covid-19). Please don't let this be in vain," he said.
See the reactions on the internet:
A pain called THEY MAKES ME LAUGH AND NOW THEY ARE NO LONGER WITH US. #More you@lourojose@ PauloGustavo31@More you@ANAMARIABRAGApic.twitter.com/ZebiAW0aS0

— Ana Carolina | 🌶️ Crazy Boring Chilling (@carolzinhalight) May 7, 2021
Watching Mais Mais today with blonde José and Paulo Gustavo together was shot in the chest early on

– I (@_jennifercs) May 7, 2021
To watching ana maria braga and they are paying homage to Paulo Gustavo
Then, color an old Christmas ep in which Louro Jose and Paulo participate. Mt sad to watch and know that the 2 are gone …

– 𝔱𝔢𝔫𝔢 📘 (@ Tenessee7) May 7, 2021
Man, I look really bad when they replay Louro José's participation in Mais Você.

It has not yet been realized.

– Pedro Sobreiro (@pedro_sobreiro) May 7, 2021
Ana Maria reviewing a story with Paulo Gustavo and Louro José. Heart-wrenching twice #More you

– Mariana Soares (@ marianamon14) May 7, 2021
Two legends that are no longer with us
Paulo Gustavo and Laurel José
Now Paul joins those in heaven
Louro José, his friend Márcia cabrita, Chico anysio among others who have already left #rippaulogustavo#More you

– Rafinha 🌟🪐 (@ eu1rafael) May 7, 2021
Check out the video by Tatá Werneck:
Tatá Werneck pays tribute to friend Paulo Gustavo: 'Remember him as a love story' ✨🤍 #More youpic.twitter.com/fV9U9CWAbf

– Mais Você (@MaisVoce) May 7, 2021
The world was already sad with so many losses, now it was even more with the loss of Paulo Gustavo !! 😞😞😞te amo ❤️

— SULEMAR NOVELLI (@SULEMARNOVELLI) May 7, 2021
What sadness 🥺

– adineia 🎓🕵️‍♀️🌈🍒 (@AdineiaMendonca) May 7, 2021
Always a lot of love

– Luciana Rodriguez (@ Luciana46635345) May 7, 2021
And dying that we were born to eternal life 🙏🙏🙏🙏🙏🙏🙏🙏

— william ferreira (@william77794968) May 7, 2021
.