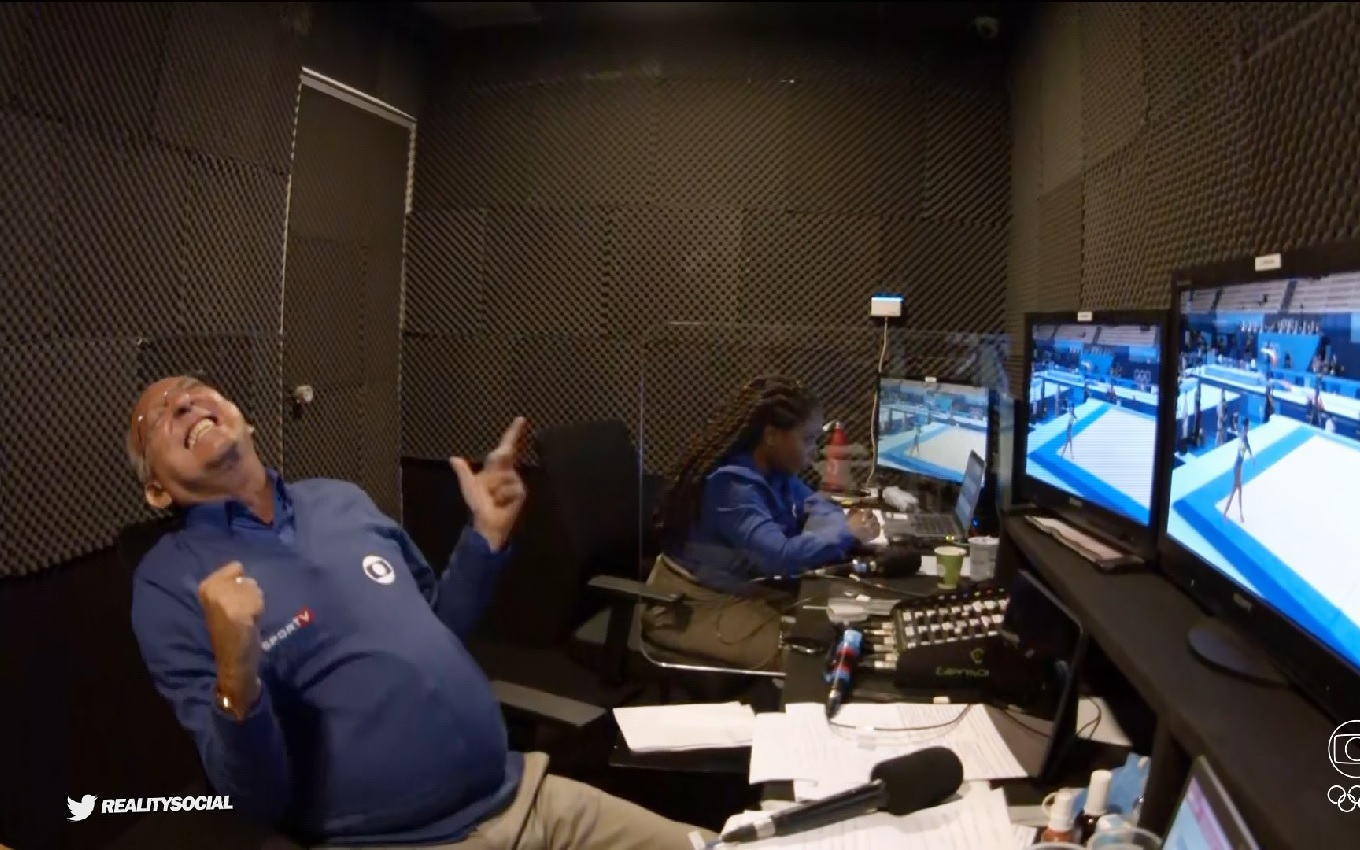 Galvão Bueno's emotion with winning an unprecedented Brazilian medal this Thursday morning (29) was shown by Globo. The broadcaster placed a camera next to the narrator and showed his reactions while broadcasting Rebeca Andrade's dispute in artistic gymnastics, in the general individual modality. Daiane dos Santos and Diego Hypólito were also very emotional with the athlete's silver medal.
The crying started as soon as the result came out. Galvão Bueno reported that he had been waiting a lot for this medal in gymnastics, at least since the 1996 Olympic Games in Atlanta, when Brazilian gymnastics began to stand out in the Olympics.
"In all these years, I expected this emotion a lot. I really wanted to do this moment, I really wanted it. It's silver! It's silver! How I love to say that word!", admitted Galvão. Daiane dos Santos couldn't hold back either: "It's a victory for all of us who pave this path. Jade Barbosa, Laís Souza, Flávia Saraiva….".
Soon after, Globo made a surprise to Galvão Bueno and the former athletes. Announcing that his reactions would be shown in the broadcast booth, the 71-year-old journalist was stunned. "Are you really going to do that? Is it publishable to put our reactions on the air?" he joked.
In the backstage footage, Galvão Bueno appears unable to look at Rebeca's series on the beam. He also charged for the release of the athlete's note ("Where's Rebeca's note?" he said impatiently) and lamented when the gymnast ended up putting her foot off the stage in her performance on the floor: "Damn, you stepped out. ".
But the narrator was thrilled with the silver medal already guaranteed after a 13,666 score on the ground given by the judges. After seeing his own reactions, Galvão was a little embarrassed: "My God, how much agony."
After the screening, Galvão Bueno became one of the most talked about subjects on Twitter. Many netizens praised the emotion conveyed by the narrator, even in his moments of despair and agony.
Watch the video with Galvão's reactions:
I've already said it, but I'll repeat it: GALVÃO, I LOVE YOU! 💚💛 #OlympicsNaGlobopic.twitter.com/cwKtda5S9N

— TV Globo in 🏠 (@tvglobo) July 29, 2021
.