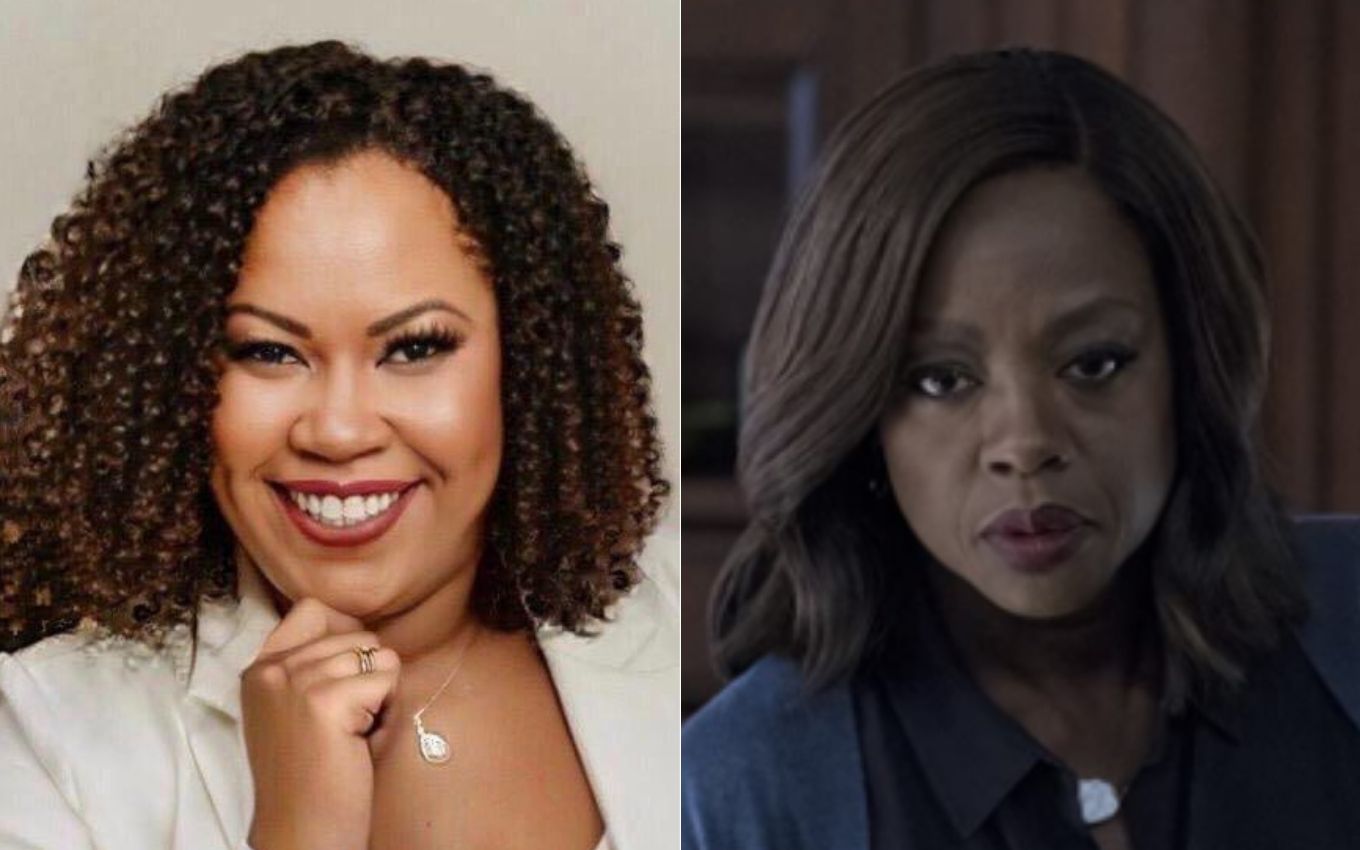 A criminal lawyer, black and charismatic, Fayda Belo earned the nickname "Brazilian Annalize Keating" on social media for looking and acting like Viola Davis' character in the series How to Get Away with Murder (2014-2020). The capixaba of Cachoeiro de Itapemirim has gone viral on the web for teaching its followers to use the law to defend themselves against the most varied crimes.
To the TV news, Fayda says that she feels increasingly fulfilled with the success she has achieved on the internet, in addition to being a big fan of the first black actress to win an Emmy and also of the series that was aired by Sony Channel and is currently available on Netflix.
On TikTok alone, the lawyer accumulates more than 500,000 followers and 6.4 million likes in the videos where she accurately cites excerpts from the Constitution and the Penal Code. On Instagram, she chats affectionately with her "crimelovers", the affectionate nickname she gave her fans.
"I'm honored that they say this: 'You're our Annalize Keating.' I'm a big fan of Viola Davis. I saw the show without a bath. [direto], a season came in, I'm already watching; I saw a chapter, I want the next one. Because I'm passionate about it, this series is everything to me (laughs)", he jokes.
"Because of that, I get really vain, proud and very honored every time someone says I'm Annalise Keating from Brazil. It's really a great honor. Because Viola Davis, in addition to being a great actress, has a a very strong story that looks a lot like mine, so it's a great honor", excites the former intern at the Public Defender's Office.
In one of the recordings recently published, "Brazilian Annalize" informs the presenter Sikêra Jr., from RedeTV!, that he committed the crime of homophobia by declaring that gays are pedophiles and sexual abusers. "Do you know what child sexual abuse is? It's having sex or any libidinous act with children. [artigo] 217-A of the Penal Code", she teaches.
"Now, what you might not know is that 87% of the people who commit this horrendous crime are straight men. Yes! It is not the LGBTQIA+ community that has taken the innocence of our children. They are good citizens like you, members of the Brazilian traditional family," continues Fayda in the video.
"I warn that falsely imputing a crime to someone is slander. Offending the reputation of others is defamation. Now, practicing, inducing or inciting discrimination through the media due to sexual orientation, since 2019, is a crime of homophobia. With penalty. of up to five years. I must remind you: from the prison, it is not possible to present a television program", concludes the lawyer in the recording.
@faydabelo

Homophobia is a crime! ##mesdoorgulholgbt##homophobia🌈🚫##faydabelo##Iconical Kisses##Capcut##cannot##virtual crimes

♬ Beggin '- Moonlight
Unlike the protagonist of How to Get Away with Murder, Fayda does not try to defend wealthy murderers, but rather people who deserve fair treatment from the Brazilian judicial system.
Graduated as a lawyer and post-graduated in Criminal Procedural Law, she set up her own law firm and works mainly in defense of women and children who are victims of domestic violence, gender-related crimes and also racial discrimination.
"In my job, I also work closely with the Public Ministry when it comes to homicide with female victims, femicide. I have an office, a team and I travel around Brazil with my clients. In some cases, I do it pro bono, which is when the victim does not have financial resources, then I also help for free," he sums up.
Who is Fayda Belo?
Fayda Belo was born in the same land as singer Roberto Carlos: Cachoeiro de Itapemirim, in Espírito Santo. "Here I was born, grew up, studied in public school, graduated in Law thanks to a grant from Prouni [Programa Universidade para Todos], I passed the Bar exam [dos Advogadosdo Brasil] with top marks and, currently, I manage Fayda Belo Advocacia," he explains.
Defender of minorities in real life, Fayda believes that bringing her legal knowledge to people who don't have access to them through social media is her duty as a lawyer and legal professional, and it's also fun.
"When we think about Justice, about Law, the population thinks it is something very distant, so my idea is to alert people about the rights they have, in a simple way, with simple language, in a way that someone who doesn't understand the law can understand the message. It's working very well, and I'm loving it", he confesses.
@faydabelo

@astravadavida receive my solidarity. Homophobia is a crime! ##Capcut##homophobia##cannot##faydabelo##virtual crimes##violencedegenero##real crimes

♬ memories – Maroon 5
"I was always very affected in helping others, I did an internship at the Public Defender's Office, a place where many humble people went. And then came this affection of wanting to help others, so I help online, I help in groups of women and blacks, deaf community as well. And we keep doing what needs to be done, which is to bring the Law to the people, since it is very far from the population," he says.
Married for 15 years, the lawyer is the mother of two children, the grandmother of one grandchild and, surprisingly, she is also a stutterer. "But I do treatment with the speech therapist and I have advanced a lot!", celebrates the new darling of social networks.
---
Subscribe to the channel TV news on YouTube to check out our daily newsletters, interviews and live videos
.