Whoever turns on the TV to watch the Spectacular Sport this Sunday (14) will come across a new face: Karine Alves. The 38-year-old journalist makes her debut in the presentation of Globo's traditional sports program in place of the holder Bárbara Coelho, who is on vacation during the Carnival holiday. The gaucho commands the attraction alongside Lucas Gutierrez.
Karine is the first black woman in 15 years to command the Spectacular Sport, morning sport with the largest audience on open TV. Before her, the program had been presented between 2005 and 2006 by Lica Oliveira, former Olympic champion volleyball player, journalist and actress who acted in Manoel Carlos' soap opera Viver a Vida (2009).
Born in Porto Alegre, the gaúcha was hired by Grupo Globo in March last year after standing out on Fox Sports as a reporter and presenter. She initially arrived to be in charge of Tá na Área, on SporTV. However, it soon gained more space, began to temporarily present the Exchange of Passes and became holder of the attraction after the death of Rodrigo Rodrigues (1975-2020) in August 2020.
Irreverent and good-natured, Karine won a chance at SporTV mainly for her light style on camera. At Fox Sports, she worked for seven and a half years. She was a reporter and presenter. He participated in the coverage of the Olympic Games in Rio, in 2016, and the World Cup in Russia, in 2018. Later, he became an anchor of Central Fox.
But her journalism career began at RBS, Globo's affiliate in Rio Grande do Sul. There, the journalist spent eight years and five months and was also a reporter and anchor, but also covering other topics besides sports, such as Carnival .
Karine pleased the audience and the leadership and has been gaining more and more space on the network. Today, he remains in charge of Troca de Passes, on SporTV, and is also ahead of Rio de Janeiro's edition of Globo Esporte on the Saturday shift schedule.
On open or closed TV, she usually shows good humor and likes to interact with commentators and guests. Now, the professional has been given the opportunity to anchor the audience leader's traditional sports attraction.
REPRODUCTION / INSTAGRAM
Karine Alves is the holder of the Pass Exchange
"This is more than a challenge. It is an honor, a great achievement," she summarized. "Spectacular Sport has a strong meaning in my personal and professional life. It is a program that I have followed since childhood. I grew up watching and listening to that unmistakable soundtrack, which brings a lot of inspiration," he added.
Fight against racism
One of the few black professionals on TV, Karine is active in the fight against racism and uses her space on SporTV and Globo to take a stand against racial prejudice. Recently, the journalist countered a comment by an Internet user who classified the episode of racial injury in the match between Paris Saint-Germain and Istanbul Basaksehir, for the Champions League, as "a false case of racism".
"Look, unfortunately, that thought is that of a lot of uninformed people. They can't interpret it. When, in a match, do we need to say 'that black guy there'? It's sensitivity, it's understanding, it's interpretation", argued the professional at the time.
The holder of the Exchange of Passes said that she never suffered racial discrimination at work, but that in her personal life she has been attacked by her skin color, as a child and even by the family of an ex-boyfriend.
"I went through several situations. When I was a child, in a daycare, I realized that classmates did not accept my color, spoiled my things, coat, lunch box. They always said: 'Let's ruin the black woman's coat'. I didn't understand, I didn't care One day, my mother gave me a new lunch box and in five minutes they destroyed it. I spent the afternoon crying, my mother noticed and talked to the teacher and they realized that they didn't accept me for the color. She spoke to me and said she was going to move me of school for implying the color of my skin ", he said in an interview to UOL Esporte.
"Then, it was when I had a boyfriend. When the family found out we were dating, we told them, wow, my life turned to hell. I didn't understand why they didn't accept it until it was verbalized: 'She is black and is not good for to enter the family. "It was two years like this. I forgave them and today I talk to them, some time has passed, today I already serve, but until then it was no use because I was black", said Karine in the same interview.
Musical influence
The option for journalism stems from the passion for music. A fan of Michael Jackson (1958-2009) and Elis Regina (1945-1982), Karine was already playing the guitar at the age of 13 and, at the age of 15, performing at music festivals as a singer. According to her, close friends realized her vocation for communication and the power of her voice.
REPRODUCTION / INSTAGRAM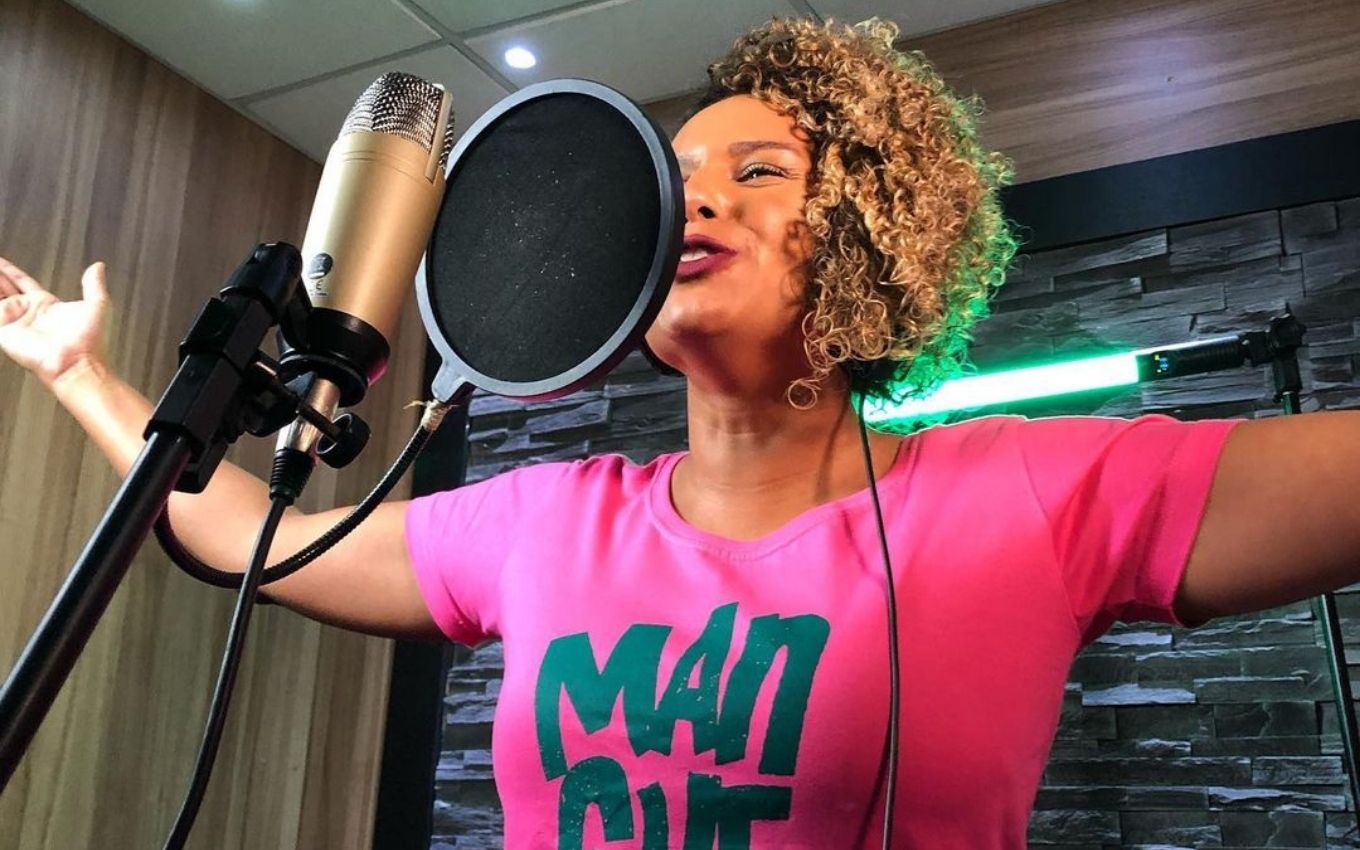 Karine Alves in recording the samba
The love for music is still alive in the presenter, who last week recorded a song in partnership with Xande de Pilares that competes for the samba-plot of Mangueira in the Carnival parade of 2022.
The lyrics, composed by Gilson Bernini, Alemão do Cavaco, Igor Leal and Carlos Eduardo Sá, Sardinha, editor-in-chief of Troca de Passes, are a tribute to Cartola (1908-1980), Jamelão (1913-2008) and Delegado ( 1921-2012), big names in the traditional samba school, the second biggest winner of the Rio de Janeiro Carnival. "This year there is no Carnival, but there is a lot of excitement around," she said.
Meet the samba sung by Karine:
.