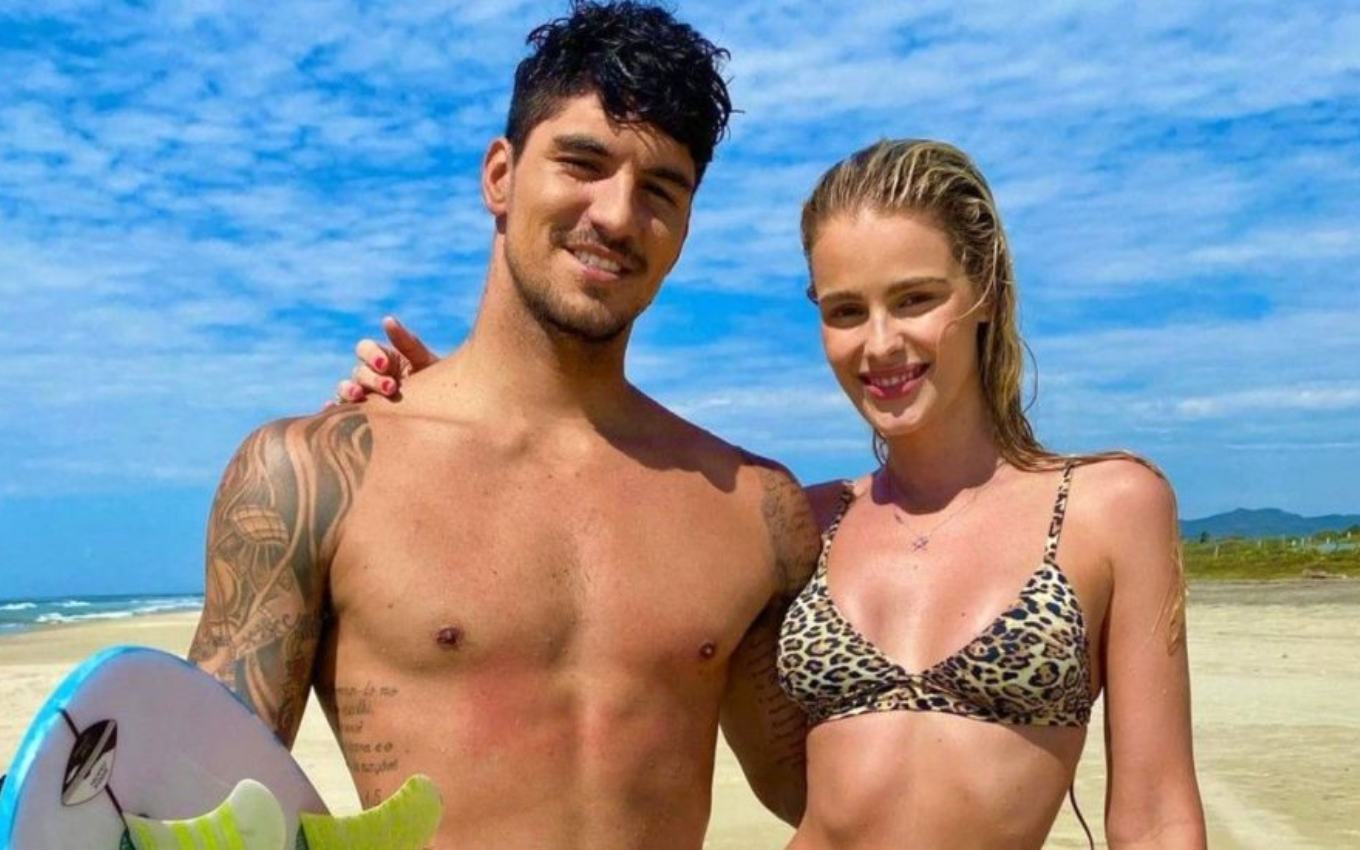 Currently, there are ten soap operas on air on open TV, but none of them has generated as many comments and jokes on social networks as the real-life soap opera created by Yasmin Brunet and Gabriel Medina. The model, who was once an actress, became a topic in Brazil when she created a great drama just to keep her love at the Tokyo Olympics.
Yasmin is the daughter of Luiza Brunet and Argentine businessman Armando Fernandez and began her modeling career at 13 years old. At 16, she went to live alone in New York, where she finished high school and continued her modeling career, with international success.
Yasmin also majored in Cinema. Back in Brazil, she debuted as an actress in a soap opera in 2015. She played Stephanie, nicknamed Sereia, in Verdades Secretas.
The character was a model who made pink books (prostitution among models) and dreamed of finding a rich boyfriend to pay for her. Romance was not her strong suit.
playback/globe TV
Yasmin in a scene of Secret Truths
Yasmin did well on paper, but nothing that came close to the repercussions of her current soap opera with Gabriel Medina. Before they met, she dated Kayky Britto, Sergio Hondjakoff (the Cabeção de Malhação) and model Evandro Soldati, with whom she stayed from 2005 to March 2020.
In April 2020 began the romance between Medina and Yasmin. Due to the circumstances of the pandemic, of social isolation, the two quickly moved in together, and the relationship soon became very serious. They got married in Hawaii in January of this year, in a heavenly setting.
The problems in Yasmin and Medina's novel novel started in recent months due to a "villain": the Brazilian Olympic Committee. For the first time in history, surfing will be part of the Olympic Games, and the athlete is one of the favorites to win the gold medal.
Yasmin would have liked to go to Tokyo as her husband's "coach" (technician), but her name was vetoed by the COB. Since then, the couple has suffered too much.
Both the model and the surfer have used their social networks and given interviews to complain about the COB. Medina claimed that having his wife by his side in Tokyo was a "right" and that he wouldn't be 100% in the competition without her.
Yasmin commented that the COB gave "meaningless apologies" to the couple and that the veto of their presence was an attitude taken deliberately against her. "I knew it was personal," said the model.
On Monday (19), Medina arrived in Tokyo alone, and the competition for medals in surfing will start on the 25th. Until then, new chapters of this soap opera could happen between the couple and the COB.
On social networks, the athlete and the model became the target of jokes, and their names have frequently appeared among the most talked about subjects. Many people find her insistence on accompanying her husband somewhat inconvenient. Check out some comments:
If I Were You 3:

Medina and Yasmin switched bodies and that's why she (in his case) really needs to go to Tokyo. COB does not release. Olympic drama

– Pedro Ramos (@pedrohnramos) July 18, 2021
Yasmin Brunet and Medina's tantrum gets even more ridiculous when you remember that Rayssa loyal is going to Japan at 13 years old without a father or mother. But the boring can't stay a month away from her husband

— ʟᴇᴛɪ́ᴄɪᴀ (@highereilish) July 17, 2021
they didn't put yasmin brunet in the call let the medina see this https://t.co/m1II5Qjazk

— hem (@badgalmafe) July 19, 2021
Wow, there's even one person in that Medina baggage. Oops… https://t.co/kTFUCYtDvg

— Marcio Gomes (@MarcioGreporter) July 19, 2021
.