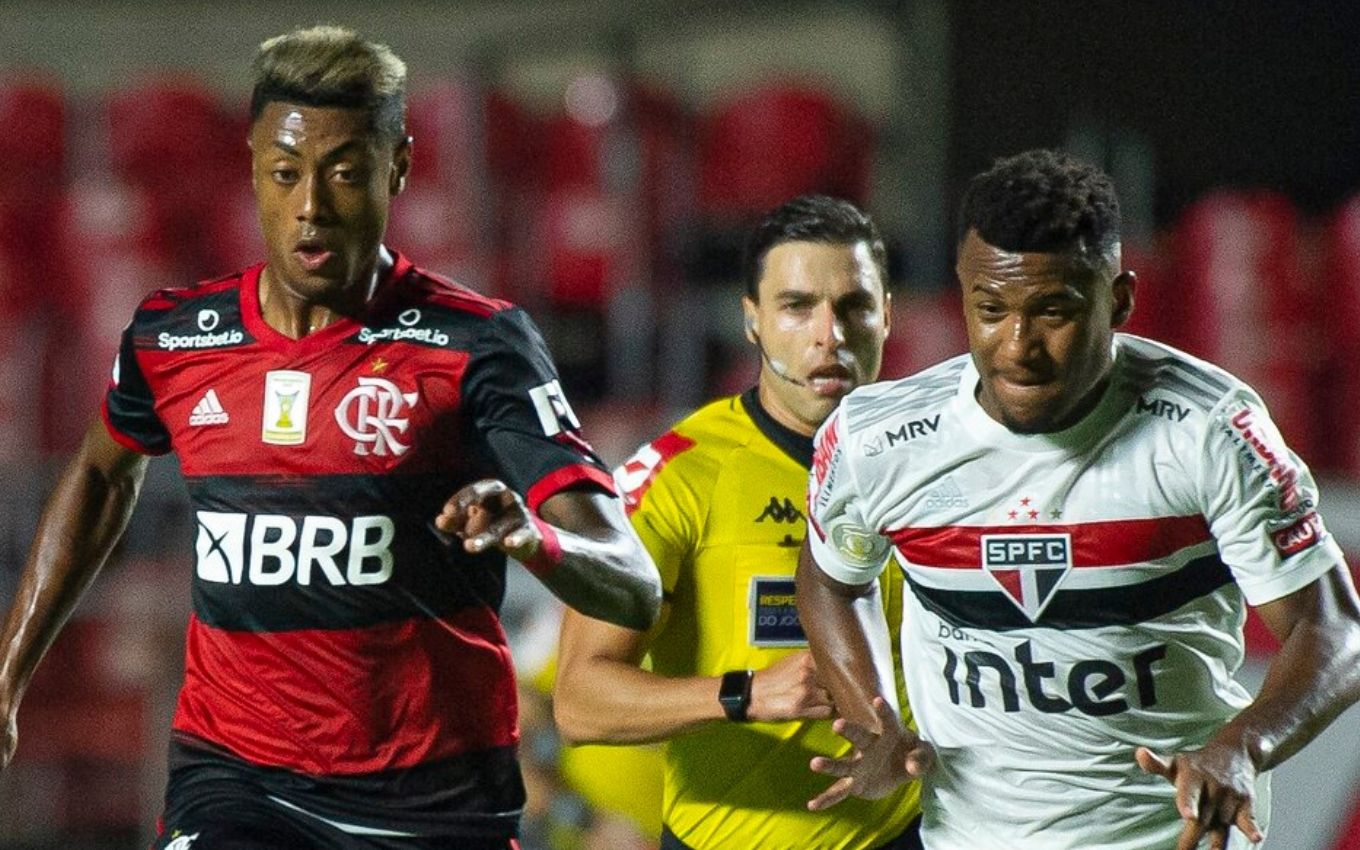 Flamengo x São Paulo takes place this Sunday (25), from 4 pm. The game for the 13th round of the Brazilian Championship will be at Maracanã. The live broadcast is by Globo on open TV, in addition to SporTV, with the exception of Rio de Janeiro, and Premiere for all of Brazil. Globoplay, Globo Channels and Premiere Play are options for watching online.
On open TV, the narration is done by Gustavo Villani, with comments by Junior (via video) and Ricardinho. The reports will be carried out by the duo Debora Gares and Raphael De Angeli. At Central do Apito, Sálvio Spinola will comment on the referee's performance.
On SporTV and Premiere, the narration will be by Júlio Oliveira, with comments by Lédio Carmona and Roque Júnior (via video), as well as reports by Ricardo Lay.
SporTV subscribers who live outside of Rio de Janeiro can follow Flamengo x São Paulo live and online through the app and on the Canalis Globo website. It is also possible to close the Globoplay + Canals Ao Vivo combo, which in the annual package costs R$ 42.90 per month.
Premiere Play, available on the GE website, has a monthly price of R$79.90 and can be accessed by website or app. For those who already have Premiere on pay TV, you can use the operator's data and login to the online version of pay-per-view or to the Canalis Globo platform.
You can also buy the Globoplay combo with Premiere, available on Grupo Globo streaming, to watch Grêmio x Internacional live. The monthly subscription to the two services costs R$ 84.90, while the annual package has a promotion in which the value is R$ 65.90 per month.
Premiere is now available from Amazon via Prime Video Channels. The monthly price of the combo is R$79.90 for the pay-per-view plus the R$9.90 for the entertainment service subscription.
Flamengo has 18 points and comes from a 5-0 rout over Bahia. São Paulo, with 11 points, struggles to stay out of the Relegation Zone; came from a 1-0 loss to Fortaleza.
Brasileirão live
See below the list of games for the 13th round of the Brazilian Championship and know where to watch it live and online:
Sunday (25)
4 pm – Flamengo x São Paulo – Globo, SporTV (except RJ) and Premiere
4 pm – Fortaleza x Bragantino – Premiere
18:15 – Santos x Atlético-GO – Premiere
20h30 – Sport x Ceará – Premiere
20:30 – International x Youth – Premiere
Monday (26)
6 pm – Youth x Chapecoense – Premiere
20h – Cuiabá x Corinthians – SporTV (except MT) and Premiere
.