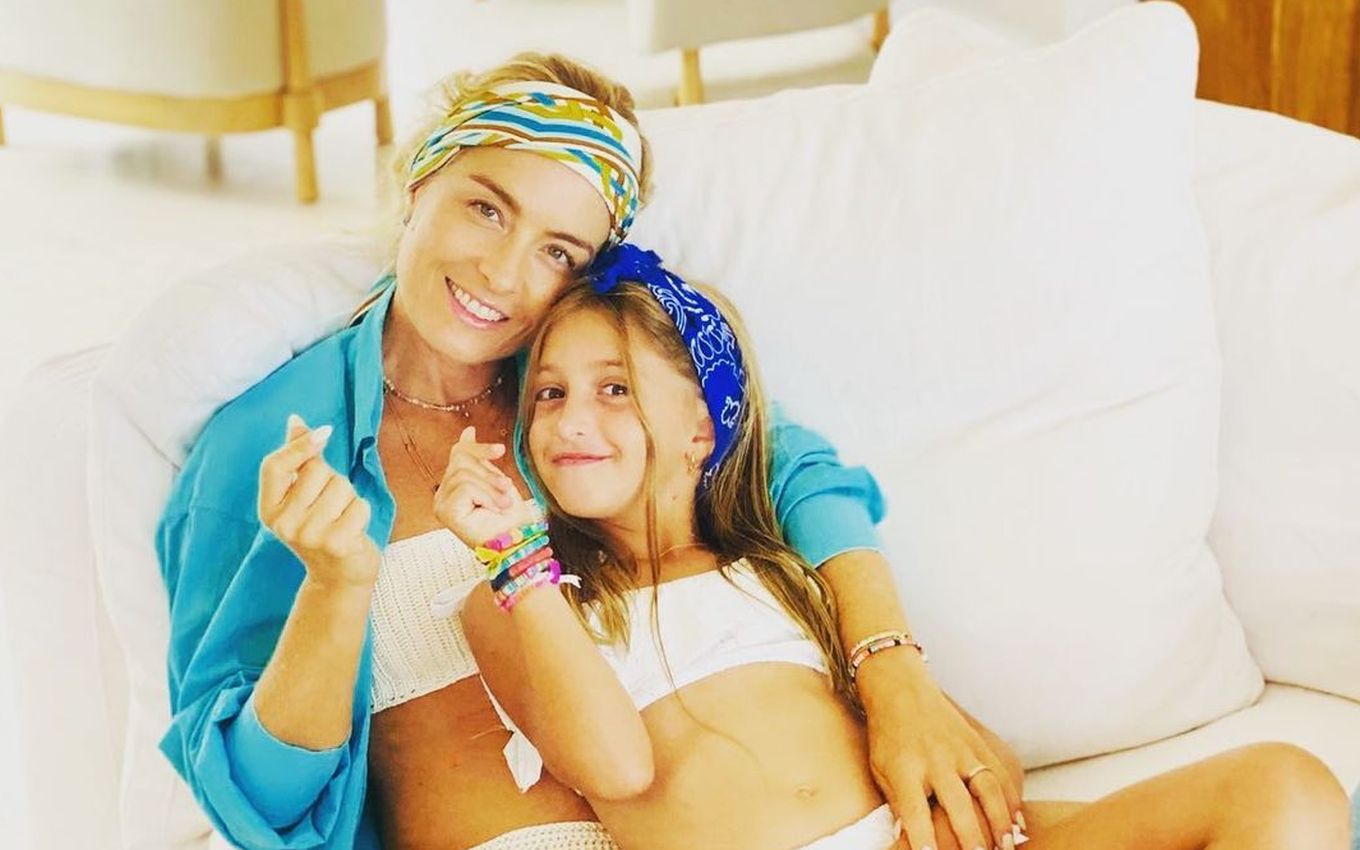 Hired by HBO Max to run the Astral Journey talk show, which will use the signs of the zodiac as a focal element of the interviews, Angelica has two professional astrologers on her team, but she also has an expert at home: her own daughter, Eva, from just eight years old.
"It's a really funny coincidence that this show came into my life. Eva, my daughter, has been an astrologer for a year.. She sometimes blurts out things like, 'Oh, Mom, so-and-so is a Taurus, must love to eat.' I don't know where she got that from, I think she saw some YouTube channel about signs (laughs). So she's a person who judges others by their horoscope", enjoys the presenter in an exclusive conversation with the TV news.
The girl even puts her mother in turmoil for letting her sign dictate fate from an early age. "She says: 'I'm Libra, I'm very indecisive'. I say: 'Eve, stop saying that, stop prophesying, you can't!' And she: 'Nah, my sign says' (laughs). she's eight years old and already thinks like that, I think it's a lot of fun. My daughter is practically a child astrologer!", he jokes.
Angelica doesn't hide that she also likes astrology and even makes an astrological chart annually to find out what her future will be like. But he prefers not to be the type who judges others by their horoscope or who avoids certain people because of the ascendant. "I don't judge, but I analyze. I know some characteristics of each sign, so I keep analyzing if that makes sense for the guy", he points out.
When we are at the Astral Journey meeting and start to discuss guests, I meet some people, her history and her life on television. Then, when they say the sign, I say: 'Oh, that's why then'. The two astrologers who work with us just laugh at me because I always have an opinion to give about the person according to their sign (laughs). But of course this is only the opinion of those who are not an astrologer, because they need to know the sign, the ascendant, the Moon… I'm just kidding, but I have fun, I really love it.
Futuro no streaming
And if Eva has been helping her mother on the astrological side of the move to HBO Max, children Joaquim, 16, and Benício, 13, are collaborating with the younger generation's vision of the future of television. For them, for example, the concept of linear TV — in which you need to be connected in front of the TV at the right time to check out your favorite show — no longer makes sense.
"This is very interesting. They want to see it when they want to see it, go there and watch. There's no such thing as asking 'oh, watch mom's show at such a time', that doesn't exist. It's not even on the 'chip' there, they don't understand it," he vents.
The boys even denied the teenage instinct to find everything their parents do shameful (or "cringe" as they say these days on social media) and are proud of Angelica's move to streaming.
They were very excited. They thought Mom was very modern, you know? (laughs) 'Now mom is speaking our language'. When I told the news, it was really a party here at home because they thought I was so cool [descolada].
The former Globo presenter makes no mistake when she says that, despite having the public's affection and wanting critics on her side, she really wants to have the support of her children. "We do everything for them. We want to be admired by the public, of course, by journalists, we want good reviews, but what matters in the end is their criticism. What they think. And I've already started well, with some houses in front."
The Astral Journey does not yet have a date to enter the HBO Max catalogue. Angelica, however, is already developing other personal projects for the streaming platform. "There's a lot of news, now I'm really excited, so I think the next projects there… I can't say anything, but they're very different and you'll like it (laughs)", he adds.
.