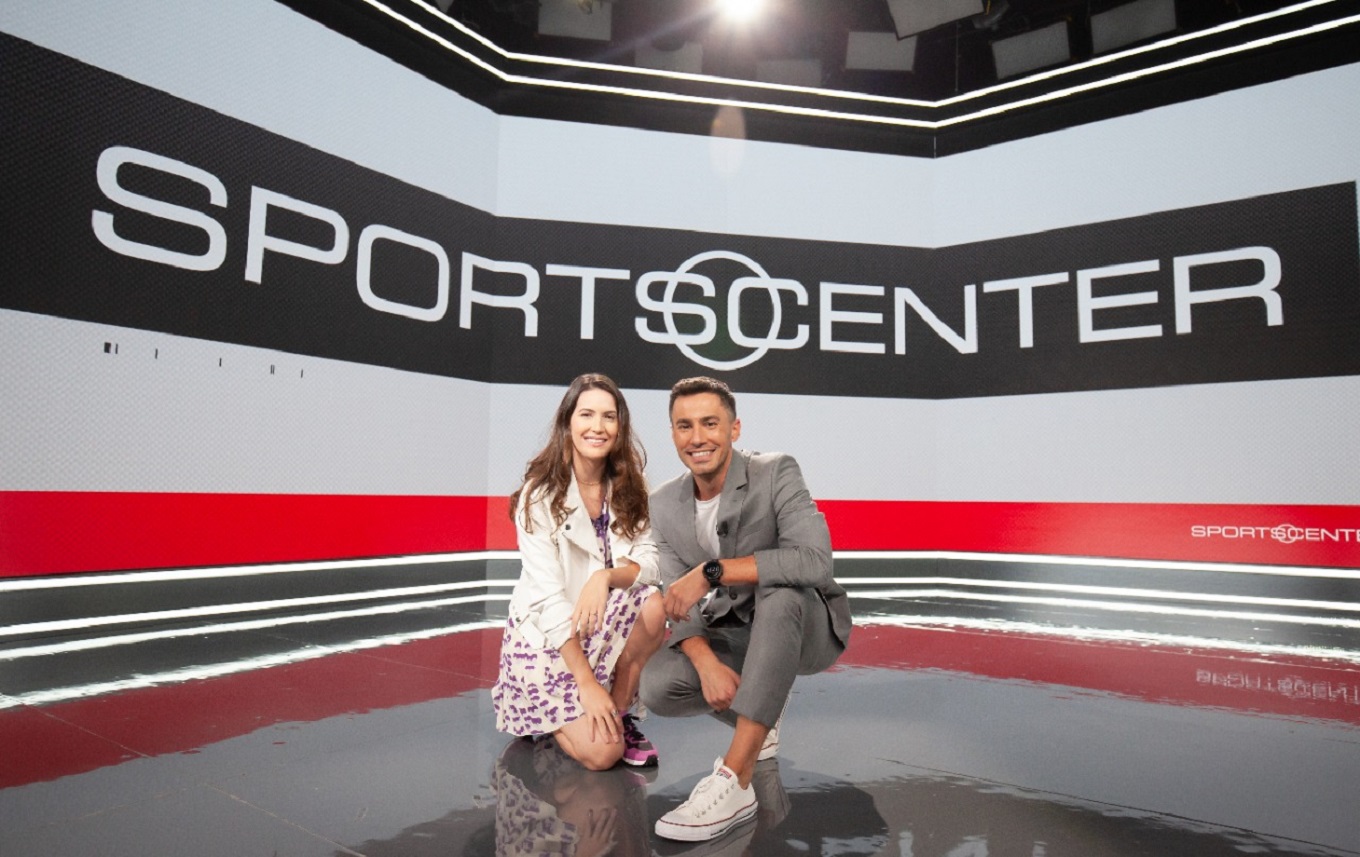 On air since February, the new Sportscenter Manhã managed to grow in audience and began to approach the SporTV newsroom – which, until then, was not bothered by competition on sports TV. With information, but not forgetting the fuss with the public and pop culture references, the ESPN Brazil attraction wanted to bring a young audience to the time — from Monday to Friday, from 10am to 12pm. And it has fulfilled the objective.
According to audience data obtained by TV news, the program presented by Bruno Vicari and Mariana Spinelli grew 40% on the pay TV PNT. Furthermore, on a daily basis, sports news is often among the most talked about topics on Twitter. Fruit of the interaction of presenters, very connected to the social network.
"I think ESPN programming people noticed that this schedule needed a lighter show. And it's funny, because our two commentators [Eugênio Leal e Mário Marra] they are much more thoughtful, more serious, more analytical. Normally, me and Mari are the ones who get busy. That was the goal, to make the schedule a little agitated," Bruno tells the column.
Mariana Spinelli is young: she is only 23 years old and she won her first opportunity as a sports presenter at Sportscenter Manhã. Born into a family of journalists, the girl from Minas Gerais says that she tries to print her style, but using close references. Fernanda Gentil and her mother, who is a reporter, are some of them.
"I have my references at home, as I come from a family of journalists. I've always liked the camera, the video. I aim a little there at Fernanda Gentil, but I try to put it my way, be as Marian as possible in the air for whoever See me. Anyone who meets me on the street and sees me in the air will know that I am the same person," he explains.
To format the show, Vicari and Mariana were introduced to Sportscenter AM, the American version of ESPN's morning. In the United States, he is known for having both feet in entertainment and even talking about movie releases involving sports.
"We saw some excerpts, as a reference", says Vicari. "We're driving in the tone in the morning and our mission is to bring a younger audience. Everything ends up marrying and we're fine", completes Mariana.
Sportscenter com Mari Gonzales
Among the games that the program usually makes, Sextou SC stands out. In it, presenters take two random words suggested by the audience to place during the climb. Another is to use catchphrases that are going viral on the internet. Quotes to Globo's BBB were frequent while the attraction was on air.
And, speaking of Globo's reality show, last month Sportscenter hosted Mari Gonzalez, confined to the 20th edition of the program. She was remembered because of the new marketing action to promote the journalistic, which refers to the sound of meta-music (tan nan nan, tan nan nan).
"Marketing presented this idea to us, and I said: 'But have you called Mari Tan Nan Nan yet?' They didn't understand at first, but Mariana Spinelli got it fast, and we made it happen. It was really funny, it reverberated enough for us", reveals Bruno.
out of the studio
The new lineup of Sportscenter began in February this year at Disney's new studios in São Paulo, which has a 500-inch screen. In March, with the second wave of the covid-19 pandemic, everyone returned home, and ESPN resumed working fully remotely. Both admit that being away from the studio isn't good, but necessary right now.
"We need it. We understand, of course. It's much easier, much more practical. We're there with the people. But I'm calm about it, because it's possible to do at home. We'll come back, the studio won't leave running," says Mariana. "We lost a little in the visual and dynamic aspects, because of the delay. But I also understand. At no time there was pressure to use the studio because of the high investment. On the contrary. They said that if necessary, we stay at home as much as possible." , concludes Bruno.
.