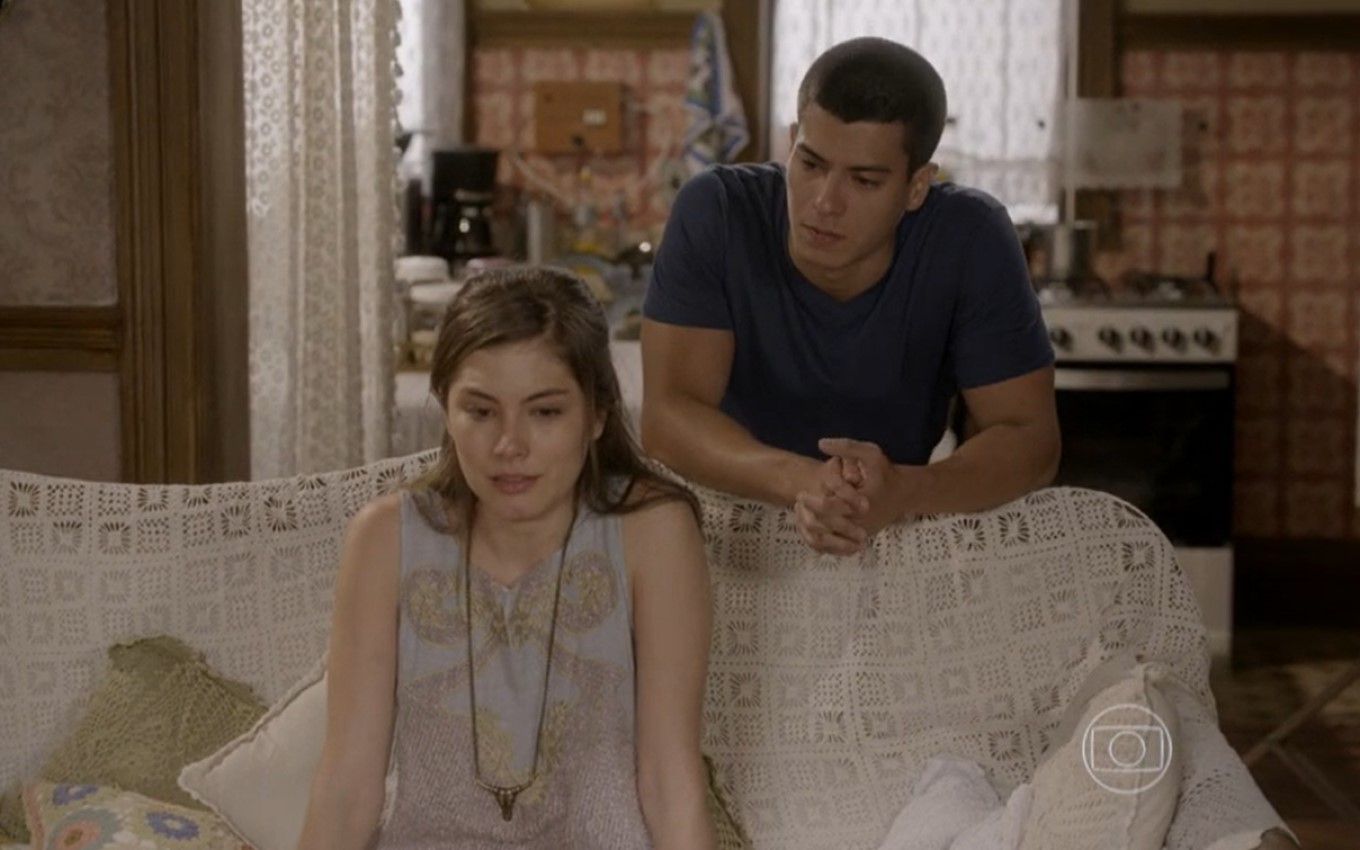 ABSTRACT: Duca (Arthur Aguiar) will discover the deal between Bianca (Bruna Hamú) and Pedro (Rafael Vitti) for the guitarist to date Karina (Isabella Santoni). He will ask for time to rethink the relationship, and she will be groundless. Gael (Eriberto Leão) will take his daughter's pain and put pressure on the fighter, who will not be afraid and will refuse to forgive her
Second, 4/19 (Chapter 61)
João tells Duca that Pedro used Bianca's money to record his demo CD. Lincoln forcibly takes Jeff out of the limelight. Delma and Marcelo try to reassure Lincoln, who decides to send Jeff to his grandparents' house. João comments to Cobra that Duca and Bianca fought. Pedro watches Karina train. Dandara and René catch João at HQ.
Bianca confesses that she lied to Duca and begs him not to tell Karina about his agreement with Pedro. Dandara thinks about letting João live with René. Bianca threatens João. Duca decides to tell Karina what she discovered. Mari tells Lincoln, Ruth and their parents that Jeff is the father of the child she is expecting.
Tuesday, 4/20 (Chapter 62)
Duca realizes the happiness of Karina and Pedro and gives up telling what she discovered. Mari and Jeff are pleased to be able to be together. Duca tells Pedro that he found out that he received money to date Karina. João is revolted by Dandara's decision to let him live with René. Marcelo advises Pedro not to tell Karina the truth.
Lincoln doesn't accept that Jeff keeps dancing. Lucrécia and Edgard frighten Nando. Cobra tries to intimidate Jade. Edgard kisses Lucrécia to prevent her from seeing Jade and Cobra together. Jeff and Mari start dating for real.
Pedro complains that João has told Duca his secret. Edgard and Lucrécia convince Nando to have a mediumistic session in the Ribalta. Duca complains about Bianca to Dalva, who worries about their dating.
Wednesday, 4/21 (Chapter 63)
Duca confesses to Dalva that he no longer trusts Bianca. Nat watches Duca. Edgard pretends to be Norma's ghost and demands that Nando leave Ribalta. Duca asks for time to think about his relationship with Bianca. Dalva tells Heideguer that Duca will no longer look for Alan or his ex-girlfriend.
Nat finds Lobão at his house and decides to seduce the fighter. Dandara is suspicious of the story about Norma Rocha's ghost. Bianca blames João for fighting with Duca, and Pedro fears that Karina will discover her secret.
Ribalta students face Lincoln to help Jeff. Lucrécia warns that she needs to travel to see a doctor and asks Edgard to take care of Jade. Bete alerts Gael about Bianca's suffering. Roberta tries to comfort Duca. Contrary to Bianca, Gael looks for Duca.
Thursday, 4/22 (Chapter 64)
Duca faces Gael and states that he will not speak to Bianca. Roberta praises Gael for Indira. Dandara supports Mari's decision to stay with Jeff. Karina decides to speak to Duca, and Pedro worries. Lincoln is furious with the protest of the students of the Ribalta in front of Perfeitão. Dalva consoles Duca. Tomtom asks Jeff to teach her how to dance.
Dandara leaves René and João together in his apartment. Nando asks to live with René and João. Dandara takes care of Bianca. João plays hidden on Nando's cell phone. Bianca changes her tactic to try to resume with Duca. Duca questions Bianca about their relationship.
Friday, 4/23 (Chapter 65)
Bianca argues with Duca. Jade questions Edgard about Lucrecia's trip. Wallace is delighted to learn that he will participate in the muay thai. Gael and Pedro claim that Karina is unable to participate in the championship, and she is furious. Cobra tries to convince Karina to train at her gym.
Delma comments to Dandara that she will try to win back Marcelo. Roberta calls Marcelo to go to Aquazen. Karina decides to go with Pedro to Jade's party. Mari and Jeff are alone at Sol's house.
Cobra arrives at Jade's house and everyone is bothered. Bianca decides to go to Jade's party. Delma gets ready for Marcelo. Cobra kisses Jade in front of his guests. Marcelo goes after Roberta. Bianca confronts Jade when she sees that she sent Duca a photo of her dancing with Lily.
---
The Malhação Sonhos chapters are provided by Globo and are subject to change without notice
---
In addition to following the news of Malhação Sonhos here on the website, subscribe to the channel TV News on YouTube and watch videos with revelations of what will happen in other soap operas and series.
.