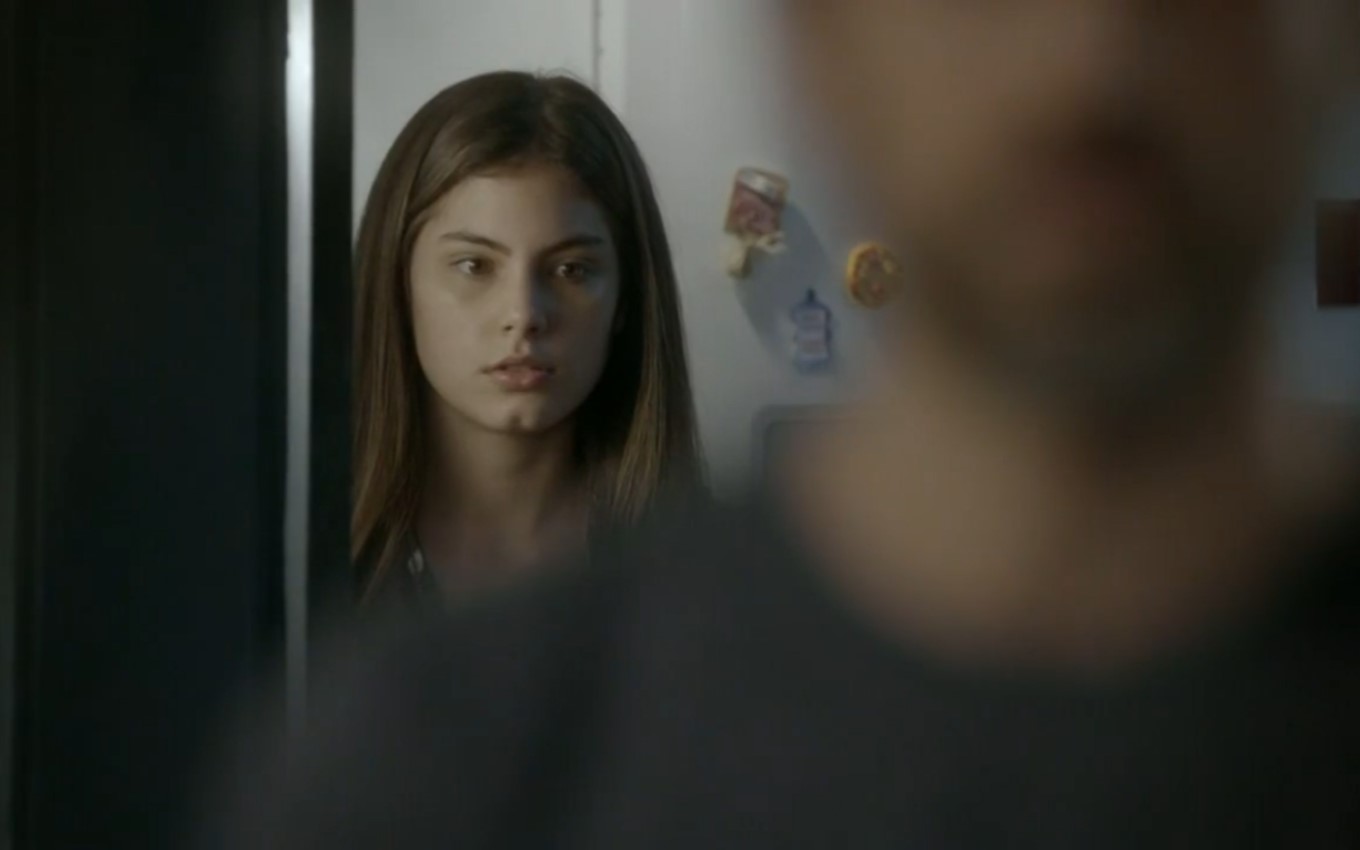 ABSTRACT: Bianca (Bruna Hamú) will listen to a dubious conversation between Gael (Eriberto Leão) and Bete (Edvana Carvalho) about the possibility that he is not Karina's biological father (Isabella Santoni). The protagonist will confront her father, who will lose her with a distortion of the facts. Unconvinced, the young lady will investigate her mother's past
Second, 2/15 (Chapter 16)
Karina sees Bianca kissing Duca and revolts against the two. Dandara and Gael get even closer. Pedro tries to talk to Karina, but she ignores him. Gael sees Duca and Bianca together. Bianca asks Duca for a break. Fabi is surprised by Karina's behavior at the Ribalta party. Nando, Pedro and Sol get ready to play.
From the stage, Pedro waves to Priscila, and Karina thinks it's for her. Guta encourages Mari to enjoy the party. Rico, Zé and Marcão decide to turn off the Ribalta lights to kiss the girls and make a big fuss. Edgard turns on the lights, and Karina finds out that she kissed Pedro.
Tuesday, 2/16 (Chapter 17)
Karina argues with Pedro. Zé and Marcão, Sol and Wallace, Guta and Max are surprised to have kissed in the dark. Karina remembers Duca and Bianca's kiss and has a crying fit. Jeff is enchanted by Mari's voice. Wallace declares himself to Sol, but she repudiates him.
Cobra is insistent with BB, and Rico, Lírio, Guta and Jade intercede for their friend. Karina asks to fight Cobra. Gael lets out that he is in love with Dandara. Sol introduces Jeff to Lucrécia and Edgard.
Cobra identifies with Karina. Jeff dances for Lucrécia, who invites him to attend his classes. Mari feels bad and leaves Ribalta. Sol apologizes to Wallace. Gael questions his daughters when he sees Bianca crying and Karina with a bruised face.
Wednesday, 2/17 (Chapter 18)
Karina refuses to explain to her father and is harsh with Bianca. Gael instructs Karina not to look for a fight in the street to discount the anger. Dalva consoles Duca. Sol makes up an excuse for Lincoln and convinces Jeff to study in the Ribalta without his father knowing.
Karina decides to stop talking to Bianca. Cobra apologizes to BB. Pedro teases Karina. João complains about Dandara going out with Gael. Bianca confesses to Duca that she is still confused. João doesn't go to school.
Jeff arrives for his classes at Ribalta. Jade fumbles in the dance class. Lobão looks for Cobra. Duca declares himself to Bianca, and Karina sees it. Karina asks to fight Cobra again, and Lobão overhears their conversation.
Thursday, 2/18 (Chapter 19)
Lobão makes insinuations about Karina's mother. Cobra refuses to fight Karina and rejects Lobão's proposal to be his coach. Bianca overhears when Bete and Gael comment that Karina may not be the fighter's biological daughter. Bianca probes Bete about her mother's past.
Karina questions Gael about Dandara. Sol suggests that Jeff tell Ruth the truth about dance lessons. Dandara discovers that João has not been to school. Bianca watches an album of photos of her mother and sees her acting with René Spinelli. Dandara argues with João and asks for René's help.
Edgard and Lucrécia tell Bianca that René was a conqueror. Lincoln is surprised to see Jeff in front of the Ribalta. René arrives at Dandara's house.
Friday, 2/19 (Chapter 20)
João is hostile to René. Jeff makes up for Lincoln that he's dating Mari. Dandara and René talk to João. Duca receives his first salary as a professor at the academy. Mari tells Jeff that she has a boyfriend inside. Edgard and Lucrécia announce the Talent Show in Ribalta.
Duca invites Bianca to a romantic evening. Gael invites Dandara and João to dinner. Bianca comments to BB that she will have her first night with Duca. João is enchanted by Bianca. Bianca gives Karina a photo of Ana.
Dandara tells Delma that she asked René for help, and that her ex-husband is recovered. Karina is rude to Bianca and breaks the bedroom door, leaving her sister inside. Bianca tries to leave the room through the window, but ends up being stuck to a pole.
---
The chapters of Workout Dreams are provided by Globo and are subject to change without notice
.