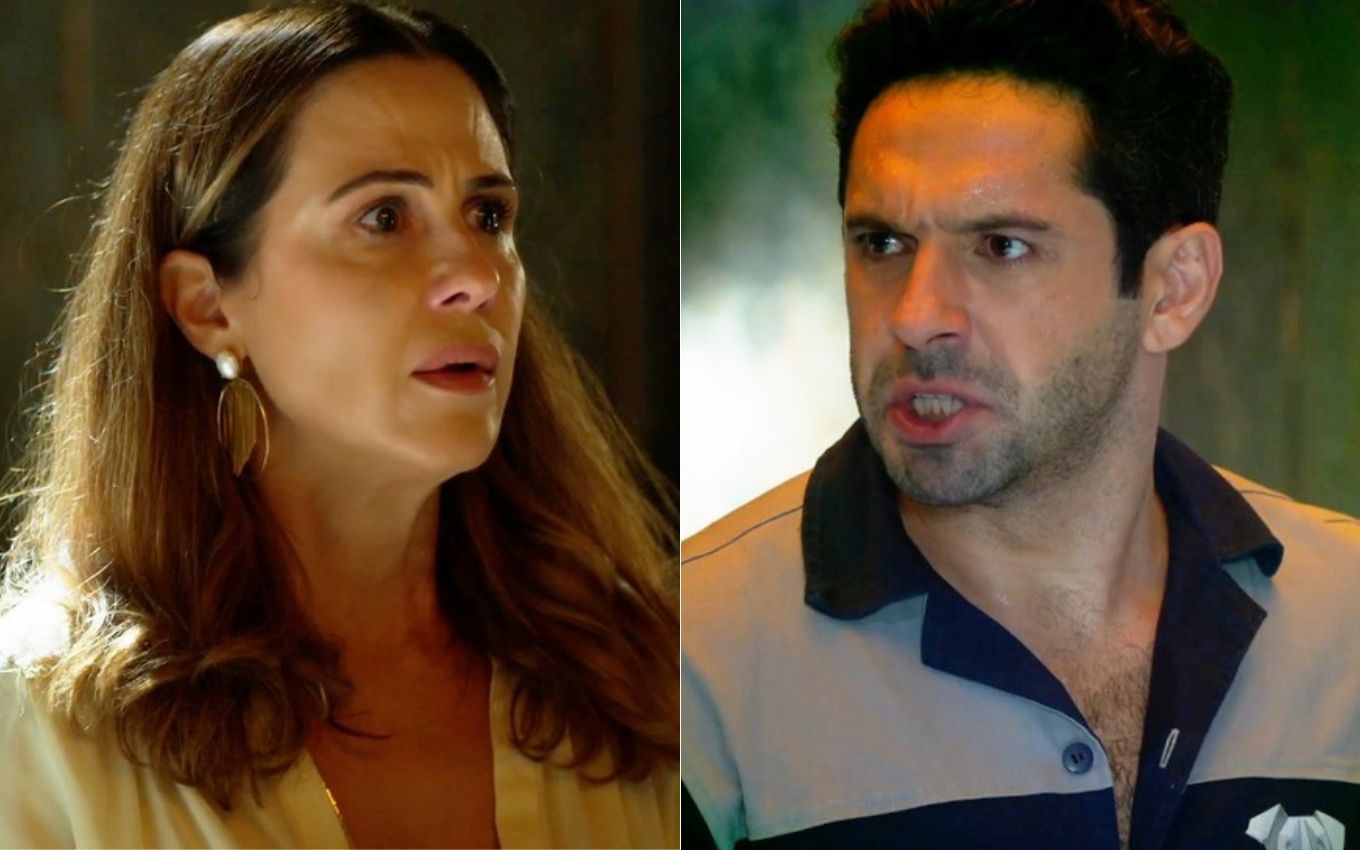 Zezinho (João Baldasserini) will be responsible for preventing the escape of Dominique (Guilhermina Guinle) in Salve-se Quem Puder. After kidnapping Alexia/Josimara (Deborah Secco), the criminal will be cornered by the hillbilly and by Nanico (Babu Santana) in Globo's seven o'clock soap opera. "The hide-and-seek is over, bandit!", the brucutu will warn.
In the scenes that will air this Tuesday (13) in Daniel Ortiz's serial, Ermelinda's (Grace Gianoukas) son will find his lover's captivity after putting pressure on Edu (Jeronimo Martins). Hugo's "employee" (Leopoldo Pacheco) will be surprised to see the henchman handcuffed alongside Zezinho and Nanico.
"Dominique Machado, you're under arrest!" the policeman will announce. "The hide-and-seek is over, bandit!", the countryman will complete. The lawyer will be furious when cornered, but will manage to flee after attacking the Federal Police agent. João Baldasserini's character will release Kyra/Cleyde's friend (Vitória Strada) and run after Dominique and Edu. "Oh no, come back here! You don't go after them!", the actress will call, who will go after her lover.
During the escape through an abandoned street, the bad character will still abandon the partner when he falls. "Now it's every man for himself," she will release. The madame will notice that she is being followed by Alexia and Zezinho and will start shooting the good guys, but it won't hit them.
"Remember that we need her alive to arrest the gang! She's going to run away. I can't believe it!", the protagonist will be indignant when she sees the villain get into the car. "Oh, has num do not go! on one it's really going to go!", will affirm the matuto, who will shoot the vehicle's tires and will prevent the escape.
"What aim is that?", will be surprised the secretary of Labrador Digital. "Get out of the car with the hands up! And no fun this time! He finished you, bandit! Kneel!", the countryman will decree. Humiliated, Dominique will be put in the vehicle and will become news on the news.
The only new soap opera on Globo, Salve-se Quem Puder is all recorded and will end next friday (16). The rerun of Pega Pega (2017) will be in the 7pm range because the network decided to postpone the premiere of the serial, Somos Mais Vida, Melhor.
---
Learn all about the upcoming chapters of soap operas with the Noveleiros podcast
Hear "#65 – All About the End of Save Yourself Who Can!" on Spreaker.
---
Subscribe to the channel TV news on YouTube and watch videos with revelations of what will happen in Globo's soap operas.
.